Safety Training and Analysis Center
News/Updates
RID Data Visualization
A suite of visuals has been developed to represent the mobile van collected data in the Roadway Information Database (RID). These graphics depict the mileage and the number of segments on which data was collected for selected variables. Graphics are available on the Data page.
---
Broad Agency Announcement (BAA) Updates:
The FHWA Broad Agency Announcement (BAA) Projects are following a similar model as the Strategic Highway Research Program (SHRP2)'s Implementation Assistance Program (IAP) projects (http://shrp2.transportation.org/Pages/Safety.aspx). Under phase I, the teams explored the application of the SHRP2 data to real-world highway research issues. These efforts were largely proof-of-concept in nature and used relatively small samples of the SHRP2 Naturalistic Driving Study (NDS) data in combination with the SHRP2 RID to test out different models and techniques for analyzing the data. Eight research groups—teamed with 12 different State department of transportation (DOT) partners—were funded based on specific criteria. These DOTs included Alabama, California, Iowa, Maryland, Michigan, Minnesota, Missouri, New York, Ohio, Virginia, Washington, and Wisconsin.
For Phase II, FHWA evaluated the success of the various projects under phase I and selected six projects that showed the greatest promise for: developing a real-world solution to highway safety problems and advancing the science of naturalistic driving research. The following table shows the six projects, the contractors who were selected, and State partners for each project.
Research Organization
Focus Area
Partner States
MRI Global
Speed
MO, OH, UT
TransAnalytics
Vulnerable Road Users
FL, IA
University of Missouri
Work Zones
MO, VA
Iowa State University/
Center for Transportation Research and Education (CTRE)
Rural Intersection Safety
IA
University of Michigan Transportation Research Institute (UMTRI)
Work Zone
MI
Calspan-University of Buffalo Research Center (CUBRC)
Enforcement
NY
Brief description of each project:
MRI Global project entitled: Development of Speed Safety Relationship
The goal of this study is to develop relationships between operating speed and crash frequency on urban and suburban arterials for use in the Highway Safety Manual (HSM) and in other safety management tools such as Safety Analyst and usRAP models. The expected outcomes of this project are:

New safety performance functions or crash modification factors that include a speed measure for use in chapter 12 of the Highway Safety Manual.
Guidance on the impact of speed policies and posted speed limits on safety.
Guidance on the implementation of speed-management countermeasures.



TransAnalytics project entitled: Age-related Diminished Capabilities and Driver Performance
The objective is to determine performance benefits of more favorable roadway design features for elderly drivers considering varying levels of functional capabilities and different medical conditions. Anticipated outcomes of this project include:

Updates to Federal Highway Administration (FHWA's) Handbook for Designing Roadways for an Aging Population and State design guides.
Driver qualifications for relicensing.
Establishing policies for medical review for licensing.



University of Missouri project entitled: PREMONITION Tool Development
The objective of this project is the development of a crash prediction tool with an initial focus on work zones. Anticipated outcomes include:

Crash, near crash, and 'safe' event prediction model based on pre-event conditions.



Iowa State University/CTRE project entitled: Driver Behavior at Rural Stop Controlled Intersections
The objectives of this project are to develop and refine predictive models dealing with driver behavior and reaction time and stopping behavior at rural intersections. Anticipated outcomes include:

A better understanding of how drivers negotiate rural high-speed intersections and how they interact with roadway features that result in safety-compromising situations.
Quantified impacts of various countermeasures that can be used by transportation agencies to select resources to address a particular problem.



UMTRI project entitled: Understanding Normal and Abnormal Driving Behavior in Work Zones
The focus of this research is to better understand driver behaviors in work zones. The use of SHRP2 data will help quantify the role of traffic management, work zone activities, and traffic conditions on driver behavior (e.g. speed, merging behavior). This information will be used to develop guidance for work zone traffic management strategies. The expected outcomes of this project are:

Guidance for selecting specific work-zone treatments.
Scenarios to change work-zone speed-limit timing scenarios to maximize throughput while maintaining safety.



CUBRC project entitled: High Visibility Enforcement (HVE) and Driver Behavior
The objectives of this project include providing insight into latency of observed changes resulting from HVE; identifying categories of drivers that are most/least likely to respond to HVE; and identifying implementable solutions to improve effectiveness of HVE programs. The anticipated outcomes include:

Evaluations of HVE based on driver profile.
Recommendations for more effective HVE programs.


---
NRC Post-Doc Fellow working with STAC
Dr. Md Tawfiq Sarwar is the new National Research Council (NRC) Research Associate working in with the Safety Training and Analysis Center (STAC). Dr. Sarwar completed his Ph.D. from the University at Buffalo, The State University of New York in September 2016 and his M.S. from Purdue University in May 2013. His research interests are statistical/econometric modeling, traffic safety, naturalistic driving study, infrastructure and disaster management, travel demand, and behavior analysis.
Dr. Sarwar is working with the SHRP2 NDS and RID data and using advanced statistical modeling on a pedestrian safety project. His research is focused on the effectiveness of high visibility crosswalks (HVC) to improve pedestrian safety by regional difference, HVC location (mid-block / intersection) and configuration (style of HVC marking).
---
NDS/RID Webinars:
A training webinar series has been developed by the Federal Highway Administration's (FHWA) Safety Training and Analysis Center (STAC) for State Department of Transportation (DOT) research managers and safety, operations, and planning staff as an introduction to the Strategic Highway Research Program (SHRP2) Naturalistic Driving Study (NDS) data and Roadway Information Database (RID). Safety, operations and planning researchers working with DOTs, Transportation Research Board (TRB), FHWA, and other funding agencies will also benefit from viewing these webinar recordings. Please contact STAC personnel with any questions.
Following are the recordings for the webinars:
November 30th, 2016: This webinar focused on the SHRP2 NDS data covering the driver and vehicle information. The topics covered:
Introduction to the NDS
Access to NDS data
The InSight website
NDS data analysis examples
November 30, 2016 - SHRP2 Naturalistic Driving Study Training Webinar
---
December 14th, 2016: This webinar focused on SHRP2's RID. The topics covered:
Introduction to the RID
Data included in the RID
GIS functionality
Using the RID to support research
Example uses of the RID
December 14. 2016 - SHRP2 Roadway Information Database Webinar
---
January 18th, 2017: This webinar  focused on the integration of the driver, vehicle, and roadway data to support addressing research questions. The topics covered:
Map matching NDS data
RID links layer
Example use cases
January 18, 2017 - NDS/RID Data Integration – Part Two
---
February 8th, 2017: This webinar focused NDS/RID research and outreach opportunities. The topics covered:
STAC pooled fund program
DOT research ideas
Potential research questions
General discussion and questions on the NDS and RID
February 8, 2017 - NDS/RID Research and Opportunities
---
On December 20, 2016, FHWA Administrator Greg Nadeau and Deputy Administrator David Kim attended the ribbon cutting at Turner-Fairbank Highway Research Center (TFHRC) to formally open the new Safety Training and Analysis Center (STAC). FHWA established STAC to help the research community and State DOTs make use of data from the second SHRP2's Naturalistic Driving Study (NDS) and Roadway Information Database (RID).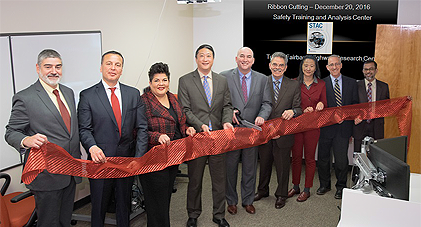 Figure 1. Nadeau opens STAC at TFHRC.
---
SHRP2 Naturalistic Driving Study (NDS) Pooled Fund Study 4th webinar recordings now available:
The fourth webinar in this series was presented on September 20, 2016.The following presentations were offered during the webinar:
Investigation of techniques for detecting distracted drivers using data from the SHRP2 NDS by Adam Van Horn, Research Analyst at SwRI.


Using SHRP2 NDS data to mine new solutions using the Transportation Research Informatics Platform (TRIP) by James Pol, Technical Director, FHWA Office of Safety R&D.
The transcripts of these presentations can be viewed here: https://connectdot.connectsolutions.com/p7eyg2iyhbh/
Because of technical problems, the audio portion of the webinar was not recorded. A separate audio recording for a second presentation given by James Pol can be heard here: https://connectdot.connectsolutions.com/p41dfl63nea/.
---
SHRP2 Naturalistic Driving Study (NDS) Pooled Fund Study webinar recordings now available
The first few webinar recordings related to the Strategic Highway Research Program's (SHRP2) Naturalistic Driving Study Pooled Fund: Advancing Implementable Solutions are now available:
Please see the solicitation for the NDS Pooled Fund Study http://www.pooledfund.org/Details/Solicitation/1427
---
Data Anonymization Workshop in Sweden:
Around 50 people attended the recent FOT-Net Data workshop on Data Anonymization in Gothenburg, Sweden. The 2-day workshop, held August 31 to September 1, 2016, was an opportunity to gain insights into different ways of anonymization of field operational tests (FOT)/naturalistic driving study (NDS) video data. These data, which provide essential information on driver behavior during different driving scenarios, require a high level of data protection. The workshop covered multiple presentations by different stakeholders and discussions on various relevant topics including the role of data anonymization in vehicle automation. Ms. Hannah Rakoff from Volpe National Transportation Systems Center presented the U.S. perspective on Data Anonymization. For more information about the workshop, click here: http://fot-net.eu/2nd-data-anonymization-workshop-stresses-the-importance-of-research-ethics/
To download all the presentations given at the workshop, click here: http://fot-net.eu/Documents/workshop-on-data-anonymization-31august-1-september-2016-in-gothenburg/
To download Ms. Rakoff's presentation, click here: http://2doubmisw11am9rk1h2g49gq.wpengine.netdna-cdn.com/wp-content/uploads/sites/7/2016/09/5-US-perspective-on-anonymization_16Aug2016_Hannah-Rakoff.pdf
---
Phase 2 Safety IAP selections announced
In August 2014, 11 different phase 1 proof-of-concept research efforts were awarded through the SHRP2 Implementation Assistance Program (IAP). The research teams used a small set of data from the SHRP2 Safety databases to conduct preliminary analyses on topics in eight different safety focus areas. We are now pleased to announce that 9 of the 11 phase 1 studies have been selected to receive additional funding for more in-depth phase 2 analyses—using larger sets of the Safety data—that will lay the groundwork for development of future safety countermeasures. A list of the selected states and projects is attached to this announcement. Please click on the following link to learn more about these projects:
http://shrp2.transportation.org/Documents/Safety/SHRP2_NDS_Safety_brochure_VIEW_508.pdf
---
BAA Generates Strong Response, Eight Proposals Funded to Leverage SHRP2 Safety Data
Following a Broad Agency Announcement (BAA), FHWA's Office of Safety Research and Development received numerous proposals to leverage safety data from the Second Strategic Highway Research Program (SHRP2) to support traffic safety improvements. Ultimately, eight proposals were funded for Phase I; six were funded as contracts with FHWA at $100,000 per project and two were funded as cooperative agreements. Twelve different State departments of transportation were proposed as partners across the projects. [Read More]