Talking Back
Enabling vehicles and infrastructure to communicate in real-time through wireless technology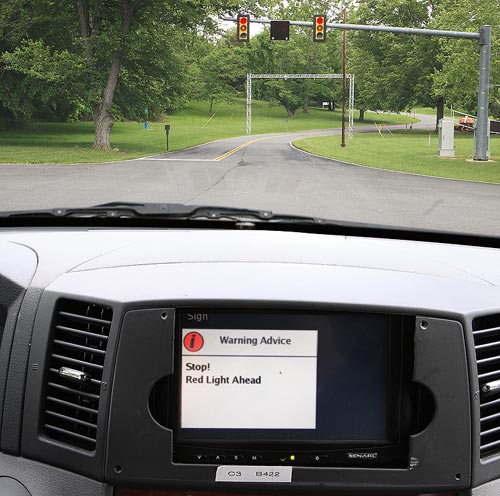 An advisory message, "Stop! Red Light Ahead," appears on a display on the dashboard in the Cooperative Vehicle-Highway test vehicle as it approaches the intelligent intersection at Turner-Fairbank. The message is an example of a real-time safety alert that could be provided to motorists.
---
A car approaching an intersection late at night sends a request to a traffic signal asking it to change from red to green. The infrastructure receives the request and assesses the situation. Detecting no other approaching vehicles, it informs the car that the request is granted and the signal is about to change.
This information allows the driver to maintain a steady speed through the intersection. Because the car does not have to stop, the driver saves time and fuel. What's more, the wear and tear of braking and starting from a standstill is eliminated.
"You can presume that at your current approach speed the light will turn green by the time you get there," explains Benjamin Mckeever, who leads the Federal Highway Administration's (FHWA) Transportation Operations Applications Team in the Office of Operations Research and Development. "It's almost like preemption, what emergency vehicles often do wirelessly as they approach intersections. The difference is that this uses a two-way wireless communication link, so the infrastructure can talk back."
Researchers are using FHWA's Cooperative Vehicle-Highway testbed at the Turner-Fairbank Highway Research Center (TFHRC) to test and demonstrate a number of vehicle-to-infrastructure wireless communications applications aimed at enhancing mobility, safety, and environmental efficiencies. The work is part of a broad U.S. Department of Transportation initiative, which also includes research at the Research and Innovative Technology Administration and the National Highway Traffic Safety Administration. The Agencies are working together on a project called Safety Pilot, which is focused on advancing tests of applications under real-world, multimodal driving conditions to determine their effectiveness, safety, and ability to help reduce crashes.
The outdoor testbed at TFHRC is equipped with a comprehensive traffic signal control system, a dedicated short-range communication (DSRC) system, an advanced system for the detection of vehicles and pedestrians, a fiber-optic communication system, a driver infrastructure interface warning system, and a separate traffic signal cabinet with computers and communication devices. The DSRC system can transmit information 10 times per second to vehicles equipped with DSRC onboard units.
"There are a lot of things you can infer from information related to the speed and the heading of the vehicle," explains Deborah Curtis, a highway research engineer who is developing a signal phase and timing interface definition and message set that will enable mobile devices in vehicles to obtain real-time information about the traffic signals they encounter.
A vehicle approaching a red light at a certain speed triggers roadside communications equipment to inform signal control technology that the vehicle will violate the red light if it continues in its current direction at its current speed. The infrastructure in turn sends a message to the car warning the driver that there is a red light ahead.
If two cars are approaching an intersection from different directions—say one from the north and one from the east—and both request a green at the same time, the traffic signal control technology uses real-time directional and acceleration information to determine which car will be granted a green and which one will not. The transmitter installed in the infrastructure sends a corresponding message to each car's driver to vehicle interface.
Technologies installed in roadside infrastructure can also determine road conditions and send warning messages to drivers that inform them that roads may be icy ahead. Vehicles can serve as probes and provide information back to the signals. The infrastructure can send that information to a traffic control center to be communicated widely to drivers in real-time. "Knowing whether windshield wipers are on or traction control systems have been deployed can give you a good indication of the status of the roadway," Curtis observes.
Wireless communication with vehicles through technologies installed in traffic signals, work zone equipment, pavement sensors, and other infrastructure have strong potential for reducing crashes and improving safety. Researchers at TFHRC are making steady progress to ensure that these technologies are safe and reliable.
Curtis is optimistic about the possibilities. "Once you have the ability to communicate basic information between vehicle and infrastructure, you can develop an almost unlimited number of applications that can make use of that data to deliver immediate benefits."