FY 2002 Performance Report
III. Our Business Results
RD&T Challenges, Commitments and Achievements
To guide our business and performance plan, the RD&T Leadership Council's (LC) vision is to conduct research and provide products and services that are essential, indispensable, and connected to our customers and partners. We are committed to continuing our quality journey (the process that FHWA uses to regularly assess their management practices); initiating program, process, and quality of work-life improvements; conducting outstanding research; and providing services that exceed performance indicators, strategic goals, and customer and partner expectations. The following is a list of our top challenges and some key achievements related to fulfilling them:
I. Effectively Deliver Needed Products and Services
Develop quality research products and services that address the needs of our internal customers and external partners in a timely manner.
RD&T's performance plan calls for the delivery of more than 86 products in the FY 2002/2003 timeframe. More than 90 percent of research projects are on schedule, and our customer surveys confirm improvements in response and delivery times. RD&T projects span many disciplines and transportation topics, from highway design, engineering, and maintenance to economic analysis, human factors, travel surveys, outreach, and marketing. See the Project and Services Status Tables for a detailed status listing of FY 2002/2003 products.
Improve R&T collaboration, communication, and feedback from the FHWA Resource Centers and Division Offices.
The findings from the RD&T annual self-assessment confirmed that there were notable improvements in communications and feedback between RD&T offices and the Resource Centers and Division Offices. Survey results indicated that relationships with our internal and external customers and stakeholders were generally positive, and reflected greater awareness of customer and partner needs and communication improvements, overall. Several RD&T offices also confirmed better response times and better product and service deliveries.

RD&T conducted several meetings and conferences with Division Offices and Resource Centers to discuss important strategic and operational issues, in addition to standard communication activities and field office interactions. Highlights include the sessions held at the annual TRB meeting, the technology and innovation delivery conference for the Western States, and the National Research Advisory Committee meetings.
II. Improve Business and Administrative Processes
Develop and implement a lab assessment process to provide regular, independent feedback to improve the quality of lab services and lab-based research programs.
RD&T developed a lab assessment process that will foster routine expert peer review of the research conducted at TFHRC. Planning for a pilot assessment of the Human Centered Systems Lab currently is underway.

An SAIC-prepared RD&T report provided an overview of Federal laboratory assessment best practices. RD&T used this report to develop its approach and shared it with other interested agencies.


Effectively use research resources and ensure efficient RD&T facility, organization, and program operations.
RD&T recently received the Quality Breakthrough Award, which recognizes organizations within FHWA that are making significant progress in developing clear plans, building sound processes, and achieving measurable results. The award is for the second-of-three milestones in the pursuit of the Quality Journey Award. The first milestone is the Quality Commitment Award, the second is the Quality Breakthrough Award, and the third is the Quality Excellence Award. Each office award recipient was judged using the seven Malcolm Baldrige award criteria for performance excellence. Because it is one of the highest awards given within FHWA, receipt of a Quality Journey Award is a distinctive honor.

RD&T improved its account coordination and reconciliation and identified corrections for FHWA R&T funds. The office used this information to develop FHWA-wide reports for all R&T funds. For contracting and procurement planning, RD&T staff developed training, which FHWA is now using for contracting officer's technical representative (COTR) refresher training requirements. RD&T staff are piloting an advanced acquisition planning system that will be adopted by the Agency.



Technology facilitation action plans (TFAPs) are important mechanisms to ensure organizational R&T product and service delivery to our customers. RD&T and the entire Agency are using TFAPs to track research product development and deployment.



Small Business Innovation Research (SBIR) Process Improvement—RD&T led the development and implementation of a multifaceted process improvement initiative. It established procedures for evaluating SBIR proposals and ensuring that funded projects support critical FHWA research priorities and strategic objectives. The process also provided FHWA office directors with direct roles for determining the SBIR proposals that most closely meet mission priorities. The process helps develop closer and more effective working relationships between Volpe (the organization responsible for overseeing the DOT SBIR initiative) and FHWA. Finally, the process encourages more realistic decisions regarding the number of Phase I-funded projects, given budgetary trends.
Define and implement methodologies/tools to evaluate projects and conduct a performance measurement of TFHRC research.
RD&T developed and adopted a performance management framework based on FHWA's corporate management strategies. The framework was well received within the performance measurement community and obtained a favorable mention in TRB Special Report 261 and in a recent NCHRP report on performance measures.



RD&T staff provided key recommendations to DOT for developing the Office of Management and Budget's (OMB) criteria for Federal investment in research, based on relevance, quality, and performance. The revised criteria are a variation of the original recommendations of the National Academies' Committee on Science, Engineering, and Public Policy.



RD&T participated in the FHWA "catchball" initiative to draft performance objectives directly related to FHWA's Vital Few goals.

Catchball is an FHWA goal-setting process that uses input and participation from all levels of the organization. Employees at all levels were involved in designing strategic objectives, activities, and measures for accomplishing and being held accountable for specific goals. The catchball process encouraged RD&T employees and managers to focus performance plans at the office and individual levels for achieving results in specific project areas.

TFHRC established a performance management team with representatives from all six RD&T offices. The team's charter is to advise and assist the RD&T leadership in developing, coordinating, and implementing organizational performance and productivity improvements. Performance management efforts currently underway include:



Developing performance goals, measures, strategies, and initiatives to improve performance management in RD&T offices and laboratories;



Monitoring measurement results, and analyzing performance management information;



Conducting the annual RD&T self-assessment process and applying results;



Developing and conducting RD&T customer satisfaction surveys;



Contributing to special projects for RD&T performance management, such as developing and implementing the expert panel assessment process for RD&T laboratories;



Assisting in the implementation and review of Agency-wide performance improvement initiatives within RD&T.
Advance the information technologies and systems to address the unique needs of a world-class research organization.

RD&T commissioned an information technology task force consisting of representatives from all of its offices. The task force team's goal is to advance information technologies and systems at TFHRC and to improve computer system communications with our partners and customers.


RD&T actively supported FHWA's effort to make unit performance plans accessible to FHWA offices nationwide via the Shared Unit Performance Plan System (SUPPS). The current RD&T performance plan, challenges, and commitments are posted in SUPPS. RD&T will use SUPPS not only for performance planning, but also as a means of tracking Vital Few goal-related activities and resources to support FHWA's performance goals and strategies.
III. Develop and Recognize Employees
Mentor and encourage individual development plans (IDP) that build employee skills and add to FHWA research capacities and competencies.
RD&T is serious about training its employees, and we encourage all employees to develop and regularly update IDPs through the Learning and Development System (LADS). We also encourage employees to participate in traditional classroom, video, and online training; to perform mentoring; and to actively share research ideas and results. Office directors at RD&T received training at The Federal Executive Institute and Management Development Centers, American Association of State Highway and Transportation Officials' (AASHTO) Executive Leadership Program, and the Eno Transportation Foundation.




The Technical Career Track (TCT) program provides an opportunity for RD&T to promote and retain employees with technical excellence in FHWA. An employee at GS-13 or GS-14 grade level in non-supervisory technical delivery position may be considered for promotions based on current accomplishments, degree of technical expertise, and current position relative to the Agency's overall goals. In 2001, FHWA promoted six RD&T employees under the TCT program, and in 2002, promoted nine RD&T employees.
Improve the award and recognition program to value achievements, link directly to team accomplishments, and advance the RD&T Leadership Council Action Agenda.
RD&T developed a list of potential new awards for TFHRC personnel. The Leadership Council has agreed to review the list and to discuss, revise, and approve new monetary and non-monetary methods for recognizing TFHRC personnel.
IV. Communicate the FHWA R&T Story and Future Agenda
Improve the state of FHWA R&T initiatives and focus areas.
The FHWA R&T Initiatives report discusses our work with a wide range of organizations to implement innovative technologies and progressive programs that will yield impressive returns in safety, mobility, productivity, natural environment, and national security. It also describes initiatives in 12 priority areas: advanced research, asset management, environment, intelligent transportation systems, pavements, safety, structures, operations, policy, planning and real estate, international, and partnerships.


To better communicate Leadership Council goals and accomplishments and increase awareness throughout FHWA about RD&T activities and initiatives, we recently established the "RD&T InfoLink," the FHWA StaffNet intranet Web site. The InfoLink site contains easily accessible information, such as Leadership Council meeting minutes, the Leadership Council Action Agenda, and the checkpoint review progress-tracking calendar.
Collaborate with FHWA headquarters and field offices to gather and disseminate achievements in FHWA technology and innovation delivery.
The first annual report on achievements in technology transfer was published in February 2002. The Technology and Innovation Delivery Activities for Fiscal Year 2001 report compiles the technology and innovation delivery activities of all the FHWA field and headquarters offices for the previous fiscal year. FY 2001 was the first year that the 52 FHWA Division Offices received discretionary funding to implement technologies and apply innovations for individual States' particular needs. The report details the wide variety of activities initiated with State and local partners.
The data in this report will provide a valuable baseline to track and assess FHWA's technology and innovation implementations in future years. The largest expenditure was for showcase projects, followed by testing and evaluation, and specifications, design guides and tools, while smaller amounts were spent on training, outreach, and communication.
RD&T continues to document and highlight R&T success stories in Public Roads and other publications. The RD&T Success Stories section of this report contains some examples of key research conducted at TFHRC.
Identify national research program priorities, resources, and funding needs with our partners.

The National Partnership Initiative was unprecedented in terms of outreach—hundreds of individuals and more than 170 organizations participated. The partnership initiative may become a model for involving external stakeholders as part of a national highway R&T agenda. Convened by the FHWA, AASHTO, and TRB, the partnership engages the entire highway transportation community in identifying R&T needs and examining potential benefits of partnerships formed to fulfill those needs. The partnership initiative established five working groups: safety, infrastructure renewal, policy analysis and systems monitoring, operations and mobility, and planning and environment. A report reflecting the view of the working groups and incorporating the Surface Transportation-Environment Cooperative Research Program (STECRP) findings was published in April 2002.


FHWA is supporting interim work to develop more detailed work plans for the Future Strategic Highway Research Program (FSHRP). Program liaisons on each of the FSHRP technical panels will help ensure that the proposed work complements FHWA's R&T program.
Build a common advocacy to enhance the national R&T program and legislative agenda.
In preparation for reauthorization, FHWA Executive Director Frederick "Bud" Wright and the Associate Administrator for RD&T, Dennis Judycki, testified about FHWA's R&T program at a Senate Committee on Environment and Public Works' roundtable. Several senators made supportive comments about the FHWA R&T program, and many partners witnessed and provided strong support for FHWA R&T activities and leadership. AASHTO, TRB, and ten other organizations testified on behalf of FHWA's key role in highway research.


A surface transportation reauthorization Web site was established for reauthorization outreach, which also enables the public to make comments directly into the docket. The Web site is available at: https://www.fhwa.dot.gov/reauthorization/index.htm
RD&T Leadership Council Action Agenda
The Leadership Council oversees the RD&T Quality Journey and implements FHWA's corporate management strategies. The council also identifies key processes and measures for RD&T; analyzes results of RD&T-wide measures; identifies information gaps; serves as a forum for sharing best practices and lessons learned; and develops and implements action plans. The council uses the annual office self-assessment process to obtain important customer and employee feedback in each of the seven Baldrige categories. This input then is compiled into a crosscutting list of organizational priorities and focus areas for the upcoming FY.

Leadership Council Action Agenda Status & Milestones
Action Item
Office
Status
A. Leadership
1. Develop and implement R&T legislative agenda and strategy
Office of Program Development and Evaluation (HRPD)
-Completed-
2. Prepare a concept paper and work plan for advanced research
Offices of Safety, Infrastructure, and Operations R&D (HRDS, HRDI, HRDO)
-Completed-
3. Prepare a white paper on the FHWA role in R&T
HRPD
-Completed-
Note: An implementation plan was prepared in response to the TRB Special Report 261, The Federal Role in Highway R&T.
B. Strategic Planning
1. Mobility
See RD&T Research Project Status Summary for FY 2002
25 projects completed to support the mobility goal in FY 2002.
2. Safety
See RD&T Research Project Status Summary for FY 2002
12 projects completed to support the safety goal in FY 2002.
3. Productivity
See RD&T Research Project Status Summary for FY 2002
5 projects completed to support the productivity goal in FY 2002.
4. Human and natural environment
See RD&T Research Project Status Summary for FY 2002
3 goal-related projects completed in FY 2002 (See Infrastructure project listing).
5. Security
See RD&T Research Project Status Summary for FY 2002
RD&T worked with the AASHTO Transportation Security Task Force to develop a prioritized list of research projects. FHWA is planning to participate in three studies:
1) Rapid Bridge Replacement and Bridge Design;
2) Construction and Retrofit Strategies; and
3) State-of-the-Art Bridge Surveillance Technologies.
C. Human Resources Development and Management
Provide a forum for outreach on work systems, training, security, and morale
Office of Resource Management (HRRM)
-Completed-
HRRM developed a list of potential new awards for TFHRC personnel. The LC agreed to review the list and discuss, revise, and approve new monetary and non-monetary methods for recognizing TFHRC personnel.
D. Customer and Partner Focus
1. Communicate the FHWA R&T Story
HRTS
-Redefined for FY 2003-
2. Update and maintain technology facilitation, strategy and action plans
HRDI/HRDS/HRDO
-Continued in FY 2003-
3. Communicate RD&T Activities (Profiles report, success stories, Innovation Connection, etc.)
HRTS
-Continued in FY 2003-
Note: Will be redefined and moved to Process Management.
4. Develop a customer feedback plan for RD&T
HRPD
-Completed-
E. Information & Analysis
Improve the RD&T Web site to enhance customer access
and service
HRTS
-Completed-
F. Process Management
1. Administrative key processes
1. Review procurement planning process, evaluate results, and document improvements
HRRM
HRRM will continue to participate in the HAAM pilot.
2. Review administrative processes, evaluate results, and document improvements
HRRM
-Completed-
2. Business Processes
1. Replace technology and innovation process, evaluate results, and document improvements
HRTS
-Will be redefined for FY 2003-
Note: Discontinue and replace the Technology Innovation Network (TIN) effort with "Raising the Bar" agency-wide initiative.
2. Develop a TFHRC lab assessment process
HRPD
-Continued in FY 2003-
3. Complete a process management improvement for FHWA participation in the SBIR process
HRPD/ HRRM
-Completed-
G. Business Results (Metrics)
1. Develop and implement an RD&T performance evaluation program
HRPD
-Completed-
See section on Our Business Results—RD&T Challenges, Commitments, and Achievements. Items II.1 (lab assessment), and II.3 (benefits evaluations). See also—Performance Management Framework.
2. Establish and support RD&T information technologies team
HRRM
-Completed-
Note: RD&T information technology needs analysis will continue in FY 2003 under Information and Analysis.
3. Outreach for Work life Issues
HRRM
-Completed-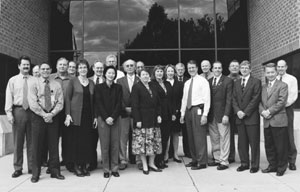 Leadership Council and team leaders
Research Project Status Summary
More than 90 percent of the research projects listed in the 2002/2003 plan currently are on schedule. RD&T will complete more than 70 percent of the projects listed in the plan by the end of 2003.
Of the projects originally scheduled for FY 2002, 37 of 38 were completed. One project on functional requirements for microsimulation-based surrogate safety measures at intersections was cancelled. The use of intelligent snowplows project was rescheduled for FY 2003 because of inadequate snowfall last winter.
Because of external and/or internal factors, 8.6 percent of projects were delayed, overall. Factors contributing to delay include:

| Factor | # of Occurrences |
| --- | --- |
| Equipment-related problems | 3 |
| Budget-related issues | 1 |
| Contractor or technical issues | 3 |
| Project technical issues | 2 |
| Regulatory issues | 2 |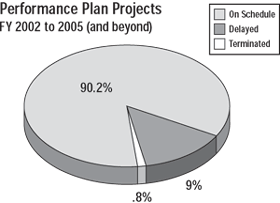 Details regarding specific projects and project statuses are available in the Project and Services Status Tables.
RD&T successfully completed 37 projects during FY 2002 and delivered more than 50 products during FY 2001 to 2002 that support DOT's strategic goals and FHWA's performance goals. The following highlights showcase research implemented by FHWA and State DOTs.
Safety
Interactive Highway Safety Design Model (IHSDM)
Every year, States redesign or modify about 3 million miles of two-lane roads. IHSDM helps State and other highway planners and designers assess the safety effects of specific geometric design decisions and alternative road improvements. IHSDM was developed over several years. Initial efforts focused on two-lane rural highways, since they are the largest highway class in the United States, representing approximately two-thirds of all Federal-aid highways. Beta versions of the Policy Review and the Design Consistency modules are currently available for testing.


Rumble Strips
Rumble strips help prevent roadway departure crashes, which account for 38 percent of all fatal crashes. As part of its R&T program, FHWA is communicating the benefits and costs of using rumble strips to all States. A survey of 8 States using rumble strips shows 18 to 72 percent in crash reductions, with a 30-to-1 benefit-to-cost ratio (with some State ratios as high as 60-to-1).


Highway Safety Information Systems (HSIS)
HSIS is a multistate information system that contains accident data for more than 5-million crashes, information about traffic volumes, and roadway inventory data covering approximately 165,000 miles of State highway systems. FHWA staff, contractors, university researchers, and others use HSIS to study current highway safety issues, to direct research efforts, and to evaluate the effectiveness of accident countermeasures. Through HSIS, FHWA works closely with States and other partners to gather data and improve our ability to analyze roadway safety challenges. HSIS enables FHWA to direct investments to specific projects and programs that will deliver the most value in terms of saving lives and minimizing injuries.


Pedestrian and Bicycle Crash Analysis Tool (PBCAT)
FHWA developed a crash-typing software product, PBCAT, to assist State and local pedestrian and bicycle coordinators, planners, and engineers with improving walking and bicycling safety. The Orlando Metropolitan Area used PBCAT to identify appropriate countermeasures for 10 "hot spots" that accounted for 169 crashes and 22 fatalities.


Roundabouts Information Guide
FHWA developed Roundabouts: An Informational Guide, to help communities improve safety and mobility by placing roundabouts in appropriate areas. Experiences in the U.S. show that roundabouts reduce crashes by 37 percent, and decrease crashes involving injuries by 51 percent.


Highway Design Handbook for Older Drivers and Pedestrians
Based on the characteristics of older drivers and pedestrians, this resource provides practitioners with practical information for incorporating specific roadway features into highway design, operations, and traffic-engineering. The handbook showcases tools that address issues that enhance older driver and pedestrian safety and mobility.
Infrastructure
Superpave®
The United States spends more than $15 billion each year to construct and resurface roads with hot-mix asphalt (HMA). This annual investment requires at least 500-million tons of HMA, held together by about 30-million tons of liquid asphalt binder. Initially developed under the Strategic Highway Research Program (SHRP), the Superpave system is the primary mechanism used by State highway agencies to purchase liquid asphalt binder and design asphalt mixtures. In close partnership with TRB, FHWA continues its leadership role in refining the Superpave specifications and testing procedures. Recent innovations include modifying the low-temperature binder specification and incorporating an FHWA-developed device to increase laboratory mixture compaction uniformity in the gyratory.


Partnering to Save Time and Money on a Critical Infrastructure Project
During the foundation construction for the new Woodrow Wilson Bridge, a tremie concrete seal dislodged from one of the main piers and fell to the bottom of the river. Although this had no immediate effect on the structural stability or integrity of the main pier (the tremie concrete enabled dewatering for construction of the pier cap), there was concern about the long-term scour effects of the thicker tremie seal that was originally proposed as a solution to the problem. The Maryland Division Office, the Eastern Resource Center, and FHWA's hydraulics laboratory provided technical assistance to the Maryland State Highway Administration. FHWA tested physical models of the new pier configuration in the flume at TFHRC to estimate the long-term scour effects. The tests confirmed that bridge safety was not affected by the change, and this major project continued
on schedule.


Report Estimates Cost of Corrosion in U.S.
FHWA published the Corrosion Cost and Preventive Strategies in the United States report that provides a comprehensive and current estimate of the total economic effect of metallic corrosion in the United States and identifies national strategies to minimize corrosion's impact. Corrosion's total direct cost is estimated at $276 billion per year. FHWA analyzed the effects of corrosion in 26 industrial sectors and extrapolated these results for a nationwide cost estimate. Sectors were divided into five major categories: infrastructure, utilities, transportation, production and manufacturing, and government. The conservative estimate of the indirect cost is equal to the direct cost of corrosion. The report is widely referenced as the most authoritative, comprehensive, and current study of corrosion cost in the U.S. Further information is available at http://www.corrosioncost.com.


Serving Internal Customers: The Office of Infrastructure R&D Delivers a New Tool to FHWA Bridge Engineers
This project developed a Web-based system to access the National Bridge Inventory (NBI); with search and analysis capabilities that enable FHWA bridge engineers to better understand the relationship between bridges, bridge conditions and capacities, and bridge performance in the national transportation system. Web-NBI is the Web-based NBI system that engineers may use to access and analyze NBI data. Its functionality includes the:



Ability to download NBI files in Microsoft® Access or ASCII text format for any State;


Ability to create dynamic queries, browse the results, and download the results;


Ability to perform dynamic cross-tab queries and browse the results;


Ability to generate dynamic NBI bar charts or to generate bar charts from query results;


Access to standard queries—graphs and maps are preformatted and are readily available for browsing or downloading;


Partial support to map bridge records from NBI queries and display significant bridge environment features such as roads, rivers, and rail lines;


Dynamic thematic map generation that displays bridge information such as the number of deficient bridges by county; and


Ability to generate structure inventory and appraisal reports.


These capabilities are now on the desktop of every bridge engineer within FHWA to ensure the safety, reliability, and security of the Nation's highway bridges.

Long Term Pavement Performance (LTPP)
The LTPP program is a comprehensive 20-year study of in-service pavements, with more than 1,900 asphalt and Portland Cement Concrete pavement test sections from across the U.S. and Canada. LTPP's goal is to provide the data needed to help the States and Provinces make decisions that will lead to better-performing and more cost-effective pavements.

Since 1998, States have provided more than $30 million to FHWA through NCHRP to continue critical, high-payoff research. LTPP data played a significant role in developing the NCHRP 2002 Guide for the Design of New and Rehabilitated Pavement Structures as a source for data and test procedures. The LTPP test sections and procedures may play a role in the local calibration/validation of the design guide by States. LTPP research information will continue to play a key role in developing future pavement design guides, and it represents a dynamic example of State and Federal partnerships.


HIPERPAV™
Originally developed in 1996, the High-Performance Paving Software (HIPERPAV) is a powerful tool that helps highway organizations build long-lasting concrete pavements. When used in the design and construction phases of a concrete paving project, HIPERPAV can help engineers achieve a high-quality product at minimal cost by optimizing pavement and overlay design, optimizing mix design and temperature characteristics, and reducing long-term performance uncertainties.

With the release of HIPERPAV 3.0, the HIPERPAV modeling capabilities have been expanded to consider early-age behavior of continuously reinforced concrete pavements (CRCP) and longer-term behavior of jointed concrete pavements (JCP), in addition to the early-age JCP and bonded concrete overlay capabilities provided in early versions.


Cost-Effective Rehabilitation Strategies Using Falling-Weight Deflectometer Calibration Centers
Billions of dollars are spent on pavement rehabilitation and resurfacing annually. To make the best possible decisions about where and when to conduct pavement rehabilitation work, State DOTs need extensive data on the pavement's structural condition. These data are obtained by using accurately calibrated equipment. FHWA calibration centers provide a critical resource to the States, which rely on consistent and accurate data to properly assess the structural condition of our Nation's highways and allocate limited resources in the most effective manner.


High-Performance Concrete (HPC) Contributes to Rapid Bridge Reopening
The successful rapid replacement of the I-65 bridge in Birmingham, Alabama, demonstrated what was achieved by using innovative practices and materials developed by FHWA R&T. After closure from an accident, the bridge was replaced and traffic capacity restored in a record 67 days.


COST (Concrete Optimization Software Tool)
High-performance concrete offers tremendous potential for improving the highway infrastructure. However, that potential relies on the correct mix components in the proper proportions for each project. COST is an online design and analysis system that enables concrete producers, engineers, and researchers to determine optimal concrete mixture proportions. COST makes the highly complex mix design process more efficient and more manageable. Available online at http://ciks.cbt.nist.gov/cost/, COST is the culmination of a highly-successful joint research effort by members of the Portland Cement Concrete Pavement (PCCP) team and researchers from the National Institute of Standards and Technology.
Operations
QuickZone
The recently released QuickZone software is a work zone delay estimation software, which will provide a more complete and realistic view of total construction costs. QuickZone is a key component of FHWA's Strategic Work Zone Analysis Tools (SWAT) program.

The QuickZone partnership program enables users to take advantage of open source code to customize the software, thus providing State and local agencies with a tool that best meets their needs. With QuickZone, State highway agencies can evaluate a broad range of alternative work zone design and mitigation strategies in a relatively short time frame, resulting in better decisionmaking for highway construction projects. A recent QuickZone benefits study verified this important aspect of the program—traffic engineers were able to better predict the traffic effects of various work zone design strategies and more accurately stage their projects, thus saving money and time (see RD&T Research Benefits Case Studies).


Nationwide Differential Global Positioning System (NDGPS)
NDGPS can pinpoint a person or vehicle's position to within 3 meters. The NDGPS directs emergency responders to the exact location of a crash, makes it easier for highway agencies to monitor and respond to hazardous pavement conditions, provides drivers with in-vehicle route guidance, and contains a host of other transportation applications. NDGPS sites will form part of a nationwide operational GPS meteorological observing system that will enable the National Weather Service to provide more accurate weather forecasting.


High Accuracy Nationwide Differential Global Positioning System (HA-NDGPS)
As part of its ongoing research efforts, RD&T modified an existing NDGPS facility to broadcast corrections that achieve 10-centimeter horizontal accuracy. Initial testing of the HA-NDGPS indicates the new broadcast is accurate to within 10 centimeters and better in many areas. Further research is underway to modify an additional NDGPS facility to achieve faster and even more accurate navigation solutions.

Previous | Table of Contents | Next