Office of Research, Development, and Technology FY 2004 Performance Report
III. Our Business Results
RD&T Challenges, Commitments, and Achievements
To guide our business and performance plan, the RD&T Leadership Council's vision is to conduct research and provide products and services that are essential, indispensable, and connected to our customers and partners. We are committed to continuing our Quality Journey (the process that FHWA uses to regularly assess its management practices); initiating program, process, and quality-of-worklife improvements; conducting outstanding research; and providing services that drive the achievement of FHWA strategic goals, and exceed customer and partner expectations. Our top four challenges and commitments for FY 2004/2005 are listed below, followed by sections containing exemplary achievements and notable progress made in each area.
Effectively Deliver Needed Products and Services
Develop quality research products and services that address the needs of our internal customers and external partners in a timely manner.
Improve R&T collaboration and communication with the FHWA Resource Center and Division offices.
We have developed a lab assessment process that will allow routine expert peer review of the research conducted at TFHRC.
Improve Business and Administrative Processes
Implement the Corporate Master Plan within RD&T and support the RD&T Associate Administrator in guiding the FHWA R&T Leadership Team in its oversight of the Corporate Master Plan implementation for the Agency.
Refine and implement the lab assessment process to provide regular, independent feedback to improve the quality of lab-based research and services.
Use research resources effectively and ensure efficientRD&T facility, organization, and program operations.
Define and implement methodologies/tools to evaluate projects and measure performance.
Advance information technologies and systems to address the unique needs of a world-class research organization.
Develop and Recognize Employees
Mentor employees and encourage training and professional development to build skills and add to capabilities and competencies.
Improve the award and recognition program to value achievements, link directly to team accomplishments, and advance the RD&T Leadership Council's Action Agenda.
Communicate the FHWA R&T Story and Future Agenda
Improve the communication of FHWA R&T initiatives and focus areas to stakeholders.
Collaborate with FHWA headquarters and field offices to gather and disseminate information about achievements in FHWA T&I delivery.
Identify national research program priorities, resources, and funding needs with our partners.
Effectively Deliver Needed Products and Services
Commitment: Develop Quality Research Products and Services that Address the Needs of Our Internal Customers and External Partners in a Timely Manner.
RD&T Products
Information regarding RD&T research products, as well as ongoing projects, is available in the R&D Research Project Status table located in Appendix A.
RD&T Services
The types of services we provide include forensic and specialized engineering services, technical assistance, and workshops. A detailed listing of RD&T services can be found in appendix B.
Commitment: Improve R&T Collaboration and Communication with the FHWA Resource Center and Division Officers.
RD&T staff recognizes the importance of building and maintaining close relationships with the Resource Center and Division offices for the purpose of delivering technology and innovation to our customers. RD&T researchers serve as members of the Resource Center Technical Service Teams (TSTs) to facilitate technology deployment efforts and better serve FHWA customers. The TSTs were created to provide unified and coordinated assistance nationwide. Ten specialized teams were created which are based out of the Agency's four Resource Center locations in Atlanta, GA; Olympia Fields, IL; Baltimore, MD; and San Francisco, CA.
Other efforts to improve R&T collaboration and communication over the past year have been led by groups such as the Design Guide Implementation Team, chaired by an RD&T member, and the Traffic Analysis Tools Team. In addition, a collaborative meeting with representatives from the Office of Bridge Technology, the National Steel Bridge Alliance, several State DOTs, the steel industry, and academia was held to discuss new technologies designed to improve the condition of steel bridges in the United States.
Resource Center and Division offices have also been involved in developing Technology Facilitation Action Plans for implementation of research results.
Improve Business and Administrative Processes
Commitment: Implement the Corporate Master Plan within RD&T and Support the RD&T Associate Administrator in Guiding the FHWA R&T Leadership Team in its Oversight of the Corporate Master Plan Implementation for the Agency.
Key accomplishments toward the goal of implementing the Corporate Master Plan for Research and Deployment of Technology & Innovation included: adopting a performance measurement framework for FHWA R&T; developing more than 60 multiyear program plans to provide guidance and direction for future R&T activities; identifying and promoting Agency priority market-ready technologies and innovations; conducting an advanced research benchmark assessment, and establishing a new R&T Web site to keep our customers and stakeholders informed of our progress in implementing the Corporate Master Plan and new R&T initiatives (the site is available at www.fhwa.dot.gov/crt/index.cfm ).
Commitment: Effectively Use Research Resources and Ensure Efficient RD&T Facility, Organization, and Program Operations.
RD&T is committed to ensuring that facility and program operations are conducted efficiently and make the best use of resources. In FY 2004, two Transportation Pooled Fund (TPF) Program workshops were conducted at TFHRC. The workshops provided guidance on soliciting new pooled fund studies, initiating and conducting studies, reporting on studies, using the interactive TPF Web site (www.pooledfund.org), and other TPF Program features. The workshops were attended by FHWA staff, RD&T researchers, and other interested parties. The interactive website has greatly improved efficiency of the TPF program which leverages resources by pooling funds.
Facility improvement efforts are another important part of our commitment. Solar-powered lamps for the facility parking lighting systems were installed for the three parking lots and main entrance walkways to improve facility security. The solar-powered units were chosen for their ability to provide continuous lighting without concern for the need of emergency-power backup and the fact that the cost for electricity to the center would not increase. The system meets the requirements of the Illuminating Engineering Society of America and is designed to minimize light trespass and sky glow.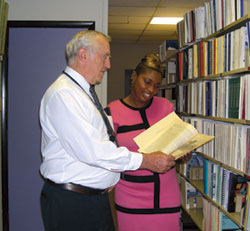 TFHRC employees in Technical Reference Center.
Upgrades to the RD&T Technical Reference Center were also completed in FY 2004. Improvements included the addition of a new reading room and computer workstations. An enhanced cataloguing system for the Center's unique collection of highway research and technology materials was completed, as well.
The facility will also expand the collection to include a substantial amount of human factors literature and long-term pavement performance research. An Interlibrary Loan (ILL) service provided through the ILL automated system is now available to help make it easier for researchers to borrow materials from participating libraries nationwide.
Also in FY 2004, our Asphalt Labs (Binder Rheology and Bituminous Mixtures) received the AASHTO Materials Reference Laboratory (AMRL) certification. This widely regarded certification recognizes the quality of the Asphalt Labs and it recognizes the competency of lab personnel in carrying out construction materials testing.
Commitment: Define and Implement Methodologies/Tools to Evaluate Projects and Conduct Performance Measurement of Research at TFHRC
RD&T institutionalized its Lab Assessment Program by establishing routine procedures for assessments and completing three lab assessments in FY 2004, covering the Asphalt Laboratories, the Traffic Research Laboratory (TReL), and the Hydraulics Laboratory. Lab managers have developed action plans to respond to the recommendations of the panels, and are held accountable for them by management. RD&T leadership uses the external expert assessment process to document lab performance and provide feedback for improvements to lab managers, as well as to provide a credible, professional, and objective assessment that will improve stakeholders' confidence in the work done and the outcomes produced.
FHWA's research and technology (R&T) program received an indepth review by the Office of Management and Budget (OMB), using the Program Assessment Rating Tool (PART). OMB examined the program purpose and design, strategic planning processes, program management process, and program results/accountability. RD&T led the Agency in preparing for the OMB's assessment of the FHWA R&T program. An R&T performance measurement framework and Agency strategic goal crosswalk/logic model were developed to clearly show the connection between research and Agency goals. Overall, the R&T program received outstanding marks in strategic planning and program management.
RD&T led the Agency in preparing for the OMB's assessment of the FHWA R&T program. An R&T performance measurement framework and Agency strategic goal crosswalk/logic model were developed to clearly show the connection between research and Agency goals.
Commitment: Advance Information Technologies and Systems to Address the Unique Needs of a World-Class Research Organization
A key accomplishment in FY 2004 was the development of a Workforce Plan for RD&T. The workforce for RD&T in the future will need to reflect the diverse needs of our scientists and engineers, as well as those who provide program support for the research offices.
The RD&T Information Technology Workgroup comprised of representatives from each RD&T office, conducted an assessment of both long-term requirements and short-term needs at TFHRC and developed a plan focusing on computer upgrades for all RD&T staff, replacement of old printers, and acquisition of laptops for presentation and travel needs. Additionally, a State Planning and Research (SP&R) Guide Web Portal was established as part of the RD&T Web site at: https://www.fhwa.dot.gov/publications/research/general/spr/index.cfm. The site provides information on legislation and regulations, oversight and stewardship, peer exchanges, the TPF program, TRB, NCHRP, and RAC. The web portal was created to provide a variety of information and links that are relevant to research programs under the SP&R Program.
Develop and Recognize Employees
Commitment: Mentor, Encourage, and Build Employee Skills and Add to FHWA Research Capacities and Competencies
Career development and enrichment are key focus areas for our organization, and RD&T is serious about training its employees. Employees are encouraged to take training, which includes but is not limited to, traditional classroom training, video and online training, mentoring, and sharing research ideas and results. All employees are encouraged to develop and regularly update Individual Development Plans (IDPs) through the Learning and Development System (LADS). A key accomplishment in FY 2004 was the development of a Workforce Plan for RD&T. The workforce for RD&T in the future will need to reflect the diverse needs of our scientists and engineers, as well as those who provide program support for the research offices.
Along with planning for the future workforce, RD&T strives to build on the talents of its employees and develop future Federal executives and managers. In FY 2004, three RD&T personnel were selected for executive, management, and leadership programs such as the Executive Potential Program, the U.S. Department of Commerce Science and Technology Fellowship (ComSci) Program, the USDOT sponsored "So You Want to Be a Leader" course, and the 2003/2004 Academic Study Program. RD&T has also hosted Federal leadership development program candidates from the Executive Potential Program, the Executive Leadership Program, and the Professional Development Program. This provides RD&T staff with an excellent opportunity to mentor and develop talented women and men who will become future leaders in the Federal government.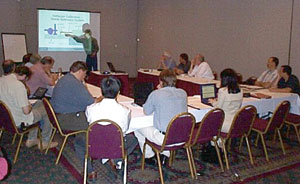 Researchers discussing results of experiment
Building employee skills through training and professional development is critical to achieving organizational goals and improving customer service. RD&T hosted the FHWA Federal-Aid Highways 101 course at TFHRC this past June to provide RD&T employees with a unique opportunity to learn more about the key requirements and laws of the Federal-Aid Highway Program. Topics included innovative financing, Civil Rights Program, EEO Contract Compliance, Environmental Justice, the project development process, and discussion on how Federal-aid laws and regulations relate to the other laws (i.e., National Environmental Protection Act (NEPA), Uniform Act, the Davis Bacon Act, OMB Circular A-87, 49 Code of Federal Regulations (CFR) Part 18).
RD&T also invests in employee development by encouraging organizational and employee memberships in professional associations, such as AASHTO, American Public Works Association, American Chemical Society, American Society for Testing and Materials (ASTM), American Society of Civil Engineers (ASCE), Human Factors and Ergonomics Society, Institute of Transportation Engineers, Intelligent Transportation Society of America, and a host of other professional organizations.
RD&T hosts FHWA Postdoctoral researchers under a program sponsored by the National Research Council. The fellowship program provides postdoctoral scientists and engineers the opportunity to conduct research compatible with the interests of Federal labs. For recent doctoral graduates, the program provides an opportunity for concentrated research in association with selected members of the permanent professional laboratory staff. For established scientists and engineers, the program affords an opportunity to conduct research free from interruption and distraction. The presence of bright, highly motivated doctoral graduates and senior investigators provides participating labs with unique stimulus, new ideas, and innovative approaches to research.
Commitment: Improve the Award and Recognition Program to Value Achievements, Link Directly to Team Accomplishments, and Advance the RD&T Leadership Council's Action Agenda
The use of cash awards, time-off awards, certificates, and other forms of recognition, both formal and informal, are an integral part of the way RD&T acknowledges and values the hard work and excellence of its employees. RD&T also organized an Employee Recognition Committee to propose new methods of recognizing employees whose efforts have resulted in superior achievement, especially in relation to Agency goals. Award categories proposed by the committee include the areas of research and innovation, customer service, and process improvement.
HRDI completed a study that examined the benefits of Infrastructure R&D completed over the past 20 years in the areas of national design and data standards, new technologies, and new materials development.
In addition to internal awards, RD&T employees were the recipients of some notable external awards and recognition. The following list represents some of the recognition received this past year:
Al DiMillio was the recipient of four awards for his accomplishments in the area of geotechnical research. The awards were: the Association of Drilled Shaft Contractors (ADSC) Annual Award for Outstanding Service; the Deep Foundations Institute Annual Hal Hunt Lectureship Award; the International Workshop on Micropile Organizing Committee's Leadership Recognition Award; and the U.S. Army Corps of Engineers and the Engineering R&D Center (ERDC) Award of Excellence.
Steve Chase received the Secretary's Team Award for his work with the FHWA Infrastructure Research and Technology Working Group.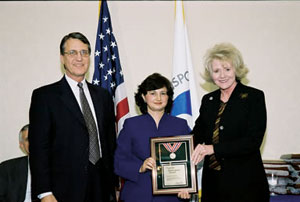 TFHRC Award winner Sheila Duwadi
Sheila Duwadi received the FHWA Administrator's Award for Superior Achievement and the FHWA Award for Engineering Excellence.
Stephen Forster received an Honorary Membership on ASTM Committee D04. The honor was given in appreciation for Forster's sustained outstanding service to Committee D04, Road and Paving Materials, and in appreciation for his dedication to its objectives. He was also the recipient of the Secretary's Team Award for the FHWA Infrastructure Research and Technology Working Group.
RD&T acknowledges and values the hard work and excellence of its employees.
Sterling Jones was recently selected as the ASCE 2004 Hydraulic Structures Medal recipient. This annual award recognizes significant contributions to the advancement of the art and science of hydraulic engineering as applied to hydraulic structures.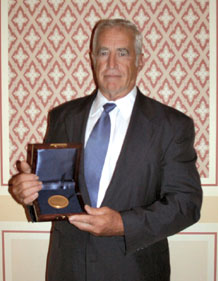 TFHRC Award winner Sterling Jones.
Raymond Krammes was selected as the FHWA Engineer of the Year. Krammes completed extensive work in highway safety, especially Jones. in planning, research, development, contract monitoring, and most recently in implementation of the Interactive Highway Safety Design Model. His efforts have been a key component of FHWA's plan to improve highway safety, especially on two-lane roads. Krammes also received the FHWA Administrator's Award for Superior Achievement.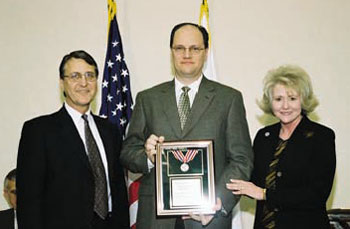 Ray Krammes, FHWA Engineer of the Year.
Jean Landolt of the Office of the Associate Administrator for RD&T received the Secretary's Award for Excellence for exceptional job performance and customer service.
Charles McDevitt was presented with a Meritorious Service Award by AASHTO in recognition for 25 years of meritorious public service.
John O'Fallon was recognized for an extraordinary 50 years of government service. O'Fallon began his career in FHWA in 1954 (then called the Bureau of Public Roads). He was the first Division Bridge Engineer in the Connecticut Division and served as Chief Structural Engineer. His assignments included starting the National Bridge Inspection and Special Bridge Replacement Programs, drafting the original Bridge Inspector's Training Manual, creating the 6-week Bridge Engineers Workshop, editing the chapter on bridges in the book America's Highways 1776-1976, and managing the Northeast Corridor (NEC) Structures Program.
Paula Magoulas, Martha Soneira, and Dawn Vanlandingham received the "Strive for Excellence" Team Award as a result of their outstanding strategic communications support for the FHWA R&T program.
Communicate the FHWA R&T Story and Future Agenda
Highway research provides innovative solutions that can make our Nation's roads safer, less congested, smoother, more durable, more environmentally friendly, and better able to support our economy and national defense needs. RD&T's challenges and commitments in this area reflect the key role that communication and partnerships play in building success.
Commitment: Improve the State of the FHWA R&T Initiatives and Focus Areas
In FY 2004, several initiatives were undertaken to improve the R&T program and address Agency commitments. The Office of Infrastructure R&D conducted a series of workshops in February and March to assess the realignment of the Structures R&D program and produce a Structures R&D Strategic Roadmap. Other activities in FY 2004 were taken to address Agency commitments in the Corporate Master Plan relating to advanced research.
An independent external panel conducted an assessment of FHWA's advanced research activities and presented their findings to the FHWA R&T Leadership Team. Based on this baseline assessment, the R&T Leadership Team will lead the Agency in determining a process for management of longterm, high-risk research with high payoff potential, and addressing significant highway research gaps and emerging issues with national implications.
Commitment: Collaborate with FHWA Headquarters and Field Offices to Gather and Disseminate Achievements in FHWA T&I Delivery
The Agency recently created a new exhibit entitled Moving Technology and Innovation into Practice, developed as a result of the Corporate Master Plan. The new exhibit consists of a retractable banner measuring 1.2 by 2.1 meters (4 by 7 feet), supplemental handouts, and wire publication racks. The handouts include one-page technical information sheets on the latest priority, market-ready T&Is that FHWA recommends for deployment.
One handout, for example, describes Border Wizard—a software model that accurately simulates all cross-border movements of cars, buses, trucks, and pedestrians using customs, immigration, and security procedures. Another handout discusses QuickZone—a user-friendly computer software tool for estimating and analyzing the length of queues and delays in work zones. A comprehensive list of the available T&Is can be viewed and downloaded from www.fhwa.dot.gov/crt/lifecycle/ptisafety.cfm. RD&T is working with the FHWA R&T Leadership Team, Resource Center, and Divisions to track the deployment and implementation of these market-ready T&Is and document success stories.
Over the past 5 years, the RD&T produced over 300 publications to disseminate the results of laboratory research at TFHRC. A 58-page catalog summarizes RD&T technical research publications, which includes Application Notes, Product Briefs, Fact Sheets, CD-ROMs, Technical Reports, and TechBriefs, and provides information about where and how to access the materials or obtain hard copies (if available). Each listing in the catalog features the title of the publication, the publication number, a short description of the item, and in most cases, a Web site where users can access the publication online. To access the catalog online, visit www.fhwa.dot.gov/publications/research/general/04035/index.cfm.
Commitment: Identify National Research Program Priorities, Resources, and Funding Needs with Our Partners
RD&T works with groups such as the AASHTO RAC, the TRB RTCC, and the USDOT RTCC to build partnerships that help define research priorities and make the best use of available resources. The RAC is comprised of representatives from AASHTO's 52 member departments and serves as an advisory group to AASHTO'S SCOR. RD&T staff attended the 2004 National RAC meeting in Mystic, CT in July 2004. The agenda included examination of how research projects were furthering national goals (including environment and security), promotion of new market-ready technologies and innovations, opportunities for research partnerships, and future national priorities.
RD&T serves as the focal point for FHWA participation in cooperative research activities with its State partners through the NCHRP. In addition, the TPF program allows FHWA, States, regional and local transportation agencies, academic institutions, foundations, and private firms to join together to conduct R&T projects of mutual interest. Funds from participants are consolidated, and the resultant project is managed such that the perspectives and desires of participating agencies are addressed. Another mechanism for cooperative research is participation in international cooperative efforts (see appendix E).
Commitment: Build a Common Advocacy to Enhance the National R&T Program and Legislative Agenda
Representatives from RD&T, FHWA Office of Policy, AASHTO, House T&I, House Science, and Senate Environment and Public Works staff members met with the AASHTO SCOR and RAC to conduct panel discussions on reauthorization of surface transportation research and technology programs in January of 2004 at the TRB Annual Meeting. RD&T staff also served on the USDOT task force to define the roles and responsibilities of the proposed Research and Innovative Technology Administration (RITA), with regard to research coordination. These roles are spelled out in the Norman Y. Mineta Research and Special Programs Reorganization Act, enacted as Public Law (PL) 108-426, signed on November 30, 2004.
RD&T develops and executes a comprehensive research, development, and technology communications strategy and plan that disseminates achievements in FHWA T&I delivery.
2004 Research Project Status Summary
This has been a particularly challenging year due to funding and resource constraints, specifically regarding limitations and scheduling adjustments caused by delayed appropriations and short-term extensions of authorizing authority. A total of 14 projects cited funding as a cause for delay or halting of research.
In FY 2004 there were a total of 115 projects reported in the FY 2004/2005 Performance Plan. Since the publication of the plan in November 2003, there have been a total of 35 new projects added and 7 projects discontinued, bringing the total number of projects to 143. The number of completed projects for FY 2004 was 42, with 24 products currently available for delivery.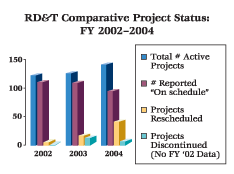 Note that in the chart labeled FY 2004 Product Delivery, products are "ready-to-use" guidelines, procedures, protocols, best practices, software, equipment, etc. that are packaged and available to end users. Completed projects, depending on scope, may immediately generate usable products, but they can also result in research findings and results that require further, review, packaging or formatting before becoming usable. There are 68 projects that are ongoing and scheduled for completion in FY 2005 and 33 scheduled for FY 2006 and beyond. (Further details on specific RD&T projects and services are available in the research project status and services tables located in appendices A and B.)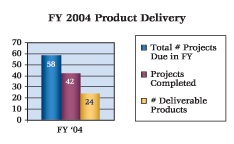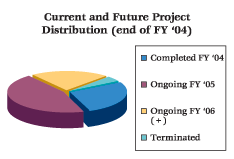 Lab Assessments
Three lab assessments were completed in FY 2004: an assessment of the Asphalt Labs, the Traffic Research Lab (TReL), and the Hydraulics Lab. Lab assessments are independent expert peer reviews intended to assess the relevance, quality and performance of research at TFHRC. These peer reviews help FHWA monitor whether the research program is appropriately structured and is on track toward providing an appropriate knowledge base for achieving Agency goals.
The lab assessments raise the visibility of the work of the labs with customers and stakeholders and are a welcome opportunity to obtain their feedback.
The lab assessment panel members provided valuable advice regarding knowledge of related work at universities, State DOTs, other government labs, or private industry. In addition, the experience of preparing for the assessment helped strengthen ties to other labs and organizations as a result of onsite interactions and follow-on exchanges between panel members and TFHRC staff.
RD&T Success Stories
Infrastructure R&D Success Stories
Angle Validation Kit
RD&T researcher, Tom Harman, worked in conjunction with Tom Brovold and Paul Fuchs to develop an Angle Validation Kit (AVK). The device underwent a patent review and was awarded a patent by the U.S. Patent Office. The AVK was developed in partnership between FHWA and the TestQuip Corporation. The patent lists the three parties involved in the development. FHWA is currently in the process of licensing the technology so that royalties from the license can be used to fund additional research.
Coefficient of Thermal Expansion Test for Concrete
One of the key characteristics of concrete pavements exposed to the environment is the response of the pavement to changes in temperature. However, this response is not uniform, but varies according to the components and their proportions that make up the concrete being used. Noting that there was no standard test for this characteristic, the concrete pavement staff at RD&T began to work on developing such a test several years ago. The result is the Method for the Coefficient of Thermal Expansion (CTE) of Hydraulic Cement Concrete, currently approved as an AASHTO Provisional Standard (TP-60-00). When the recently completed new pavement design guide was being developed under NCHRP Project 1-37A, they also recognized the importance of this characteristic for rigid pavement design and performance and included it as one of the standard tests to be run to characterize the concrete. As a result, the test will be widely used, and pavement performance will be more predictable and therefore enhanced.
Design Guide Introductory Workshops
During 2004, the long anticipated Mechanistic-Empirical (M-E) Pavement Design Guide was completed and released by NCHRP. In order to acquaint the highway community with the capabilities and benefits of this new guide as well as to help users prepare for its implementation, the FHWA Design Guide Implementation Team (DGIT) developed and held a series of free workshops in numerous locations across the country. One of these workshops was also broadcast live on the Internet and allowed interested participants who could not travel to one of the workshops to view the workshop and ask questions via e-mail in real time.
Guidance on Quality Assurance Specification Development
Statistically based, highway-construction quality assurance specifications have evolved and greatly improved since first introduced to the highway community in the late 1960s. With over 90 percent of State highway agencies using such specifications, yet depending on scattered, inconsistent, or out-of-date guidance, there was a need to develop a comprehensive guide containing instructions to allow State highway agencies to benefit more fully from national experience and take advantage of recent developments. The result was a manual, Optimal Procedures for Quality Assurance Specifications, which a highway agency can use when developing new, or modifying existing, statistical acceptance plans and quality assurance specifications. The manual reflects the latest good practices in developing statistically sound specifications. It contains numerous, simple-to-follow examples while also identifying potential pitfalls and areas where caution should be exercised. It leads the agency through the entire process of specification development, including monitoring how well the specification is working and what adjustments should be made.
The success of the manual became obvious as its contents were immediately used in rewriting AASHTO R9, Standard Recommended Practice for Acceptance Sampling Plans for Highway Construction. The manual instructions also became the basis for a 4-day National Highway Institute training course as well as for shorter duration workshops sponsored by FHWA. In addition, the manual led to the development of software tools to assist highway agencies in better understanding and quantifying the risks associated with the statistical acceptance of highway construction.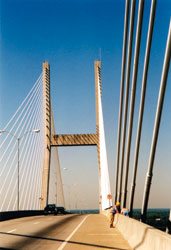 Engineer Inspecting bridge cables
High Performance Bridge Materials Testing
The FHWA Structures Laboratory has been instrumental in testing and accelerating implementation of high performance, innovative bridge materials. Recently, the 100th bridge fabricated from high performance steel (HPS) was constructed in Massachusetts. Baseline performance data, and critical weldability issues were addressed for this material through a cooperative effort led by the FHWA Structures Laboratory. Work to develop this material innovation involved FHWA, the U.S. Navy, the steel industry, State bridge engineers, and academia. Implementation of HPS offers bridge owners extended flexibility in designing steel bridges that can bring benefits in the form of initial and life cycle cost savings. High performance concrete (HPC) and more recently, ultra-high-performance concrete (UHPC), are also materials that have been exercised by the FHWA Structures Laboratory. HPC is currently proliferating within the bridge construction industry, as is self-consoli-dating concrete (SCC). Both HPC and SCC have been studied and tested in FHWA's labs with results fed directly to bridge owners looking to implement new technology for the structures. A new, rapid construction, full scale UHPC bridge was recently erected at TFHRC. This bridge was optimized to present the most efficient shape for use of this innovative material. Parallel projects are erecting the first UHPC bridges of their kind in Virginia and Iowa within the year. The data and knowledge generated by this research will be used to support State projects.
Horizontally Curved Steel Girder Research—Main Structures Laboratory
The primary goal of the curved girder research is to develop a modern AASHTO Load Resistance Factor Design (LRFD) Specification for curved steel bridge design. Through FHWA outreach efforts in 1993, this was identified by AASHTO and the steel industry as the top priority need for steel bridge research. Prior to this work, specifications were not LRFD compatible and resulted in overly conservative designs for curved bridges. Considering FHWA's strategic objective to require LRFD designs for all Federal-aid bridges starting in 2007, it was essential to develop a code that includes curved girder bridges.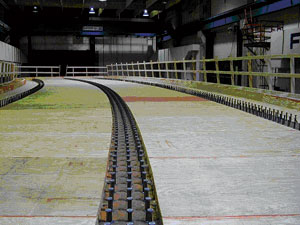 Structures laboratory curved girder experiment
During the research, it was recognized that the new design equations also had advantages for straight bridges. Therefore, the AASHTO Subcommittee on Bridges (SCOB), Technical Committee for Steel Bridges (T-14) opted to perform a complete rewrite of the entire steel bridge design provisions, completely integrating straight and curved bridge design. The research performed in the FHWA Structures Laboratory fed results directly to the peer group developing the specification language. This peer group represented stakeholders from State highway, academic, and industry groups. These changes incorporated the new design equations that are LRFD compatible and unify the design approach for curved and straight steel girder bridges. The AASHTO SCOB unanimously adopted the new specification language at their meeting in June 2004.
Lithium Technology Program
There has been increased interest in recent years in using lithium compounds to treat existing structures and as a preventive measure in new concrete construction. To bring State and local agencies up to speed on the new application of this technology, FHWA is sponsoring a series of lithium workshops. The workshop provides practitioners with the necessary information and guidance to test, specify, and use lithium compounds in new concrete construction, as well as in repair and service life extension applications for existing concrete. It has been presented in nine States to date, with more to follow in 2005. In addition, a protocol has been developed for selection of existing alkali-silica reaction (ASR) affected pavements and structures for treatment. The document helps State DOTs evaluate damaged pavements and structures to determine whether they are suitable candidates for lithium treatment to address ASR. The protocol was recently distributed to State DOTs for their use in selection and treatment of candidate field structures.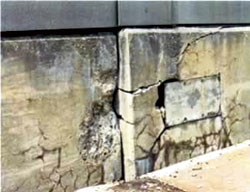 Concrete damage caused by alkali-silica reaction (ASR)
LTPP Distress Identification Manual
During FY 2004, the LTPP Program revised and reissued the Distress Identification Manual for the Long-Term Pavement Performance. This manual was originally developed for the Strategic Highway Research Program (SHRP) Program to identify pavement distresses on asphalt and PCC pavements. LTPP has distributed over 1000 copies of the new distress manual (FHWA- RD- 03-031) at the annual TRB meeting and through e-mail requests. A Web version is available at https://www.fhwa.dot.gov/pavement/ltpp/resource.cfm. Many State and local highway agencies use this manual in their pavement management programs. It is also used in several university civil engineering courses.

LTPP Distress Identification Manual
National Bridge Coatings Qualification Testing Program
AASHTO recently launched the first ever national qualification testing program for bridge coatings materials. This was done through the AASHTO National Transportation Product Evaluation Program (NTPEP). This program provides a level testing playing field for commercial paints and coatings to test their products. The data is collected in an online database with access given to all State bridge owners. For the first time, product choices and decisions directly affecting the durability of steel structures will be made nationwide using a common data set. FHWA staff and Coatings Laboratory directly supported the formation and implementation of this program. The FHWA Coatings Laboratory assisted in developing appropriate test protocols and evaluation criteria and personnel served as oversight for the various commercial testing laboratories that perform the bulk of the routine testing. The Coatings Laboratory also developed improved evaluation techniques and conducted round robin testing of materials to set benchmarks for the program. Use of the data generated by this program is expected to have a significant impact on the quality of coating materials supplied for painting bridges nationwide. A similar, regional program in the Northeast served as a pilot for this national effort. The regional program also had direct involvement and support of FHWA through the Coatings Laboratory at TFHRC. This regional program's mark of success is the data's widespread use by all Northeast regional States, several toll authorities and various other States nationwide, as well as various private industry facility owners from utilities to heavy manufacturing.
Operations R&D Success Stories
Congestion Mitigation Through Expert Software
RD&T partnered with the city of Los Angeles to install three expert system software packages to mitigate congestion on surface streets and freeways around the Staples Center in downtown Los Angeles. The adaptive traffic control software, a product of the Operations R&D program, will detect incidents and adjust signal timing in response to both recurring and nonrecurring congestion. This is a first in the United States, where incremental congestion forecasts and attendant remedies will be utilized to minimize congestion due to incidents and special events.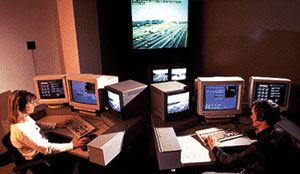 Traffic operations center.
Collaborative Research on Road Weather Observations
RD&T partnered with the National Weather Service (NWS) to conduct five research projects through the Cooperative Program for Operational Meteorology, Education and Training (COMET). Teams from State DOTs, NWS Weather Forecast Offices, and universities evaluated the use of weather observations and modeling systems to improve highway safety and to support effective decision making by the various jurisdictions that manage the highway system. In particular, the research evaluated how environmental sensor data, particularly data from road weather information systems (RWIS), could be used for both road condition forecasting and weather forecasting. Results from these projects will help all State DOTs improve how they manage RWIS networks and achieve maximum utility from RWIS investments. A summary of the lessons learned from the COMET program can be found at https://www.fhwa.dot.gov/publications/research/operations/04101/index.cfm.
Assessing the Effects of Weather on Traffic Flow
Adverse weather conditions can have a dramatic impact on the quality of traffic flow. Traffic engineers need adequate traffic analysis tools to develop better designs for the impacts of adverse weather. One such tool is a microscopic traffic corridor simulation model (CORSIM) that allows analysts to model and evaluate complex roadway geometries, traffic control devices and Intelligent Transportation Systems (ITS). The report, Identifying and Assessing Key Weather-related Parameters and their Impacts on Traffic Operations Using Simulation, identifies how adverse weather affects traffic operations, assesses the sensitivity of weather-related traffic parameters within CORSIM, and develops guidelines for using CORSIM to account for the affects of adverse weather.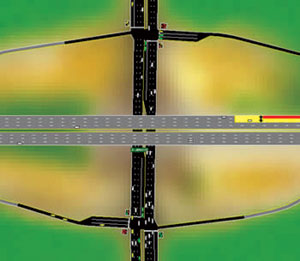 CORSIM simulation image.
QuickZone Release 2.0
The QuickZone software is an easy-to-use, easy-to-learn tool to estimate delays in work zones. It is a key component of FHWA's Strategic Work Zone Analysis Tools (SWAT) program. The targeted audience for QuickZone is State and local traffic construction staff, operations and planning staff, and construction contractors. Release 2.0 of QuickZone contains many new features requested by users, including features that make it more applicable to high or low volume rural work zones. These new features include two-way, one-lane operation for rural areas and an assessment of the costs to businesses of work zones or road closures. Release 2.0 can analyze an increased number of work plans and work phases and can assess the impact of concurrent and adjacent work zones. Cases studies of the application of QuickZone in both urban and rural areas demonstrated the delay reduction benefits that the tool can provide. (See the RD&T Research Benefits Case Studies later in this report.)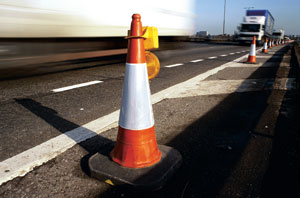 Highway work zone.
DYNASMART-P
DYNASMART-P and its input editor, DSPEd provide a new state-of-the-art dynamic network traffic operational planning tool. With a rich set of built-in features, DYNASMART-P can be used to evaluate complex strategic and operational network planning decisions and produce traffic assignment results for planning analysis. It overcomes many of the known limitations of the static analysis tools used in current planning practices. Because it considers the time-varying nature of traffic flows, DYNASMART-P will produce more useful estimates of variables such as speeds, queue lengths, delays and congestion effects, and better assess the functional and environmental impacts of a variety of traditional and emerging transportation planning measures. DYNASMART-P and DSPEd are available from the McTrans Center. For ordering information, visit http://mctrans.ce.ufl.edu/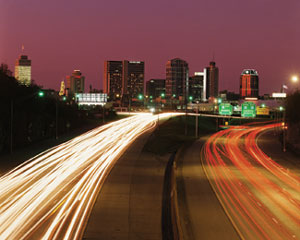 Metropolitan skyline and traffic.
Enhanced Digital Maps
The Enhanced Digital Maps (EDMap) project examined the feasibility of using very accurate digital maps as an enabling technology for advanced vehicle safety systems. Four major automobile manufacturers and a map supplier partnered in the EDMap project. Five high-benefit safety applications that can be enhanced or enabled by EDMap were identified: lane departure warning, forward collision warning, stop sign warning and control, curve speed warning and control, and traffic signal warning. Two test areas were mapped—Palo Alto, CA and southeast Michigan—and very successful engineering demonstrations were conducted of the five safety applications. The EDMap project has the potential to dramatically improve safety by providing the foundation knowledge of map database requirements, as well as needed vehicle-position-ing capabilities that support future collision avoidance systems.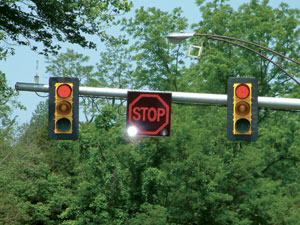 Experimental signal system.
Intelligent Intersection Traffic Control Laboratory
The Intelligent Intersection Traffic Control Laboratory at TFHRC is the first of its kind in the United States and was designed to highlight intersection collision-avoidance systems that currently are being developed by the Infrastructure Consortium, a pooled fund with the States of California, Minnesota, and Virginia. This activity is sponsored by the Cooperative Intersection Collision Avoidance Systems Initiative, a component of the ITS program. In addition to the traffic signals, controllers, special signing, and other equipment needed to support the operation of the intersection, a unique roadside-to-vehicle communication system will allow drivers of specially equipped vehicles to receive a warning when an intersection crash is imminent. In addition to supporting the intersection collision-avoidance research, the new "intelligent intersection" will continue to serve as an outdoor lab for future FHWA intersection and traffic control research activities.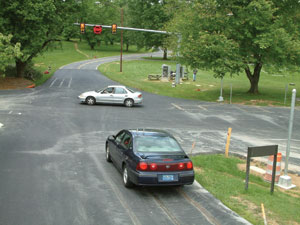 Intelligent Intersection at TFHRC.
Nationwide Differential Global Positioning System
Nationwide Differential Global Positioning System (NDGPS) can pinpoint a person or vehicle's position to within 3 meters (9.8 feet). NDGPS helps emer-gency responders find the exact location of a crash, makes it easier for highway agencies to monitor and respond to hazardous pavement conditions, supports in-vehicle navigation systems, and a host of other transportation applications. NDGPS sites will also form part of a nationwide operational GPS meteorological observing system that will enable the NWS to provide more accurate weather forecasting.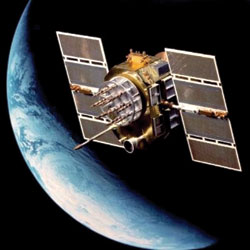 GPS Satellite.
High-Accuracy Nationwide Differential Global Positioning System
As part of its ongoing research efforts, RD&T modified two existing NDGPS facilities to broadcast corrections that achieve 10-centimeter (4 inch) horizontal accuracy. Initial testing of the High-Accuracy NDGPS (HANDGPS) indicates that the new broadcast is accurate to within 10 centimeters (4 inches) and better in many areas. Further research is underway to modify two additional NDGPS facility to achieve faster and even more accurate navigation solutions.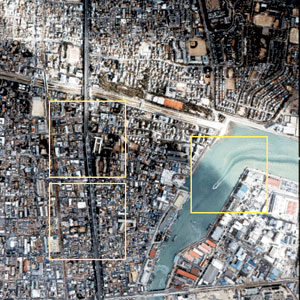 Satellite image.
Weather Data Collected from the Eye of Hurricane Ivan
RD&T has supported the installation of the GPS Surface Observation System (GSOS) at NDGPS sites to collect data for improved weather forecasting for surface transportation and other needs. Hurricane Ivan made landfall approximately 31 km (19 miles) east of the NDGPS site at Mobile Point, AL. Ivan was a strong Category 3 hurricane at the time, with winds exceeding 58 meters per second (130 miles per hour). The GSOS equipment at the Mobile Point NDGPS site successfully collected data through the passage of the eye wall and into the eye of the hurricane. This was the first known ground-based observation of upper-air moisture from within the eye of a hurricane and the highest recorded level of precipitable water vapor in the atmosphere using GPS meteorological techniques. The GSOS data collected during hurricane Ivan will help the NWS improve forecasting of future hurricanes and other severe meteorological events.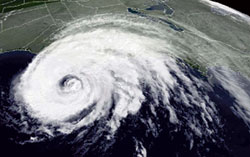 Image of hurricane.
Safety R&D Success Stories
Safety Effects of Marked Versus Unmarked Crosswalks at Uncontrolled Locations
This study compared the safety effectiveness of marked crosswalks against that of unmarked crosswalks at uncontrolled crossing locations and developed recommendations on how to provide safety. crossing for pedestrians at these locations. These recommendations, summarized in report Safety Effects of Marked vs. Unmarked Crosswalks at Uncontrolled Locations: Executive Summary and Recommended Guidelines (FHWA-RD-01-075), have been used by various local communities to developing crosswalk improvement plans. An example is provided by the City of Seattle in the January 2004 ITE (Institute of Transportation Engineers) Journal article, The City of Seattle, WA, USA, Crosswalk Inventory and Improvement Plan.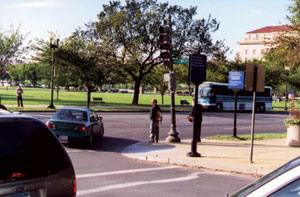 Pedestrian at intersection
Sign Retroreflectivity
The efforts of the FHWA's Office of Safety and Office of Safety R&D has led to the publication of a Notice of Proposed Rulemaking (NPRM) in the Federal Register on July 30, 2004 (Vol. 69, No. 146). This NPRM is the product of many years of efforts to determine minimum levels for traffic sign retroreflectivity and develop methods to bring in-place signs into compliance. FHWA research over the past 15 years has advanced, validated, and refined the concept of minimum maintained sign retroreflectivity. Initial minimum retroreflectivity levels were first proposed in a 1993 research report, and these levels were revised in 1998 through further research. Research over the last 4 years expanded the proposed minimum levels to overhead and street name signs and fully updated the minimum levels to reflect current conditions. More specifically, the minimum levels were recomputed to consider the effects of various changes, including:
Changes in the vehicle fleet to reflect that a large proportion of the fleet is now SUV or light truck type vehicles with higher headlight positions and driver eye heights.
Improvements in headlight technology and changes to the European designs that reduce the amount of light projected upward.
An increasingly older driver population with diminished night visual acuity.
Modifications in the Manual on Uniform Traffic Control Devices (MUTCD) legibility criteria.
Changes in the characteristics and types of sign materials available.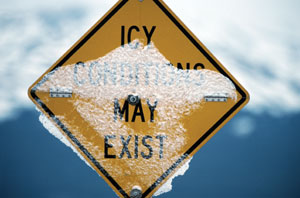 Highway warning sign.
The resulting minimum level values are presented in the NPRM. It is important to note that the proposed table of levels represents a significant simplification of the minimum levels tables that were promulgated in the mid-1990s to address concerns expressed by AASHTO. Efforts continue at FHWA to develop and administer training on traffic sign retroreflectivity and to develop detailed methods and procedures for assessment and management of retroreflectivity for the millions of in-place signs on the Nation's highways.
Roadside Safety Simulation
The FHWA, and the National Highway Traffic Safety Administration (NHTSA) worked on a successful collaborative research effort with the George Washington University (GW) School of Engineering and Applied Science. The research focused on highway infrastructure safety and resulted in several lifesaving innovations to roadside hardware devices, such as guardrails, signposts, and lighting towers. Research included the establishment of W-beam height performance limits for a pickup truck using finite element analysis, and a solution was developed for a State DOT that had a problem with occurrences of under rides for cable guardrails located in depressed medians.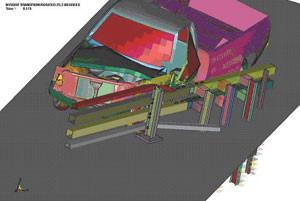 Simulation model of barrier crash.
Full-scale crash testing of multiple crash scenarios is cost-pro-hibitive and does not achieve comprehensive solutions. Instead, researchers simulated crash scenarios on high-per-formance computers, saving time and maximized research dollars. Results can then be validated by actual crash tests in a more systematic manner, while helping to further refine modeling data.
The partnership also worked to find solutions for the use of barriers to secure Federal facilities. The desire to maintain aes-thetic/architectural design features while providing free access to public spaces during certain events requires unique antiram barrier designs. FHWA and GW produced designs for specialized removable bollards and a cable guardrail system that satisfied protection criterion and aesthetic/architectural desires. Work was conducted with the Department of State (DOS), National Capital Planning Commission (NCPC), and the Secret Service to provide security improvements for Federal buildings. The partnership produced successful designs for bollard, metal fence, full wall, 3-foot high wall, and other barriers for highly secure facilities. These designs were tested at TFHRC. The designs have become the basis for the General Services Administration (GSA), Department of Homeland Security (DHS), and other Federal agencies for barriers within urban landscapes (e.g., park benches or lampposts that would serve as vehicular barriers for Federal buildings).
Highway Safety Information System
The multistate Highway Safety Information System (HSIS) contains accident data for more than 5 million crashes, information about traffic volumes, and roadway inventory data covering approximately 265,650 km (165,067 miles) of State highway systems. FHWA staff, consultants, and other researchers use HSIS to study current highway safety issues, to direct research efforts, and to evaluate the effectiveness of safety countermeasures. FHWA works closely with States and other partners through HSIS to gather data and improve our ability to analyze roadway safety challenges. HSIS helps FHWA direct investments to specific projects and programs that will deliver the most value in terms of saving lives and minimizing injuries. Two recent HSIS summary reports—Evaluation of Lane Reduction "Road Diet" Measures and Their Effects on Crashes and Injuries and An Examination of Fault, Unsafe Driving Acts, and Total Harm in Car-Truck Collisions are available at http://www.hsisinfo.org/ under Products.
Characteristics of Emerging Road and Trail Users
Over the past decade, there has been an emergence of various types of nonmotorized transportation. Examples of these "emerging" modes include scooters, the Segway® human transporter, and various configurations of bicycles. These emerging users are using pedestrian and bicycle facilities that were not designed to accommodate them. A recently completed study examined the operational characteristics and safety of various emerging road and trail users. Recommendations regarding design characteristics will be provided in a published report.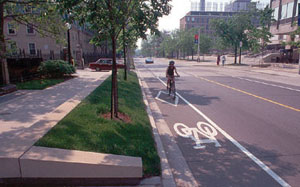 Urban roadway with bike lane
Digital Highway Measurement Vehicle
In FY 2004 RD&T's Advanced Research Team developed a new Digital Highway Measurement (DHM) vehicle. The vehicle and associated software enables researchers to obtain high resolution measurements at levels that allow systematic definition of a roadway's geometry. These accurate measurements allow assessment of health conditions of the road and roadside. This vehicle can collect three dimensional geometry data of the highway at vehicle speeds up to 97 km/h (60 mi/h) using a high resolution inertial navigation unit (INU) and high accuracy differential GPS in real time. The vehicle also collects high resolution stereo images, pavement macro-texture data, and lower resolution pavement edge data using a sweeping laser. The use of other sensors, such as ground penetrating radar, are planned to extend its capability to measure the condition of highway infrastructure. FHWA researchers have used the DHM vehicle in recent field tests with the Pennsylvania DOT on a project to determine the effects of roadway delineation on drivers' abilities.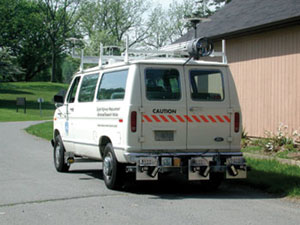 Digital Highway Measurement Vehicle
Interactive Highway Safety Design Model
During 2004, FHWA posted updates to the Interactive Highway Safety Design Model (IHSDM), which may be downloaded free-of-charge through www.fhwa.dot.gov/research/tfhrc/projects/safety/comprehensive/ihsdm/index.cfm, and provided training in the use of the software to five additional State DOTs. Since its release in 2003, FHWA has provided IHSDM training to nine State DOTs and two Federal Lands Highway Division offices. State DOTs or their engineering consultants to evaluate several projects have used it. Western Federal Lands completed and distributed a draft environmental impact statement to the public for a project in which they used IHSDM to help develop the preliminary designs for the three build alternatives. In addition to improving safety by 50 percent over existing conditions, IHSDM enabled the design of context sensitive solutions, which minimized impacts on the land and the residential development along the road.
Influences of Delineation on Driver Performance on Curves
FHWA with the strong support of Pennsylvania DOT took the first steps in a research project to understand the effects of roadway delineation on the abilities of drivers to safely and efficiently negotiate the highway. The premise of the study is that improved delineation leads to a more appropriate response by the driver. To test this premise, subject drivers drove a section of two-lane rural road in a specially modified vehicle that monitored their speed and lane position. A unique aspect of this study was the incremental nature of changes to the delineation treatments and the use of the same set of subjects over six different sets of highway conditions. The tests were conducted over a 6-mile section of two-lane roadway near Delta, PA. For the tests, 14 curves of varying sharpness (degree of curvature) were identified. The driving subjects were exposed to six different levels of delineation on these curves (as well as adjacent tangent sections of the road) over a 3-week period. The DHM vehicle was used to determine the design features of this roadway segment. The data gathered will also be used to create a computer representation of this road segment for use in the Highway Driving Simulator (HDS) Lab. Another group of participants will be asked to drive the HDS and experience the same roadway treatments. Speed and lane position are among the measures of driving performance that will be recorded. Once the HDS model is validated, driving subjects can be run through the system repeatedly to test variations of these devices and other new ideas for traffic control.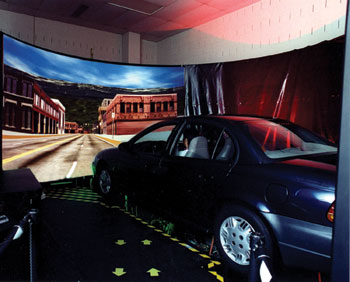 Highway Driving Simulator
Signalized Intersections: Informational Guide
Twenty-one percent of crashes and 24 percent of all fatalities and injury collisions occurred at signalized intersections. Because traffic signals play an important role in improving safety at intersections, FHWA developed a comprehensive guide that provides methods for evaluating the safety and operations of signalized intersections and tools to remedy deficiencies. The Signalized Intersections: Informational Guide will help practitioners make insightful intersection assessments and understand the tradeoffs of potential improvement measures. The guide is available at https://www.fhwa.dot.gov/publications/research/safety/04091/index.cfm.