Busting The Trust Supplement
By Richard F. Weingroff
This article is a continuation of the article printed in Public Roads magazine. Because of space limitations, the magazine was not able to print this supplement. Go to the online version of the article at https://www.fhwa.dot.gov/publications/publicroads/13julaug/03.cfm.
Urban Vision
The National Interregional Highway Committee's 1943 report to Congress, Interregional Highways, depicted urban expressways as fitting harmoniously into the Nation's cities. The plates below, with their original captions, show how they worked: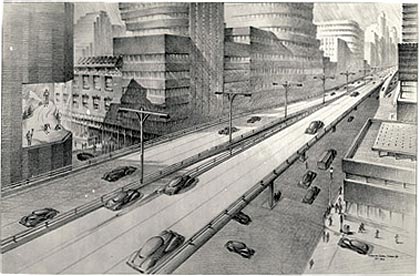 Plate VIII: An elevated section of the interregional system as it might be built according to the standards proposed, with central exit ramps and lateral entrance ramps. The sketch suggests the manner in which new properties might conform to curving lines of the expressway in widened sections at access points, and a shop window at the elevated level dressed appropriately with the kind of large display that would be needed for comprehension by express traffic.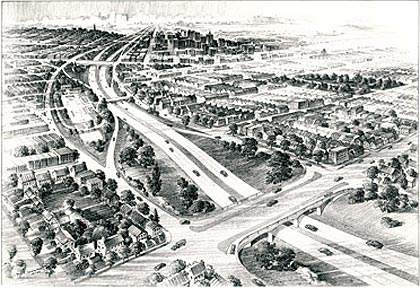 Plate X: Built within a block-wide right-of-way, on a gently rolling grade, depressed to pass under bridges at important cross streets and rising to normal ground level between, with varied media strip width and use of border areas for suitable neighborhood recreational purposes, a section of the interregional system traversing residential areas of a city, conforming in all respects to standards proposed by the committee, is shown in this sketch.
Once construction began, the expressways often proved disruptive and controversial.
Leadership Transition
During the period leading up to the Federal-Aid Highway Act of 1973 and through its subsequent implementation, the Federal Highway Administration (FHWA) had three Administrators: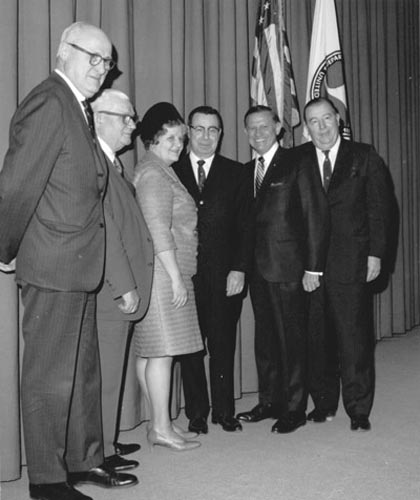 Francis C. "Frank" Turner was sworn into office as Federal Highway Administrator on March 19, 1969. Attending the ceremony were (left to right) Representatives George H. Fallon and John C. Kluczynski of the House Public Works Committee, Mrs. Mabel Turner, Administrator Turner, Secretary of Transportation John A. Volpe, who administered the oath of office, and Senator Jennings Randolph of the Senate Public Works Committee.
Francis C. "Frank" Turner. The only career employee to become Federal Highway Administrator, Turner joined the agency in 1929 and became Administrator in 1969. In the 1950s, he worked with General Lucius Clay's committee to develop President Dwight D. Eisenhower's "grand plan" for highway improvement. Turner also worked closely with the House and Senate Committees on Public Works as they developed the Federal-Aid Highway Act of 1956 that launched the interstate program. He was involved in implementing the program during the remainder of his career. A strong highway advocate, he favored highway-oriented transit instead of rapid rail transit for all but the largest cities. He retired in June 1972 but remained a strong voice for highway transportation in his later years.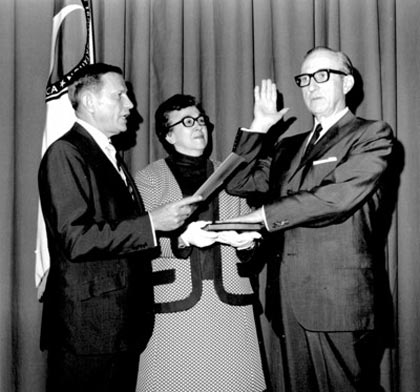 On May 8, 1969, Secretary of Transportation John A. Volpe administered the oath of office to Director of Public Roads Ralph R. Bartelsmeyer, whose wife Marjorie held the Bible.
Ralph R. Bartelsmeyer. Upon Turner's retirement, Deputy Administrator Bartelsmeyer became Acting Administrator. An Illinois native, he rose through the ranks to become chief engineer of the Illinois Division of Highways in 1953 and remained in that position until 1963. He became director of the Bureau of Public Roads (BPR) in 1969. When BPR was eliminated as an administrative office within FHWA, he became deputy administrator in 1970. He served as acting administrator until 1973, the longest stint by an acting administrator in FHWA history. Throughout this period, he reached out to State highway agencies as they adapted to the many changes, particularly in the environmental and planning fields, in the 1970s.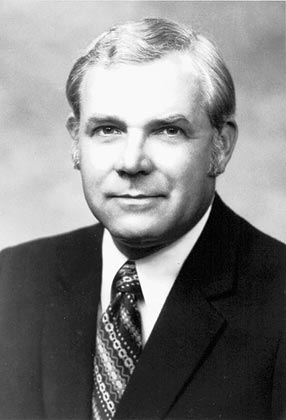 Federal Highway Administrator Norbert T. Tiemann.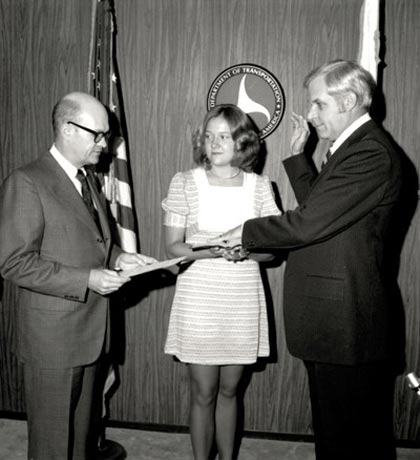 Secretary of Transportation Claude S. Brinegar administered the oath of office to Federal Highway Administrator Norbert T. Tiemann on June 1, 1973. Tiemann's daughter Mary held the Bible.
Norbert T. Tiemann. A former activist Republican Governor of Nebraska, Tiemann took office on June 1, 1973, while Congress was completing work on the 1973 Act and just as FHWA was moving away from its traditional highway orientation to a balanced intermodal perspective. In response to the oil boycott that began in October 1973, "Nobby" -- as he was known to friends -- became a national leader in promoting the use of high occupancy vehicles (HOV) and exclusive HOV lanes, enforcement of the new 55 miles per hour (88 kilometers per hour) speed limit, expansion of transit to reduce driving, implementation of auto-free zones in central business districts, and other measures to save energy. He served during the remaining terms of Presidents Richard M. Nixon and Gerald R. Ford.
Key Provisions of the Federal-Aid Highway Act of 1973
Authorized $18.35 billion for interstate construction for fiscal years (FY) 1974 through 1979. Extended the time for completion of the interstate system to June 30, 1979.


With the interstate system "now in the final phase of completion," added a paragraph to the existing Definitions and Declaration of Policy (23 U.S.C. 101) stating that "it shall be the national policy that increased emphasis be placed on the construction and reconstruction of the other Federal-aid systems…in order to bring all [such] systems up to standards and to increase the safety of these systems to the maximum extent."


Authorized 3 years of funding totaling $6.54 billion for the Federal-aid primary, secondary, and urban systems.


Increased the mass transit capital grant program of the Urban Mass Transportation Administration from $3.1 billion through FY 1975 to a maximum of $6.1 billion. The Act increased the Federal share of project costs from two-thirds to 80 percent.


Authorized $30 million ($20 million from the Highway Trust Fund) for the Rural Highway Public Transportation Demonstration Program, with eligible items including the purchase of buses, provision of passenger loading areas and facilities, and construction of fringe and transportation corridor facilities to serve bus and other public transportation.


Encouraged substantial minimization of paperwork and interagency decision procedures to avoid needless duplication and unnecessary delays.


Called for realignment of the Federal-aid primary, secondary, and urban systems by the end of FY 1976, based on anticipated functional usage in 1980 or on a planned connected system.


Retained the Federal share of 70 percent begun in the Federal-Aid Highway Act of 1970, instead of 50 percent, for noninterstate projects.


Adopted certification acceptance procedures for projects on all Federal-aid highway systems except the interstate system. At the request of a State, the Secretary could carry out his responsibilities under Title 23, United States Code, by accepting a certification from the State highway department that it would comply with State laws, regulations, directives, and standards at least equal to those under Title 23. Certification acceptance did not extend to non-Title 23 laws such as those on environmental review and right-of-way acquisition.


Defined the Federal-State relationship as a "federally assisted State program" under which the availability of Federal-aid highway funds should not infringe on the sovereign rights of the States to select projects (23 U.S.C. 145).


Allowed the use of Federal-aid system funds to construct, in conjunction with Federal-aid projects, separate or preferential bicycle lanes, bicycle traffic control devices, and shelter and parking facilities to serve bicycles and bicyclists.


Expanded the Economic Growth Center Development Highways created by the Federal-Aid Highway Act of 1970 for roads on the Federal-aid primary system to include roads on the other systems.


Authorized $50 million per year for a new Special Urban High Density Traffic Program for highways less than 10 miles (16 kilometers) long connected to the interstate system in portions of urbanized areas with high traffic densities.


Authorized $600 million for a new program of upgrading Priority Primary Routes defined as high traffic sections of the primary system connected to the interstate system. Called for a report from the Secretary on initial selection of routes and the cost of completing them.


Authorized funds from the Highway Trust Fund for forest highways and public lands highways and from the general Treasury for public lands development roads and trails, park roads and trails, parkways, and Indian reservation roads and bridges. Funds for parkway projects on any Federal-aid system would come from the Highway Trust Fund.


Authorized funds for the Territorial Highway Programs (American Samoa, Guam, and U.S. Virgin Islands) and continued construction of the Inter-American Highway in Central America.


Directed the Secretary to investigate the feasibility of establishing a national system of scenic highways linking accessible recreational, historical, scientific, and other similar areas of scenic interest and importance. Authorized funds for construction of the Great River Road along the Mississippi River.


Designated the "Dwight D. Eisenhower Highway," a collection of interstates loosely paralleling the route of the U.S. Army's first transcontinental convoy of motor vehicles from Washington, DC, to San Francisco, CA. The future President participated in the convoy and often cited it in explaining his support as President for improved roads. (Legislation signed by President George H.W. Bush in 1990 renamed the entire system [as amended]: The Dwight D. Eisenhower National System of Interstate and Defense Highways.)


Extended Federal aid for ferryboats to those traveling in international waters among the islands of Hawaii, any two points in Alaska, and between the States of Alaska and Washington.


Terminated Federal-aid status for the San Antonio North Expressway after Texas repaid Federal-aid funds used on the project so the State could proceed with State-only funds, free of Federal environmental restrictions on the use of parkland.


Authorized the Secretary to approve construction of I–93 through Franconia Notch, NH, as a parkway built to the standards necessary for the safety of the traveling public, protection of the environment, and preservation of the parklike and historic character of the Notch.


Authorized $58.67 million from the general Treasury for reconstruction of the Alaska Highway in Canada.


Authorized funds for rail-highway crossings, bridge reconstruction and replacement, a pavement marking demonstration program, highway safety on Indian reservations, safety improvements at high-hazard locations, elimination of roadside obstacles, and a new Federal-Aid Safer Roads Demonstration Program.


Funded other safety activities, such as research on drug use and driver behavior, educational programs, citizen participation, and pedestrian and bicycle safety programs.


Established eligibility for projects using safety funds to provide adequate and reasonable access for safe and convenient movement of physically handicapped persons, including those in wheelchairs, across curbs constructed or replaced after July 1, 1976, at all pedestrian crosswalks.
Two Secretaries of Transportation
John A. Volpe. A Massachusetts native, Volpe was a rags-to-riches success story who built the Volpe Construction Company from an initial capital of $500 into a multimillion-dollar contractor specializing in heavy construction. The company was not a road builder but did construct the privately owned building that housed the U.S. Department of Transportation headquarters until June 2007. He served as the Massachusetts Commissioner of Public Works (1953–1956) before President Eisenhower selected him to be the first Federal Highway Administrator (1956–1957). He won an unprecedented four elections for Massachusetts Governor (1961–1963, 1965–1969) before becoming the Nation's second Secretary of Transportation in 1969. After taking office, he said he was no longer a "Highway Man" or a "Transit Man," but a "Transportation Man." Considered one of the great Secretaries of Transportation, Volpe was honored in September 1990 when the Department's research facility in Cambridge, MA, was renamed the John A. Volpe National Transportation Systems Center.
Claude S. Brinegar. Succeeding Secretary Volpe in 1973, Brinegar was an oil company executive who had no experience in government service or transportation, other than as a consumer. Before leaving office on February 1, 1975, he managed the Department through the Nation's worst energy crisis, which began in October 1973, and the transition of the Federal-aid highway program to an intermodal perspective as reflected in the Federal-Aid Highway Act of 1973. Like his predecessor, Secretary Brinegar advocated flexibility to allow State and local officials to use some Highway Trust Fund revenue for highways or transit. After leaving office, he returned to the private sector, subsequently serving as leader of the Reagan transition team for transportation, and was later elected to the Conrail board of directors.