Performance Plan Fiscal Year (FY) 2006-2007
Who We Are and What We Do
The Turner-Fairbank Highway Research Center (TFHRC) is a federally owned and operated research facility in McLean, VA. TFHRC is home to FHWA's Office of RD&T, which coordinates an ambitious program of innovative research and development and T&I deployment that addresses the needs of the national highway system. Research conducted at TFHRC fosters better highway design, enhances traffic safety, and helps improve the condition, durability, and performance of our Nation's roadways and bridges.
Our organization is comprised of seven offices responsible for conducting research and development (R&D) and critical program support activities. The three R&D offices at TFHRC serve as the focal point for the investigation of new and innovative technologies to improve the highway system. The RD&T Program support offices execute vital internal program support functions and also work with USDOT, other FHWA offices, and with our partners in State and local governments, academia, industry, and professional organizations to develop the national highway R&T agenda, disseminate the results of our research to the highway community where it may be implemented, and strengthen partnerships and enhance opportunities to leverage resources through programs such as the National Cooperative Highway Research Program (NCHRP) and the Transportation Pooled Fund (TPF) Program.
The staff at TFHRC is known for its customer-focused, scientific, and engineering expertise. The engineers, scientists, psychologists, and transportation specialists at TFHRC have expertise covering more than 20 transportation-related disciplines. Fifty percent of the Federal staff at TFHRC have advanced degrees, with 20 percent holding one or more doctoral degrees.
A significant change in the RD&T workforce over the years has been the increased use of contractor support to accomplish its mission. Two-thirds of the employees at TFHRC are contractors who work with our Federal staff in the areas of materials technology, pavements, structures, operations and intelligent transportation systems (ITS), human centered systems, and safety, as well as in a number of vital administrative and facilities support functions.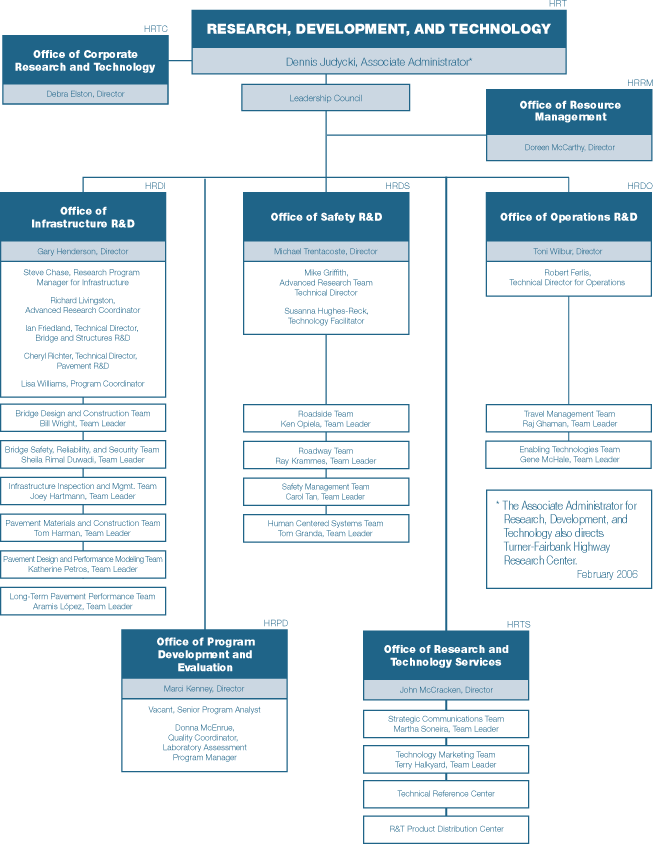 RD&T performs several key functions to champion the advancement of highway technological innovation. The following examples illustrate some of the unique functions carried out by RD&T in its effort to support the Agency's role as "innovators for a better future."
Highway Research and Development
Research and innovation.
Technical assistance.
Forensic evaluation.
Corporate R&T
Support of the FHWA R&T Leadership Team in the development of multiyear R&T roadmaps.
Development of a process for establishing an Agency advanced research agenda.
Advancement of priority, market-ready technologies and a process for tracking their deployment.
Expansion of stakeholder involvement in advanced and applied research and deployment through the development of an integrated R&T information management system.
Strategic Planning and Budget
R&T budget development.
Legislative monitoring and analysis of R&T issues.
Agency input into USDOT RD&T Plan.
R&T Performance Measurement
Implementation of the Federal R&D investment criteria.
Preparation, coordination, and response for the Office of Management and Budget (OMB) Program Assessment Rating Tool (PART) evaluation of Agency R&D program.
R&T Performance Measure Framework.
Lab Assessment Program.
Outreach, Communication, and Consultation
Research of liaison and partnership activities (American Association of State Highway and Transportation Officials (AASHTO) Standing Committee on Research (SCOR), AASHTO Research Advisory Committee (RAC), Transportation Research Board (TRB) Research and Technology Coordinating Council (RTCC), USDOT RTCC, etc.).
Research and technology marketing.
FHWA-wide media publications.
RD&T facility tours.