This presentation is part of the 2012 National Highway Research Priorities Webinar Series.
State of Good Repair
Webinar on National Highway Research Priorities March 28, 2012
PDF files can be viewed with the Acrobat® Reader®
Jorge E. Pagán-Ortiz
Director, Office of Infrastructure Research and Development
Federal Highway Administration
---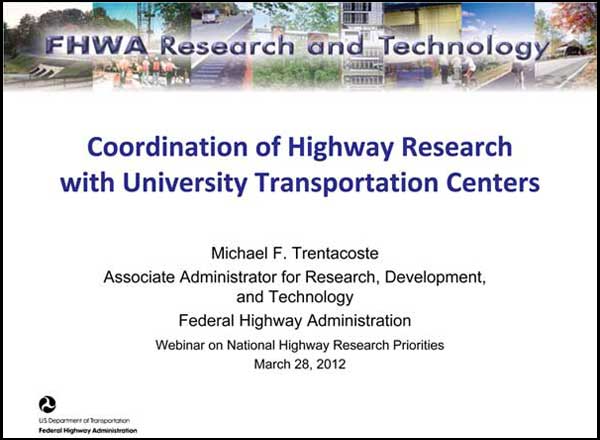 ---
Webinar Series Topics and Dates
State of Good Repair, March 28th
Economic Competitiveness, April 5th
Safety, May 8th
Livability and Sustainability, May 9th
Policy and Innovative Financing, May 10th
---
Invited Participants
New University Transportation Centers (UTCs)
State Research Managers
Federal Highway Administration (FHWA) Division Office Research Coordinators
Host and Presenters
FHWA Research and Development (R&D) Offices and Program Offices
---
Webinar Purpose
Provide FHWA perspectives on national challenges and highway research priorities
Opportunity for UTCs to consider highway research priorities in their research plans and initiatives
Inform State Research Managers on priorities
Provide FHWA contacts for follow-up communications and coordination
---
Thanks for Your Participation
Thanks to the Research and Innovative Technology Administration (RITA) for this opportunity to communicate priorities to the UTCs
For more information about UTC participation, contact:
Debra Elston, 202-493-3181
www.fhwa.dot.gov/research
---
---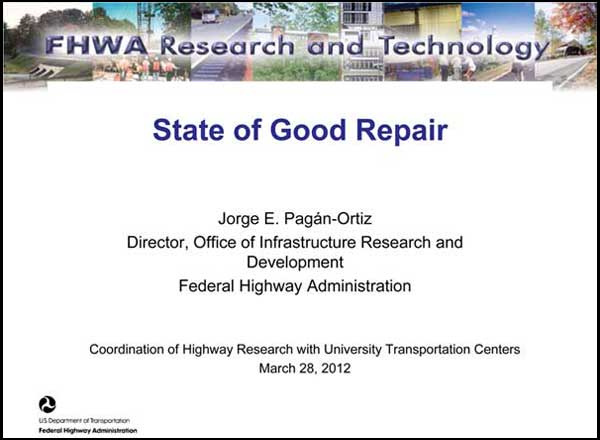 ---
Topics to be Covered
---
Background
Most of the Nation's highway and bridge infrastructure is at or past its theoretical design life.
Therefore, our infrastructure will be facing need of repairs or major rehabilitation
---
Grand Challenge
Unprecedented fiscal challenges to operate, maintain, and invest in highway infrastructure to maintain the state of good repair and provide the improvements needed to support economic growth.
National Needs
Develop and apply innovative solutions to meet the needs of the traveling public.
Focus on the necessary research and technology.
---
Infrastructure Research and Technology Strategic Plan
One, unified plan to provide strategic direction for all Infrastructure related research and technology efforts at FHWA.

For the next 5 years and beyond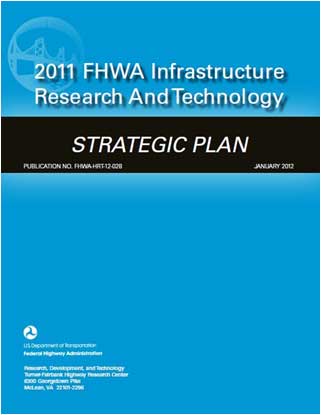 https://www.fhwa.dot.gov/publications/research/infrastructure/12028/index.cfm
Guiding Principles
FHWA R&T Process, from research to implementation, is systematic and begins with the end in mind.
Stakeholders are engaged throughout the process – communication of programs and projects is effective.
Performance of initiatives is measured and evaluated.
Objectives and Strategies
7 Objectives and 28 Strategies

Objectives to achieve expected outcomes to support the goals of the FHWA Strategic Plan and U.S. Department of Transportation (USDOT) Strategic Plan.
Strategies to describe and define the work required to achieve objectives and outcomes and, ultimately, the FHWA and USDOT strategic goals.
Strategic Plan Objectives
Highway Safety - Reduce the number of fatalities attributable to infrastructure design characteristics and work zones.
Infrastructure Safety and Security - Improve the safety and security of highway infrastructure.
Infrastructure Management - Improve the management of infrastructure assets and advance the implementation of a performance-based program for the National Highway System (NHS).
Project Delivery - Improve the ability of transportation agencies to deliver projects that meet expectations for timeliness, quality and cost.
Mobility - Reduce user delay attributable to infrastructure system performance, maintenance, rehabilitation and construction.
Infrastructure Performance - Improve highway condition and performance through increased use of design, materials, construction and maintenance innovations.
Environmental Sustainability - Reduce the life-cycle environmental impacts of highway infrastructure (design, construction, operation, preservation, and maintenance).
Strategic Plan Structure Example
Objective 6 – Infrastructure Performance:
Improve highway condition and performance . . .

Strategy 6.2 - Develop and deploy design and preconstruction technologies and innovations to . . .

Initiative 6.2.1 - Deploy existing and proven criteria, technologies and procedures to design infrastructure to . . .
Initiative 6.2.2 - Research and develop the next generation of analysis and design tools . . .
Initiative 6.2.3 - Develop and deploy contracting procedures . . .
---
Infrastructure R&T Roadmap
The Infrastructure R&T Process identified 76 Initiatives.
Developed 7-year work plans for 14 of the 76 Initiatives.

Projects and activities of national importance.

UTCs may consider undertaking research in one or more of the 14 Initiatives.
---
14 Initiatives with Work Plans Funded
2.2.2 - Hazard Mitigation and Adaptation Countermeasures
(Sheila Duwadi, 202-493-3106)
2.4.1 - Rapid Infrastructure Assessment
(Joey Hartmann, 202-366-4599)
3.1.1 - Infrastructure Performance Standards
(Steve Gaj, 202-366-1336)
3.1.5 - Durable and Long Lasting Infrastructure
(Katherine Petros, 202-493-3154)
3.2.1 - Infrastructure Condition Assessment
(Aramis Lopez, 202-493-3145)
3.2.2 - Non-Destructive Evaluation Tools, Software and Guidance
(Firas Ibrahim, 202-493-3053)
4.1.2 - Effective Quality Assurance
(Tom Harman, 410-962-0134)
5.2.2 - Accelerated Construction & Preservation
(Rob Elliott, 404-562-3941)
6.1.2 - Infrastructure Preservation
(Bryan Cawley, 202-366-1333)
6.2.1 - Proven Infrastructure Design Deployment
(Mark Swanlund, 202-466-1323)
6.2.2 - Next Generation Infrastructure Design
(Lou Triandafilou, 202-493-3059)
6.4.1 - Material Characterization
(Jack Youtcheff, 202-493-3090)
6.4.3 - Innovative Materials
(Suneel Vanikar, 202-366- 0120)
7.6.1 - Renewable, Reusable, Recycled Materials
(John Bukowski, 202-366-1287)
Project Examples
Geosynthetic Reinforced Soil-Integrated Bridge Systems
Ultra High-Performance Concrete
Reclaimed Asphalt Pavement
Long-Term Bridge Performance
Long-Term Pavement Performance
Life-Cycle Assessment of Pavements
Energy Production within Highway Right of Way
Flooded Pavement Assessment
---
Initiatives for Future Work Plans
13 Initiatives (from the original 76 Initiative list)

No projects and activities have been identified for these initiatives.
UTCs may consider undertaking research in one or more of these initiatives.
1.2.1 - Enhancing friction/ texture on new and existing surfaces
(Katherine Petros, 202-493-3154)
3.2.5 - Data quality management and control effects from data variability
(Aramis Lopez, 202-493-3145)
3.3.1 - Overall integrated asset management approach
(Katherine Petros, 202-493-3154)
3.3.2 - Project and program level management decisions
(Aramis Lopez, 202-493-3145)
3.4.1 - Health of the highway system
(Katherine Petros, 202-493-3154;
Firas Ibrahim, 202-493-3053)
4.2.1 - Improved, streamlined and refined analysis, design, and construction procedures
(Katherine Petros, 202-493-3154)
4.2.2 - Innovative project delivery methods
(Katherine Petros, 202-493-3154)
4.2.3 - Quality and maintainability of accelerated construction projects
(Lou Triandafilou, 202-493-3059)
4.3.2 - Payment and acceptance to long-term performance and quantities to minimize agency risk
(Katherine Petros, 202-493-3154)
5.2.1 - Techniques for prefabricated construction of the infrastructure
(Lou Triandafilou, 202-493-3059)
6.1.3 - Enhance the effectiveness of rehabilitation and reconstruction activities
(Katherine Petros, 202-493-3154)
7.1.2 - Assessing sustainability in project-level decision-making
(Katherine Petros, 202-493-3154)
7.1.3 - Adaptation to the impact of Climate Change
(Katherine Petros, 202-493-3154;
Sheila Duwadi, 202-493-3106)
---
Exploratory Advanced Research
Goal:

Conduct research on longer term and higher risk breakthrough research.

Contact: David Kuehn, 202-493-3414
Potential opportunities for future UTC involvement:

Breakthrough Concepts in Material Science
Technology for Assessing Performance
Breakthrough Concepts in Material Science
This focus area leverages new approaches in material science.

Goal: Produce innovative new highway materials that enable

Functionality
Constructability
Sustainability and
Cost effectiveness of highway infrastructure and system monitoring sensors

Investigating new topics in this focus area.

Alternative and supplementary cementitious materials.
Environmentally resilient structures and pavements.
Adaptive materials.
Technology for Assessing Performance
Seeking novel approaches and breakthrough technology.
Investigating new topics in this focus area.

Utilization of environmental chambers for structural research.
Active wireless sensors for structural or pavement health monitoring.
Nondestructive evaluation virtual laboratory.