U.S. Department of Transportation
Federal Highway Administration
1200 New Jersey Avenue, SE
Washington, DC 20590
202-366-4000
---
Federal Highway Administration Research and Technology
Coordinating, Developing, and Delivering Highway Transportation Innovations
Report
This report is an archived publication and may contain dated technical, contact, and link information
E:
Inetpub
Wwwroot
Fhwaroot
21007 >
Index
Publication Number: FHWA-HRT-21-007 Date: December 2020
Publication Number: FHWA-HRT-21-007
Date: December 2020

Using Reclaimed Asphalt Pavement in Pavement-Preservation Treatments
PDF Version (20.3 MB)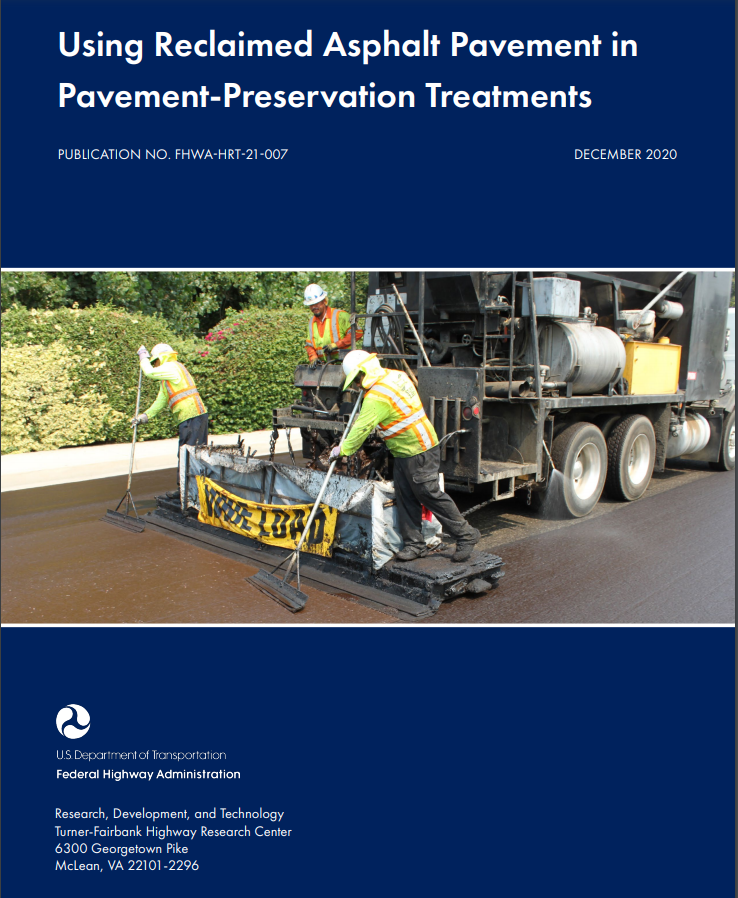 Technical Report Documentation Page
1. Report No.
FHWA-HRT-21-007
2. Government Accession No.
3. Recipient's Catalog No.
4. Title and Subtitle
Using Reclaimed Asphalt Pavement in Pavement-Preservation Treatments
5. Report Date
December 2020
6. Performing Organization Code
7. Author(s)
Gregory Duncan, P.E.; Luis Sibaja, P.E.; Steve Seeds, P.E.; and David Peshkin, P.E.
8. Performing Organization Report No.

9. Performing Organization Name and Address
Applied Pavement Technology, Inc.
115 W. Main Street, Suite 400
Urbana, IL 61801
10. Work Unit No. (TRAIS)
11. Contract or Grant No.
DTFH61-16-C-00015
12. Sponsoring Agency Name and Address
Office of Infrastructure
Federal Highway Administration
6300 Georgetown Pike
McLean, VA 22101
13. Type of Report and Period Covered
Final Report; October 2016–May 2020
14. Sponsoring Agency Code
HRDI-20
15. Supplementary Notes
Morgan Kessler (HRDI-20) served as the Contracting Officer's Representative of this contract.
16. Abstract


Using reclaimed asphalt pavement (RAP) has grown significantly since the oil embargo of the 1970s. The National Asphalt Pavement Association reported that over 71 million tons of RAP were used in 2014 (NAPA 2015). RAP was traditionally used in warm-mix asphalt (WMA) and hot-mix asphalt (HMA) construction, including conventional and thin HMA overlays, but there is growing interest in using RAP in non-HMA projects, such as chip sealing and microsurfacing. Limits on the use of RAP in non-HMA pavement-preservation treatments are not as well known since there is limited research on how RAP affects the performance of such treatments. The purpose of this study was to investigate the performance of RAP in non-HMA pavement-preservation treatments to determine if performance trends similar to those found in WMA and HMA construction projects are evident. This study also documented current practices for using RAP in non-HMA pavement-preservation treatments, including guidance on design criteria, material specifications, construction techniques, costs, inspections, and performance data. Multiple agencies have used RAP in chip seals for a variety of reasons, including cost savings and environmental sustainability goals. One agency specified exclusively using reclaimed asphalt pavement aggregate in slurry seals (RAP slurry) sealing and microsurfacing, allowing full replacement of virgin aggregate. The performance characteristics of pavement preservation treatments using RAP or virgin aggregate are similar, as are chip seal application rates and construction techniques. RAP slurry seals are reported to benefit from pneumatic tire roller passes that seat the RAP particles and seal the treatment surface texture. During this study, several agencies reported either experimenting with or adopting RAP materials in pavement preservation projects, suggesting continued use of RAP in pavement-preservation projects will continue.

17. Key Words
Reclaimed asphalt pavement, surface treatments, pavement preservation treatments, reclaimed materials, chip seal, microsurface, slurry seal
18. Distribution Statement
No restrictions. This document is available to the public through the National Technical Information Service, Springfield, VA 22161.
http://www.ntis.gov
19. Security Classif. (of this report)
Unclassified
20. Security Classif. (of this page)
Unclassified
21. No. of Pages
102
22. Price
N/A
Form DOT F 1700.7 (8-72)
Reproduction of completed pages authorized.