Study of Long-Term Pavement Performance (LTPP): Pavement Deflections
Appendix E. FWD SN 058, October 15, 1997–March 5, 1998
This sensor position error was recently identified using an automated screening version of SLIC and reported in Feedback Report RNS–2M (see appendix A). This relatively short-lived misreporting of the actual position of d7 was not detected during the previous work that resulted in Feedback Report RNS–2.
The automated version of SLIC used a model that was specifically chosen to predict the position of sensor 2 with a close to zero overall bias and the best possible precision (see appendix B). The first graph shown in this appendix (figure 20) is a plot of all the SN #058 d2 sensor position predictions during 1997 and 1998 for all lane 1, drop height 4 FWD tests.
In figure 20, it can be seen that the average prediction for this 2-year period was around 20.3 cm (8 inches), as expected, albeit with some scatter. However, during the period of time in question (October 15, 1997–March 5, 1998), the average predicted position of d2 is clearly around 22.9 cm (9 inches) (average SLIC prediction for all flagged test dates = 23.4 cm (9.2 inches)).
In the figure that follows (figure 21), it can clearly be seen that the SN #058 predicted positions for sensor 2 in the fall and winter of 1997-98 are outliers relative to the predicted positions for sensor 2 when other correctly configured FWDs are used. For the four test sections shown (from two different FWDs), on average the predicted position of d2 was 20.6 cm (8.1 inches) while the average prediction for SN #058 during the same period of time in question was 22.9 cm (9 inches).
In the graph that follows (figure 22), the same result for a portion of the test dates is shown graphically, with the lines and data points labeled 11/13/1997 and 12/18/1997 showing the SLIC plot for d2 in both its protocol but incorrect (20.3 cm (8 inches)) and actual (22.9 cm (9 inches)) offset positions. The same test section was tested twice during the period of time in question, both times with FWD SN #058. The portions of the lines that are parallel to the rest of the data are the correct plots, with d2 set to 22.9 cm (9 inches).
Because of this information, it can be concluded with certainty that d2 was not positioned correctly at 20.3 cm (8 inches); rather, it was positioned at 22.9 cm (9 inches) (or very close to 22.9 cm (9 inches)) on FWD SN #058 between October 15, 1997 and March 5, 1998, inclusively. These dates correspond to the dates where lane 1 tests were conducted at drop height 4. This period of time may need to be extended slightly, if other tests were conducted along different lanes or at different drop heights. In any case, FWD tests conducted on or before September 9, 1997, and on or after April 6, 1998, clearly show d2 positioned at 20.3 cm (8 inches) (per protocol).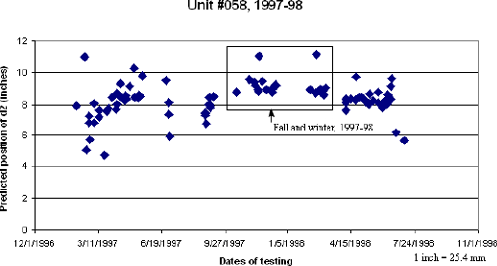 Figure 20. Graph. Predicted position of d2, unit #058, 1997–98.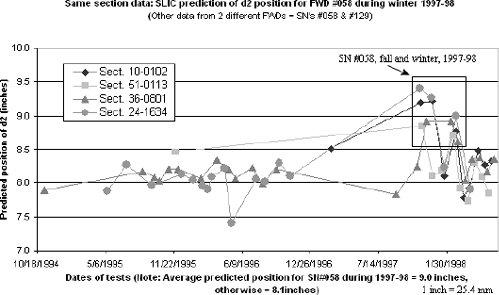 Figure 21. Graph. Same section data for d2 position, two different FWDs.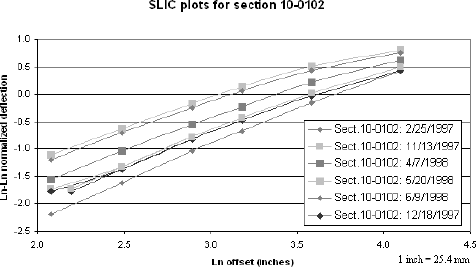 Figure 22. Graph. SLIC plots for section 10–0102 including unit #058, November–December 1997.