Long-Term Pavement Performance Program Falling Weight Deflectometer Maintenance Manual
Chapter 2. Falling Weight Deflectometer Trailer
The FWD in this manual is mounted on a towed trailer, which requires some routine maintenance. This section discusses and illustrates the following trailer parts:
Frame.
Accessories.
Torsion axles.
Hydraulic braking system and tires.
Lights.
Optional covers.
TRAILER FRAME
The trailer frame requires little maintenance. Monthly, a technician should thoroughly check the frame for signs of cracks, corrosion, and missing bolts. Figure 1 shows corrosion on the trailer frame that occurred under the battery box near the battery ground pole. Figure 2 shows a second ground pole, another site of possible corrosion. Figure 3 shows a missing bolt that was drilled out and replaced. The missing bolt was from an optional cover. Damage such as broken bolts can be expected on units with covers, and bolts that attach the covers should be checked monthly.
Figure 1. Corrosion caused by battery.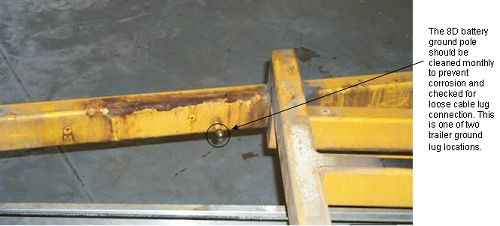 Figure 2. Second battery ground connection.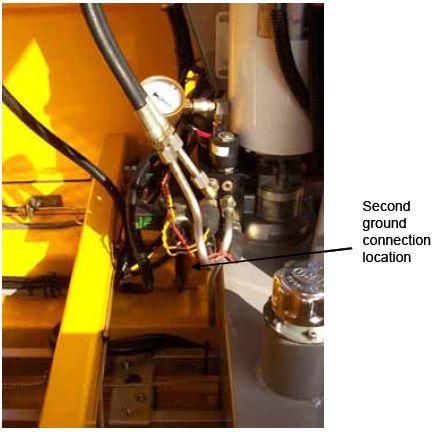 Figure 3. Missing bolt drilled out, tapped, and replaced.

NOTE: The missing bolts that have broken off are from the optional covers. Check the covers monthly and repair or replace missing bolts. This damage is common on units with covers.
Figures 4 and 5 show the trailer after it was stripped of all paint and parts to prepare it for the major overhaul.
Figure 4. Stripped and sandblasted trailer ready to go to powder coat facility.

Figure 5. Rear view of trailer before powder coat was applied.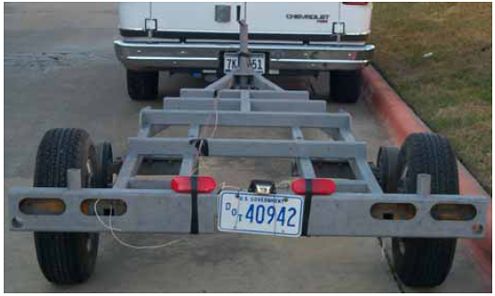 Figures 6 and 7 show the newly powder-coated trailer.
Figure 6. Front of newly powdered trailer.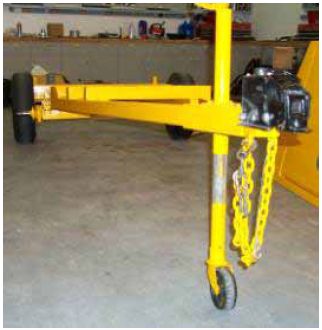 Figure 7. Rear of newly powdered trailer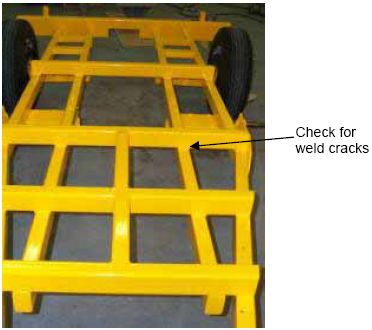 ACCESSORIES
All eight of the Federal LTPP programs' FWDs have covers (figures 8, 9, and 10). These covers provide some security and help protect sensitive components from outside elements. The covers should be washed and inspected monthly for cracks and dents. Covers should be waxed every 6 months to help prevent scratches caused by dirt and debris. Monthly, all hinges should be lubricated and mounting bolts checked to ensure they are tight.
Figure 8. Lower trailer covers.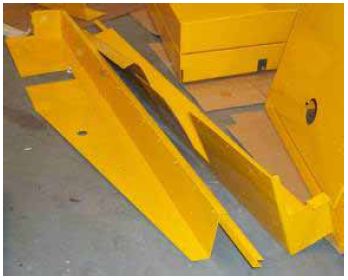 Figure 9. Top trailer cover("dog house").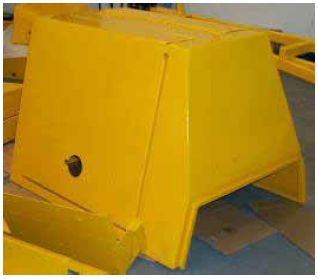 Figure 10. Front trailer cover.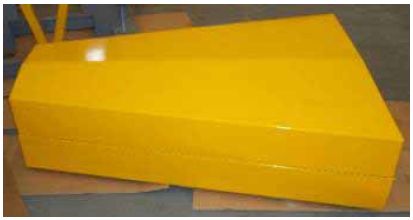 TORSION AXLES
The torsion axles must be checked for the correct toe settings and camber. The trailer axles are set at the factory and rarely need to be adjusted; however, it is a good idea to check their alignment every 3 months.
To do this, look at the wear on the tires to check them visually or run your hand across the tire surface to feel any abnormal wear such as on the edges or scuffing of the tires. An abnormal amount of wear on the interior or exterior edge of the tire indicates the axles may be out of alignment. Some wear is normal because of the vertical movement in the torsion axle itself.
To help reduce unnecessary wear on the tires, rotate them every 8,047 to 16,093 km (5,000 to 10,000 mi). Excessive wear between rotations may indicate the alignment needs to be corrected. To correct this alignment, take the trailer to a reputable trailer repair facility for service; most are equipped to correct alignment.
Figure 11 shows the torsion axle and mounting plate configuration. During tire rotation, check the rubber inside the tube housing (figure 12). It should be intact with no pieces missing. In some cases, the rubber may separate from the housing. If this occurs, the axle may need to be replaced. Consult a repair facility to help determine this.
Figure 11. Torsion axle and mounting plate.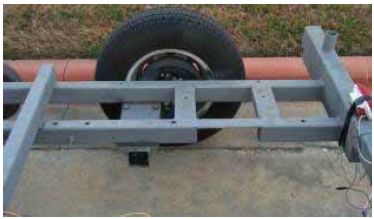 Figure 12. Torsion tube housing.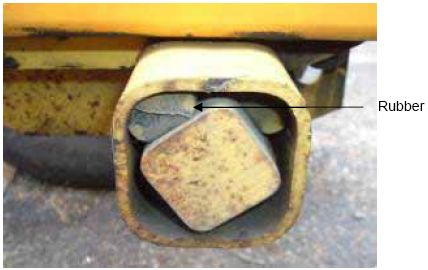 Figure 13 shows a bird's eye view of the torsion axle and shims. Check wheels for loose bearings and check tires for wear and condition (figure 14).
Figure 13. Top view of torsion axle and shims.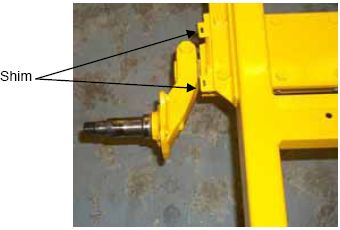 Figure 14. Trailer tires.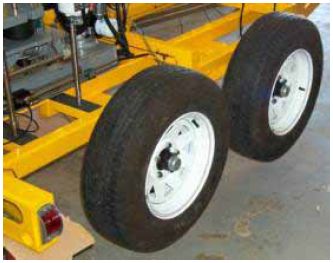 HYDRAULIC BRAKE SYSTEM
Make the following precautionary checks before any trip:
Secure all fasteners on the hydraulic hitch assembly. Also check all exposed brake system parts (hydraulic lines, park lock, clamps, and brackets). Check trailer hitch brake fluid and mounting bolts. Figure 15 illustrates parts of the hydraulic brake system.


Figure 15. Hydraulic hitch assembly and hand brake.

Visually inspect brake shoes every 48,280 km (30,000 mi) or at least once a year (figure 16). FWD units in the LTPP program should be checked at 40,234 km (25,000 miles) or 6 months. If brake shoes are worn and need replacing, the drums should be turned or replaced. When new shoes are replaced, verify that the hydraulic wheel cylinder is not leaking or showing signs of seepage. If it is, replace it, and bleed the brakes.


Figure 16. Mounted view of complete brake assembly.

Adjust the brake shoe adjuster (figure 17). This will determine the brake drum to brake shoe clearance. It is recommended that shoes be adjusted out until the drum just starts to lightly drag from contact. Do not over adjust; doing so may cause the wheels to lock up. If a lockup occurs, reduce the shoe to drum clearance. Depending on the brake drum manufacturer, some adjusting slots are on the front of the brake drum, while some are located on the back plate.


Figure 17. Brake drum with adjusting slot.

Check the flexible brake lines (figures 18 and 19) for cracks, leaks, or signs of rubbing against the frame that could have occurred during travel.
Check rigid brake lines for leaks (figure 20).
Ensure safety chains are crossed and attached to tow vehicle.
Check the audible backup alarm.
Figure 18. Flexible brake lines.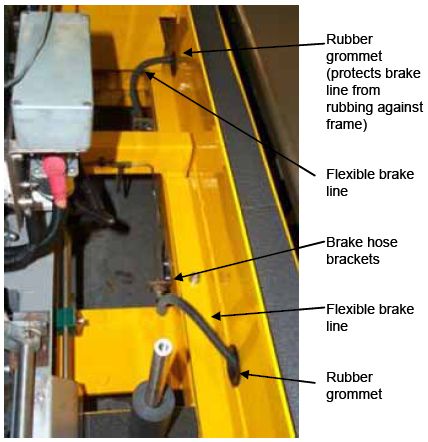 Figure 19. Flexible brake line behind tire.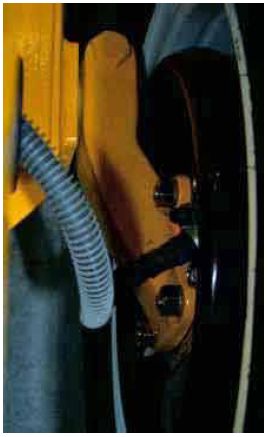 Figure 20. Rigid brake lines.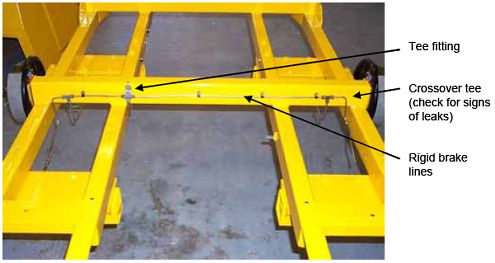 TIRES AND WHEELS
Check tire inflation pressure weekly. Consult the tire manufacturer's recommendation for the correct kilopascals (kPa) (pounds per square inch (psi)) inflation. Use tires designed specifically for trailers.
Daily check wheel lug nuts visually and torque them monthly to 122.2 to 162.7 Newton-meter (N-m) (90 to 120 pound-force per foot (lbf)), depending on lug and stud diameter.
Check wheel bearings for looseness by feeling for play when the hub is moved up and down, or side to side (figure 21).
Yearly repack wheel bearings and replace grease seals (figure 22). Remove wheel bearings and races to check for bluing, pitting, or excessive wear. Replace wheel bearings as a complete set, not individually (including inner and outer wheel bearings and races).
Figure 21. Brake drum.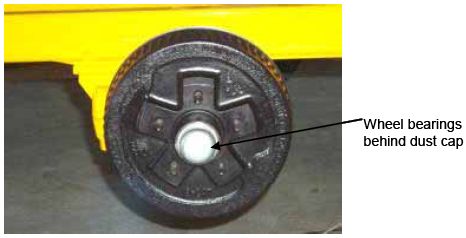 Figure 22. New axle wheel bearings and components.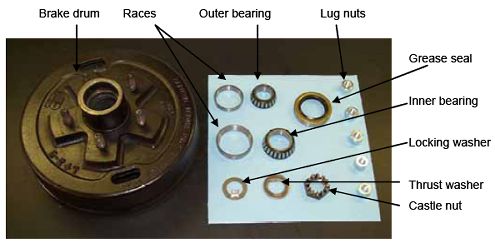 TRAILER LIGHTS
Check trailer lights before traveling. Daily, check brake lights, turn signal, running lights, and strobes to make sure they are working properly (figures 23 and 24).
Figure 23. Trailer brake and license plate lights and backup alarm.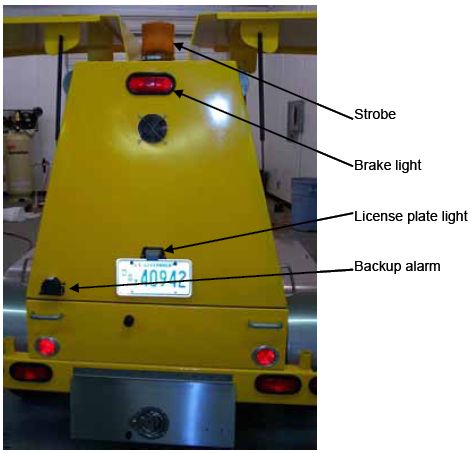 Figure 24. Trailer turn signal and brake lights.