Safety Effects of Marked Versus Unmarked Crosswalks at Uncontrolled Locations Final Report and Recommended Guidelines
PDF files can be viewed with the Acrobat® Reader®
This study evaluated the safety of marked and unmarked crosswalks at uncontrolled locations, that is, at crossings with no traffic signals or stop signs on the approach. Therefore, the data collection activities were undertaken to: (1) select suitable marked and unmarked crosswalks, and (2) obtain pedestrian crash and exposure data. Data collection was conducted in five steps, which are discussed below.
Through conversations with city traffic engineers and pedestrian/bike coordinators, 28 cities and 2 counties were selected for crosswalk inventory. Either the Highway Safety Research Center (HSRC) staff or local data collectors performed the inventory by driving along selected streets in each city. These streets were in the downtown area, other commercial areas, and built-up residential areas, where marked crosswalks at uncontrolled locations were known or expected to be present. The inventory data collection form is shown in figure 41.
For most cities, the inventory of crosswalk and comparison sites was recorded on videotape. An HSRC staff member watched the videotapes and completed a crosswalk inventory form (see figure 42). Several local data collectors filled out the inventory form directly and mailed the completed forms to HSRC. This process was used both to select unmarked crosswalks (i.e., matched comparison sites-see step 3) and to extract relevant information about the marked crosswalks.
For record-keeping purposes, each marked crosswalk and matching comparison site was assigned a site number. Street or route refers to the main road that the pedestrian crosses, and intersecting street is the side street that crosses or forms a "T" with the main road. The leg (east, west, north, south) where the crosswalk or comparison site exists was recorded. If there were crosswalks on both legs (east and west or north and south) of the same intersection, they were assigned two site numbers and listed separately. Midblock location was noted when appropriate, along with the intersecting streets to either side. A total of 827 intersection and 173 midblock marked crosswalks were used in the analysis, with an equal number of matched comparison sites.
The total number of lanes, including any turn lanes, that a pedestrian must cross was recorded. Figure 43 shows the distribution of the 1,000 marked crosswalks that were used in the analysis according to the number of lanes. Nearly half (45.8 percent) of the sites were on two-lane roads, with about one third of the sites on four-lane roads.
The median type was recorded as either none, raised, or painted. Two-way left-turn lanes were considered to be traffic lanes. There was no median for about two-thirds of the 1,000 marked (and unmarked) crosswalks that were used in the analysis. Raised medians were present for 14 percent of the marked (and unmarked) crosswalks, and painted medians, about 15 percent.
About 86 percent of the crosswalks were on two-way streets, with 14 percent on one-way streets.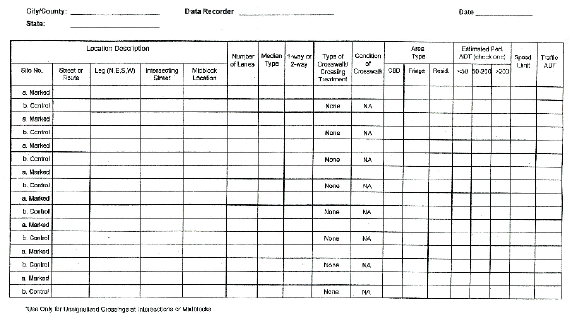 Figure 42. Pedestrian crosswalk inventory form.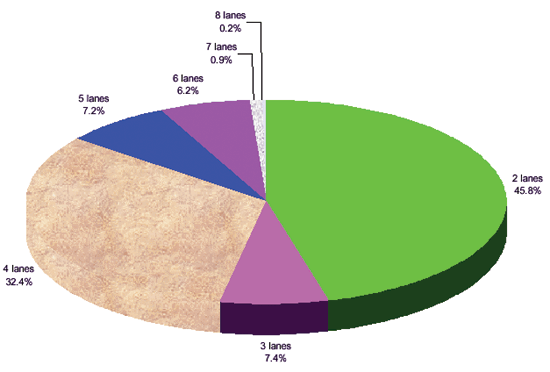 Figure 43. Number of lanes for marked crosswalks.
Crosswalks usually had standard markings (two parallel white lines). Various types of crosswalk markings are illustrated in figure 7 (shown in chapter 2).
The presence of any signs or beacons was also noted. Types of signs and beacons included:
Advanced Crosswalk Sign: Mounted in advance of the crosswalk, to warn drivers that they are approaching a crosswalk.

Crosswalk Sign: Placed at the crosswalk.

Overhead Sign: An overhead pedestrian warning sign (in advance or at the crosswalk).

Flash: A flashing beacon placed next to the crosswalk.

Overhead Flash: A flashing beacon placed over the crosswalk.
Only 19 of the 2,000 sites (less than 1 percent) had any of these supplemental devices. Sites were selected to minimize the number of signs or beacons.
The condition of the marked crosswalk was recorded as excellent (E), good (G), fair (F), or poor (P). There was no way to determine the condition of the markings over the entire study period.
Each crosswalk was in a central business district (CBD), fringe, or residential area.
CBD: CBDs are downtown areas and are characterized by moderate to heavy pedestrian volumes, lower vehicle speeds, and dense commercial activity.
Fringe: Fringe areas include suburban and commercial retail activity areas, and typically have moderate pedestrian volumes. These areas may also include high-rise apartments.
Residential: Residential development would generally correspond to lower pedestrian volumes.
Of the 2,000 marked and unmarked crosswalks that were used in the analysis, 199 (10 percent) were in a CBD, 1,093 (54.7 percent) were in fringe areas, and 708 (35.4 percent) were in residential areas.
For each crosswalk and control site, the pedestrian ADT was based on expanding short-term pedestrian counts based on adjustment factors, as described below.
Pedestrians and motorists are out and about at all hours of the day and night. As a result, pedestrian crashes may happen at any hour. Therefore, to calculate crash rates, 24-hour daily pedestrian volumes are needed. It was not feasible to count pedestrians for every hour at each of the 1,000 marked crosswalks and 1,000 unmarked comparison sites. Instead, pedestrians were counted by 15-minute intervals for a total of 1 hour at each site. These counts were conducted on weekdays during daylight hours. The earliest count intervals started at 7 a.m., and the latest count intervals ended at 6 p.m.
Daily pedestrian volumes at each marked crosswalk and unmarked comparison site were then estimated from these 1-hour counts. If pedestrian activity were evenly distributed in each hour of the day, then each hour would comprise about 4.2 percent (100 percent divided by 24 hours) of the daily total. The 1-hour count could simply be divided by an hourly adjustment factor of 4.2 percent (0.042) to get the all-day volume. In reality, though, hourly volumes vary throughout the day with greater pedestrian activity during certain peak periods. Suppose that 10 out of 100 (10 percent) of the day's pedestrians are counted between 5 p.m. and 6 p.m. If that hour's count were divided by 0.042, the true daily volume would be overestimated (10 / 4.2 percent = 238). Likewise, if 2 out of 100 (2 percent) are counted between 3 a.m. and 4 a.m., dividing that count by 4.2 percent would underestimate the true daily volume (2 / 0.042 = 48). Therefore, adjustment factors for each hour of the day are needed to obtain a more accurate estimate of the true daily volume.
The adjustment factors were derived from two data sets. First, all-day (8- to 12-hour) pedestrian counts were undertaken at 11 marked crosswalks and 11 unmarked comparison sites. Second, adjustments were calculated based on the method used by Zegeer et al. for 24-hour pedestrian counts in Seattle, WA. (39) They found that the 12-hour period from 7 a.m. to 7 p.m. represented 86 percent of the 24-hour daily pedestrian volume. Separate adjustment factors were used for each area type (CBD, fringe, and residential), because the area types have different patterns of hourly pedestrian volume. It was determined that crosswalks and comparison sites had similar pedestrian volume distributions by the time of day, so the same adjustment factor was used for a crosswalk and its matched comparison site.
The adjustment factors by time of day and area type appear in table 12. The 1-hour pedestrian counts at each crosswalk and comparison site were divided by the appropriate factor to obtain the 24-hour daily pedestrian volume. For example, suppose 100 pedestrians were counted between 9 a.m. and 10 a.m. at a CBD location. Then the daily pedestrian volume was estimated to be 100 / 4.9 percent = 2,041 pedestrians. At a fringe location, the daily volume would be 100 / 8.3 percent = 1,205 pedestrians. If the count interval was spread out over two periods, such as 9:30 a.m. to 10:30 a.m., then the adjustment factor for 9 a.m. to 10 a.m. was applied to the first part of the count, and the factor for 10 a.m. to 11 a.m. was applied to the second part of the count.
Table 12. Adjustment factors by time of day and area type used to obtain estimated pedestrian ADT.
Time of Day

Area Type

CBD (%)

Fringe (%)

Residential (%)

7 a.m. - 8 a.m.

2.4

6.9

4.8

8 a.m. - 9 a.m.

2.4

6.0

3.9

9 a.m. - 10 a.m.

4.9

8.3

5.7

10 a.m. - 11 a.m.

8.2

7.1

8.7

11 a.m. - 12 N

10.4

7.7

8.2

12 N - 1 p.m.

11.4

9.0

8.4

1 p.m. - 2 p.m.

11.6

6.3

6.9

2 p.m. - 3 p.m.

8.5

8.5

5.9

3 p.m. - 4 p.m.

16.2

8.1

7.4

4 p.m. - 5 p.m.

4.4

7.9

9.3

5 p.m. - 6 p.m.

3.5

8.1

11.4

Remaining 13 hours

16.0

16.0

19.5
At a few of the 2,000 sites, no pedestrians were observed during the crossing period. The pedestrian crash rate is computed as the number of pedestrian crashes divided by the pedestrian crossing volume. The pedestrian crossing volume is the product of the pedestrian ADT times the number of years times 365 days per year. Thus, assuming a zero hourly pedestrian volume is not only questionable, but also results in a pedestrian exposure of 0. Since it is not possible to use 0 as a value of exposure in computing pedestrian crash rates (i.e., since dividing by zero yields a rate of infinity), a count of 0.25 was substituted for 0 as the hourly pedestrian count for computing pedestrian ADT for use in computing pedestrian crash rates.
Unmarked crosswalks (the control sites) tended to have lower pedestrian volumes than marked crosswalks. This may be the result of pedestrians being drawn to marked crosswalks and/or due to crosswalks being marked at locations with more pedestrian activity.
Speed limits were obtained from local traffic engineers, local data collectors in the field, and watching videotapes of the crosswalk inventory. The most common speed limits were 48.3 km/h (30 mi/h) (37.4 percent), 40.25 km/h (25 mi/h) (33.0 percent), and 56.35km/h (35 mi/h) (22.8 percent).
Traffic volumes were obtained from local traffic engineers. Figure 44 shows that marked crosswalks had similar traffic volumes to the unmarked crosswalks (the comparison sites). This was to be expected, because the comparison sites were chosen to be close to, and similar to, their matching marked crosswalks.
Each crosswalk was matched with a control site that was close to the crosswalk and had similar characteristics (such as number of lanes, area type, estimated traffic and pedestrian volumes, and one-way or two-way traffic flow), but which did not have crosswalk markings, stop sign, or traffic signal. This was done either by watching the video or in the field. For example, if a marked crosswalk was present on the east leg of an intersection but not on the west leg, then the west leg was often a good control site. If the east and west legs of an intersection had marked crosswalks, then the east and west legs of a nearby intersection along the same main road were often good control sites. The data items described in step 2 were recorded for the control sites.
Some marked crosswalks were excluded because suitable control sites could not be found, or they were school crossings. A total of 1,000 marked crosswalks, each matched with a control site (for a total of 1,000 control sites), was used in the analysis. The number of crosswalks by city is given in table 13.
Local data collectors were hired to count the number of pedestrians at the crosswalks and their corresponding control sites. Each location was counted in 15-minute intervals for one hour. At 11 crosswalks and 11 control sites, pedestrians were counted for 8 to 12 hours. These longer, all-day counts were used as the basis from which daily pedestrian volumes at each crosswalk and control site were estimated from the one-hour counts. All counts were done on weekdays.
Local city contacts provided crash data and hard-copy police reports for vehicle-pedestrian crashes that occurred at or near the crosswalks and comparison sites, for an average of about 5 years per site. Some cities had more than 5 years of crash data available, while other cities had 6 years of data that was available for use.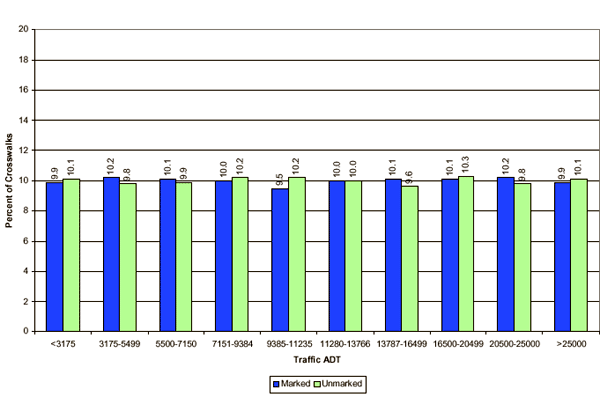 Figure 44. Marked and unmarked crosswalks had similar traffic ADT distributions.
Table 13. The number of marked crosswalks that were used in this study, by city or county.
City or County

Number of Crosswalks

Marked

Unmarked

Austin, TX

24

24

Baltimore, MD

30

30

Baltimore County, MD

11

11

Cambridge, MA

46

46

Cincinnati, OH

42

42

Cleveland, OH

55

55

Durham, NC

11

11

Fort Worth, TX

28

28

Gainesville, FL

45

45

Glendale, AZ

12

12

Kansas City, MO

29

29

Madison, WI

29

29

Milwaukee, WI

68

68

New Orleans, LA

80

80

Oakland, CA

45

45
City or County

Number of Crosswalks

Marked

Unmarked

Orlando, FL

20

20

Phoenix, AZ

36

36

Pittsburgh, PA

18

18

Portland, OR

32

32

Raleigh, NC

14

14

Salt Lake City, UT

18

18

San Francisco, CA

91

91

Scottsdale, AZ

8

8

Seattle, WA

102

102

St. Louis, MO

15

15

St. Louis County, MO

24

24

Tempe, AZ

1

1

Topeka, KS

25

25

Tucson, AZ

22

22

Winter Park, FL

19

19

Totals (all cities)

1,000

1,000
Crash rates were normalized based on number of years of data. A total of 229 crashes (188 at marked crosswalks and 41 at control sites) occurred at the 2,000 sites and were used in the analysis.
Local traffic engineers and police departments provided crash data and hard-copy police crash reports for the marked and unmarked crosswalks. For each marked crosswalk and matching unmarked crosswalk, data and reports were obtained for the same 3- to 5- year period. The exact years varied from one city to another, depending on the data and reports that each city had available.
The crash reports were read to determine the crash type and to obtain information on other crash variables, such as pedestrian age, injury severity, and time of day. The crash type and other information were entered into a database for analysis.
Some crashes were eliminated because they did not occur at the crosswalks (or within 3 m (10 ft) of the crosswalk) of interest. For example, if a traffic engineer included Crash #1 among the crashes at Crosswalk #1, but it was later determined that Crash #1 actually occurred somewhere else, then Crash #1 would have been eliminated. The analysis resulted in the confirmation of 229 total pedestrian crashes. Of these, 188 occurred at marked crosswalks and 41 occurred at unmarked crosswalks.