Applications of ISAT, Interchange Safety Analysis Tool (ISAT): User Manual
PDF files can be viewed with the Acrobat® Reader®
Introduction
This user manual provides detailed descriptions/instructions on the usage and operation of the spreadsheet-based Interchange Safety Analysis Tool (ISAT). ISAT was developed for performing safety assessments of interchanges and adjacent roadway segments and intersections. ISAT was developed using Microsoft® Excel® 2003 spreadsheet software.
The basic purpose of ISAT is to provide design and safety engineers with an automated tool to aid in assessing the safety effects of geometric features and traffic control options, along with traffic volumes, of an existing interchange and predicting the safety performance of a new interchange where no interchange previously existed. ISAT was developed to enable a wide range of applications, including but not limited to:
Estimating crash frequencies, severities, and types for an existing interchange for which crash data are not available.
Estimating the safety performance for a new interchange that has not yet been constructed.
Estimating crash frequencies, severities, and types for a specific proposed design alternative for an existing interchange.
ISAT is intended for performing safety assessments of freeway-arterial and freeway-freeway interchanges. ISAT also provides the capability to perform safety assessments of adjoining mainline freeway segments, crossroad ramp terminals and intersections, and arterial crossroad roadway segments. It is not recommended to use ISAT to evaluate arterial-arterial interchanges. The interchange/ramp safety performance functions (SPFs) incorporated within ISAT were developed using freeway locations. It is questionable whether the models are sufficient, or directly applicable, for the more restrictive arterial settings.
Safety assessments can be performed for interchange areas where no crash data are available; and when crash data are available, ISAT can incorporate the information and provide more accurate safety estimates. Thus, ISAT can be used in both situations (i.e., when no crash data exist and when crash data are available).
ISAT uses a building-block approach to assess the safety performance of interchanges. Users input data for the interchange as a whole and for individual components of an interchange and surrounding roadway network. Safety estimates are calculated for the individual components, and these safety estimates are summed to obtain safety performance estimates for the interchange as a whole. The primary interchange elements that can be included in an analysis are:
Mainline freeway segments (MF).
Interchange ramps (R) and acceleration lanes (AL).
Crossroad ramp terminals (RT) and intersections.
Crossroad roadway segments (RS).
For analysis purposes, acceleration lanes are considered within the mainline freeway methodology.
Figure 1 provides an illustration of an interchange divided into individual components suitable for an analysis. In this example the mainline freeway is broken into segments according to changes in traffic volume and ramp influence areas. Similarly, the crossroad roadway is divided at intersection locations. The ramps, acceleration lanes, and crossroad ramp terminals are considered as individual units and are not subdivided any further.
ISAT was designed to analyze the interchange elements of a single interchange, as illustrated in the example in figure 1. ISAT was also designed to analyze a system of interchanges and the elements of the surrounding roadway network. ISAT does have some limitations concerning the number of individual components that can be included in an analysis area, but in many ways it is up to the user to determine the size and/or complexity of the analysis.
The primary outputs from an analysis include:
Number of predicted crashes for entire interchange area.
Number of predicted crashes by interchange element type.
Number of predicted crashes by year.
Number of predicted crashes by collision type.
On the output reports crashes are reported for three severity levels: total (TOT), fatal and injury (FI), and property-damage only (PDO) crashes.
ISAT was developed based on existing safety knowledge and predictive relationships from previous and ongoing safety research. New safety modeling or safety evaluations were not performed as part of the research to develop the first version, or generation, of ISAT. ISAT was designed to incorporate new safety models easily in later versions of the program when they become available through future research.
The remainder of this user manual is organized as follows: the Getting Started section presents basic information for getting started with using ISAT; the Basic Analysis Procedures section presents the basic methodology that users will follow when conducting an analysis with ISAT; the Input Requirements section presents the user input requirements of the program; the Default Data section discusses the default data incorporated within the program and recommendations on when and how these default data should be updated by the user; the Output Reports section discusses the output reports generated by ISAT; and the Applications of ISAT section presents general information on different applications for which ISAT can be applied and how ISAT can be applied to analyze several common interchange types.
This user manual does not contain the detailed algorithms utilized in the calculations of the program. For detailed information on these algorithms, the user is referred to the final project report, Safety Analysis of Interchanges.1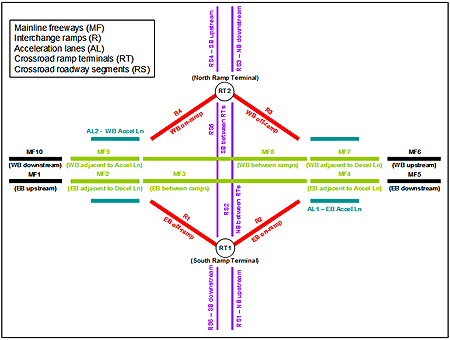 Figure 1. Example interchange illustrating individual components.