Development of Human Factors Guidelines for Advanced Traveler Information Systems and Commercial Vehicle Operations: Comparable Systems Analysis
Safety
Accident statistics associated with the TravTek evaluation program were quite positive. Even using the most conservative comparison groups (i.e., non-visitors, non-rental car users, national averages), a statistical difference (or even an approach to significance) in accident rate does not exist between the TravTek users and any comparison group (Perez and Van Aerde, personal communication, 1993). Even though the TravTek users drove more than 1.6 million km, accident rates require extremely large exposures to be reliable. Still, these results are encouraging with respect to the safety of ATIS systems.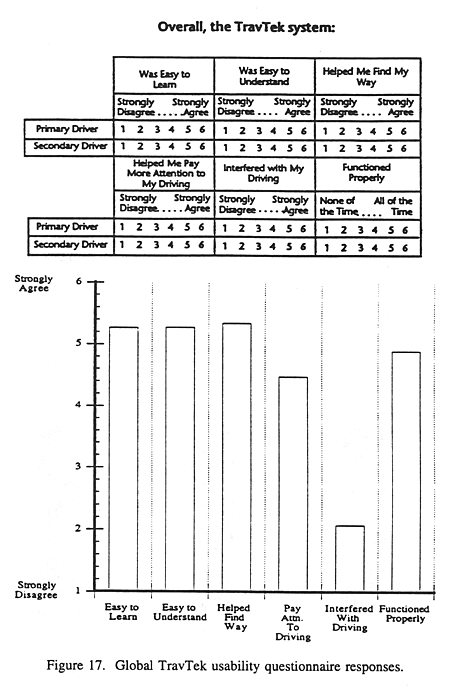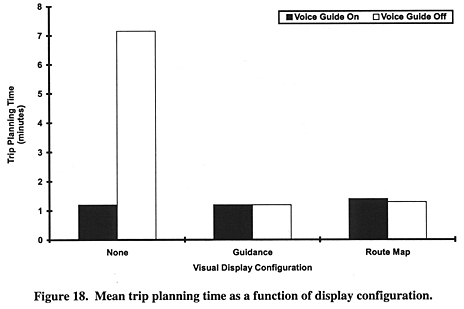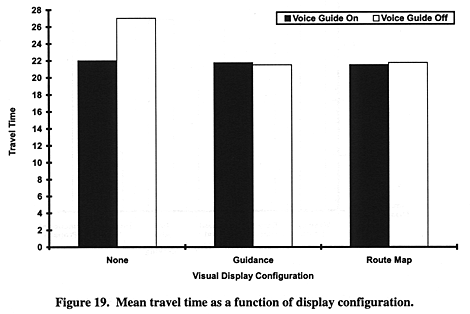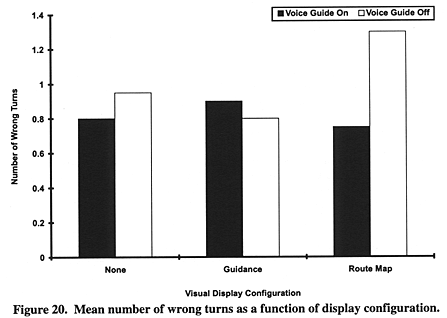 In addition to accident rates, near misses were analyzed in the Camera Car Study and as an item in the post–experiment questionnaire. The Camera Car Study found a surprising lack of near–miss data (Dingus, to be published). In detailed frame–by–frame analysis of 90 hours of video tape, only a handful of what could truly be considered close calls were identified. Of those identified, no more were found (in general) under the TravTek conditions than under the control conditions (paper map and paper directions list). For the question, How many times did you experience "close calls" (or near accidents) while driving the vehicle?, the mean response was approximately 1.3 on a 1 = never to 6 = frequently scale.
The questionnaire also asked a general safety question about the TravTek system––Do you think that TravTek helped you drive more safely in Orlando? The response to this question was a slightly positive 4.4 on a 1 = "Didn't help me drive safely" to 6 = "Helped me drive safely" scale.
The initial results described above indicate that safety does not necessarily degrade with the use of ATIS systems such as TravTek, particularly in comparison to other existing means of navigation. Additional analyses aimed at assessing the safety benefits of TravTek will be forthcoming as the analysis and reporting process continues.