Accident Models for Two-Lane Rural Roads: Segment and Intersections
3. Data Collection
How Data were Collected
Data were extracted from HSIS data files for Minnesota and Washington, from photologs for Minnesota and videotapes for Washington, and from construction plans at the Minnesota Department of Transportation. In addition, weather data for the state of Minnesota were acquired from the Midwest Climate Center. A number of small-scale investigations were also done that made use of other data provided by personnel at the respective Departments of Transportation.
HSIS data are stored in SAS databases. The needed data elements were extracted and assembled into SAS data sets representing the study populations with identifiers for each population bin. Random numbers were used to prepare SAS data sets representing the study samples (with the exception of the Washington intersections). Other sample data were recorded manually on specially prepared data sheets from photologs, videotapes, and plans. These were entered into SAS data sets that were merged with the HSIS data to obtain the full sample data sets.
Numerous data checks were done at each stage. Second and sometimes third viewings of photologs, videotapes, and plans occurred, as well as consistency checks on SAS data base entries and some checks on the HSIS files themselves. Variables such as Roadside Hazard Rating were determined by two and sometimes three different individuals to minimize subjectivity.
HSIS Data
Accident data, traffic data, vertical and horizontal alignment data for Washington State, and other geometric data were extracted from HSIS files. These data were used in part to constrain the populations so that segments were on two-lane paved rural roads where segment lengths, surface widths, shoulder widths, ADT, and commercial ADT fell within prescribed ranges, while intersection geometries were three-legged or four-legged with all legs two-lane and two-way rural roads.
The data elements for the samples are those shown in Table 1. In the case of Washington State vertical and horizontal alignment data were obtained from HSIS files, but for Minnesota they were obtained from construction plans.
Minnesota Photologs
Photologs for the State of Minnesota were examined at FHWA's Turner-Fairbank Highway Research Center. In some cases photologs were not available at FHWA, but were found and examined at the Minnesota Department of Transportation (MNDOT) in Saint Paul, Minnesota. The photologs were used to verify HSIS data (e.g., rural environment, two lanes, stop sign on minor road), to determine Roadside Hazard Rating, to count driveways and intersections within a segment, to determine channelization at intersections, and to note posted regulatory and advisory speeds when seen.
Minnesota Construction Plans
Construction plans obtained in the Plan Office of MNDOT provided horizontal and vertical alignment data as well as the angle between legs at intersections. Location of plans was an arduous task, requiring that true beginning and ending mileposts of a segment or reference point of an intersection be matched up to the correct stations, that a control section be determined from a separate book, that a card file of projects by segment be consulted to discover any projects and project numbers, and then that the corresponding project plan sheets be recovered and verified. Plans were then copied and were examined in detail at a later time.
Washington Videotapes
Videotapes for the State of Washington's roadways were purchased from the Washington Department of Transportation and were reviewed at PRAGMATICS. Like the Minnesota photologs, the videotapes were used to verify the correctness of the HSIS data and to obtain Roadside Hazard Rating, speeds, numbers of driveways, and channelization. In addition, they were used to estimate the angle between legs at an intersection.
Weather Data
Weather data were acquired for Minnesota intersections. The Midwestern Climate Center (MCC) in Illinois provided a listing of the nine Climate Districts in Minnesota, each of which is relatively homogeneous in its weather conditions. Weather data for each District are available based on averages of reports from local weather stations, many of which are run by volunteers. In Northern Minnesota the stations are sparser than elsewhere in the State. The percentages of dry, wet, snow/slush, and ice/pack snow days, respectively, for each year from 1985 to 1989 by Climate District were provided at a nominal charge. PRAGMATICS, Inc. staff attached these to segments and intersections falling within the corresponding Climate District.
Modeling of the Minnesota data did not show the weather to be significant, possibly because the weather variable could not be localized to a level below the Climate District. Consequently, weather data were not acquired for Washington State.
Miscellaneous Investigations
Aerial photographs were consulted in both Minnesota and Washington for possible use in estimating horizontal alignment, intersection angles, and intersection channelization. The Photogrammetric Unit of MNDOT provided contact prints for 12 out of 20 requested intersections at a scale of 1" = 100'; the other eight were not available. Washington State provided a few sample prints of aerial photographs at a scale of 1" = 2,000'. Curvatures and angles could be readily made out from the Washington photos, but channelization at intersections was not readily ascertainable. Since the information could be obtained in other ways, not all intersections and segments were available in aerial photographs, and the cost was high in Washington State, it was decided not to acquire such photos for the full samples.
Minnesota has nine Highway Districts. Each Highway District Office was queried for information about a sample of intersections (channelization installation dates, age of stop signs on minor roads). Age of stop signs is thought to be related to reflectivity and visibility. All nine Districts responded and provided some information, including sketches of the intersections. In all cases the channelization (turning and/or acceleration lanes) was installed prior to 1985, but exact installation dates were not available. Likewise the dates of stop sign installations were not generally available, but the District Offices indicated that stop signs were replaced on a 10-year schedule.
Queries were also made in Minnesota about traffic data and commercial traffic data, as well as the availability of traffic data on county roads, and in both Minnesota and Washington about underreporting of accidents. Results are reported below.
Table 1. Variables collected in the study
MINNESOTA SEGMENTS

Variable

Meaning

Units

Source

Identifiers

m_sysnbr

Route number

HSIS

true_beg

true beg. Milepost

miles

HSIS

true_end

true end milepost

miles

HSIS

beg_sta

beg. Station

hundreds of feet

Plans

end_sta

end station

hundreds of feet

Plans

Traffic

ADT

Average daily traffic

vehicles per day

HSIS

com_avg

Average daily heavy vehicle traffic

vehicles per day

HSIS

Miscellaneous

LW

lane width

feet

HSIS

SHW

Shoulder width

feet

HSIS

RHR

Roadside Hazard Rating

1, 2, 3, 4, 5, 6, 7

Photologs

nodrwy,

noint

Number of driveways, number of intersections

Photologs

shl_typ

Shoulder type

HSIS

light

yes or no if lighting/no lighting

Photologs

terrain

flat, rolling, or mountainous

Photologs

Weather

dd, wd, ss, ips

Number of dry, wet, snow/slush, ice/packsnow days

days per year

MCC

Horizontal alignment

pc{i}

beg. Station of curve no. I

hundreds of feet

Plans

pt{i}

end station of curve no. i

hundreds of feet

Plans

DEG{i}

degree of curve, curve no. I

degrees per 100 ft

Plans

dir{i}

Direction, left or right, curve no. i

Plans

Vertical alignment

b{i}

beg. Station of curve no. I

hundreds of feet

Plans

e{i}

end station of curve no. I

hundreds of feet

Plans

g{i}

grade no. i (prior to curve no. i)

percent

Plans
Variables explicitly used in models are in capital letters; 1 mi = 1.61 km, 1 ft = 0.3048 m
Table 1. Variables collected in the study (continued)
MINNESOTA SEGMENTS, continued

Variable

Meaning

Units

Source

Speed

advspd

advisory speed

miles per hour

Photologs

regspd

Regulatory speed

miles per hour

Photologs

speed

posted speed (accident sites only)

miles per hour

HSIS

Accident data

TOTACC

total number of non-intersection accidents in 1985-9, 1990-3

HSIS

fatal,

injury, nonincap,

possinj, injunk, propdam

no. of fatal, injury,

non-incapacitating, possible injury, injury unknown, and property damage only non-intersection accidents

HSIS

rearend, sswipe, leftturn, rorleft, rtangle, riteturn, rorright, headon, sswipopp, other, unknown

no. of rearend, sideswipe, left turn, run-off-road left, right angle, right turn, run-off-road right, headon, sideswipe opposite, other, and type unknown accidents

HSIS
Table 1. Variables collected in the study (continued)
MINNESOTA THREE-LEGGED AND FOUR-LEGGED INTERSECTIONS

Variable

Meaning

Units

Source

Identifiers

int_synb

Route number

HSIS

refpnt

nominal milepost of intersection center

miles

HSIS

true_sta

station of intersection center

hundreds of feet

Plans

Traffic

int1

average daily traffic on major road

vehicles per day

HSIS

int2

average daily traffic on minor road

vehicles per day

HSIS

Miscellaneous

RHRI

Roadside Hazard Rating within ±250 ft on major road

1, 2, 3, 4, 5, 6, 7

Photologs

ND

number of driveways within ±250 ft on major road

Photologs

light

yes or no if lighting or no lighting

Photologs

terrain

flat, rolling, or mountainous

Photologs

Weather

dd, wd, ss, ips

number of dry, wet, snow/slush, ice\packsnow days

days per year

MCC

Horizontal

Alignment on major road

pc{i}

beg. station of curve no. i (if any portion of curve is within ±764 ft of intersection center along major road)

hundreds of feet

Plans

pt{i}

end station, curve no. i

hundreds of feet

Plans

DEG{i}

degree of curve, curve no. I

degrees per hundred feet

Plans

dir{i}

direction, left or right, curve no. I

Plans

Vertical alignment on major

Road

b{i}

beg. station of curve no. i (if any portion of curve is within ±764 ft of intersection center along major road)

hundreds of feet

Plans

e{i}

end station of curve no. I

hundreds of feet

Plans

g{i}

grade no. i (prior to curve no. i)

percent

Plans
Table 1. Variables collected in the study (continued)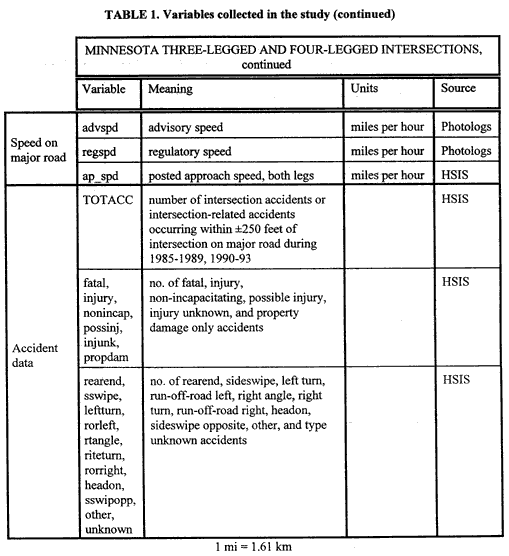 Table 1. Variables collected in the study (continued)
MINNESOTA THREE-LEGGED INTERSECTIONS ONLY

Variable

Meaning

Units

Source

Angle

angle

angle between increasing direction of major road and third leg

degrees

Plans

dir_ang

direction of third leg (left or right ) from increasing dir. of major road

Plans

Channelization

tlml

yes or no whether a right turn lane does or does not exist on major road

Photologs

tlcs

yes or no whether a right turn/acceleration lane does or does not exist on the minor road

Photologs

bypass

yes or no whether a bypass lane does or does not exist on the major road (opposite the minor road)

Photologs

MINNESOTA FOUR-LEGGED INTERSECTIONS ONLY

Angle

l_angle

angle between increasing direction of major road and left leg of minor

degrees

Plans

r_angle

angle between increasing direction of major road and right leg of minor

degrees

Plans

Channelization

tlml1

yes or no whether a right turn lane does or does not exist along increasing direction of major road

Photologs

tlml2

yes or no whether a right turn lane does or does not exist along decreasing direction of major road

Photologs

l_tlcs

yes or no whether a right turn/acceleration lane does or does not exist on the left leg of the minor road

Photologs

r_tlcs

yes or no whether a right turn/acceleration lane does or does not exist on the right leg of the minor road

Photologs
Table 1. Variables collected in the study (continued)
WASHINGTON SEGMENTS

Variable

Meaning

Units

Source

Identifiers

rte_nbr

Route number

HSIS

begmp

beg. Milepost

miles

HSIS

endmp

end milepost

miles

HSIS

Traffic

ADT

average daily traffic

vehicles per day

HSIS

com_avg

average daily heavy vehicle traffic

vehicles per day

HSIS

Miscellaneous

LW

lane width

feet

HSIS

SHW

shoulder width

feet

HSIS

RHR

Roadside Hazard Rating

1, 2, 3, 4, 5, 6, 7

Photologs

nodrwy

number of driveways

Photologs

noint

number of intersections

Photologs

light

yes or no if lighting or no lighting

Photologs

terrain

flat, rolling, or mountainous

Photologs

Horizontal alignment

pc{i}

beg. milepost of curve no. I

miles

HSIS

pt{i}

end milepost of curve no. i

miles

HSIS

rad{i}

radius of curve, curve no. I

feet

HSIS

dir{i}

direction, left or right, curve no. I

HSIS

Vertical alignment

b{i}

beg. milepost of curve no. I

miles

HSIS

e{i}

end milepost of curve no. I

miles

HSIS

g{i}

incoming grade no. I

percent

HSIS

h{i}

outgoing grade no. I

percent

HSIS
Table 1. Variables collected in the study (continued)
WASHINGTON SEGMENTS, continued

Variable

Meaning

Units

Source

Speed

advspd

advisory speed

miles per hour

Photologs

regspd

regulatory speed

miles per hour

Photologs

spd_limt

posted speed

miles per hour

HSIS

hspd{i}

speed on horizontal curve no. I

miles per hour

HSIS

vspd{i}

speed on vertical curve no. I

miles per hour

HSIS

Accident data

TOTACC

total number of non-intersection accidents in 1993-5

HSIS

fatal,

injury, nonincap,

possinj, injunk, propdam

no. of fatal, injury,

non-incapacitating, possible injury, injury unknown, and property damage only non-intersection accidents

HSIS

RORACC

number of run-off-road accidents

HSIS
Table 1. Variables collected in the study (continued)
WASHINGTON THREE-LEGGED AND FOUR-LEGGED INTERSECTIONS

Variable

Meaning

Units

Source

Identifiers

rte_nbr

Route number

HSIS

arm

accumulated milepost of intersection center

miles

HSIS

Traffic

ADT1

average daily traffic on major road

vehicles per day

HSIS

ADT2

average daily traffic on minor road

vehicles per day

HSIS

Miscellaneous

RHRI

Roadside Hazard Rating within ±250 ft on major road

1, 2, 3, 4, 5, 6, 7

Photologs

ND

number of driveways within ±250 ft on major road

Photologs

light

yes or no if lighting or no lighting

Photologs

terrain

flat, rolling, or mountainous

Photologs

Horizontal

Alignment on major road

pc{i}

beg. milepost of horizontal curve no. i (if any portion of curve is within ±764 ft of intersection center along major road)

miles

HSIS

pt{i}

end milepost, curve no. i

miles

HSIS

rad{i}

radius of curve, curve no. I

feet

HSIS

dir{i}

direction, left or right, curve no. I

HSIS

Vertical alignment on major

Road

b{i}

beg. milepost of vertical curve no. i (if any portion of curve is within ±764 ft of intersection center along major road)

miles

HSIS

e{i}

end milepost of vertical curve no. i

miles

HSIS

g{i}

grade no. I

percent

HSIS
Table 1. Variables collected in the study (continued)
WASHINGTON THREE-LEGGED AND FOUR-LEGGED INTERSECTION, continued

Variable

Meaning

Units

Source

Speed on major road

advspd

advisory speed

miles per hour

Photologs

regspd

regulatory speed

miles per hour

Photologs

ap_spd

posted approach speed

miles per hour

HSIS

Accident data

TOTACC

number of intersection accidents or intersection-related accidents occurring within ±250 feet of intersection on major road during 1985-9, 1990-3

HSIS

fatal, injury, nonincap,

possinj, injunk, propdam

no. of fatal, injury,

non-incapacitating, possible injury, injury unknown, and property damage only accidents

HSIS

rearend, sswipe, leftturn, rorleft, rtangle, riteturn, rorright, headon, sswipopp, other, unknown

no. of rearend, sideswipe, left turn, run-off-road left, right angle, right turn, run-off-road right, headon, sideswipe opposite, other, and type unknown accidents

HSIS

RORACC

number of run-off-road accidents

HSIS
Table 1. Variables collected in the study (continued)
WASHINGTON THREE-LEGGED INTERSECTIONS ONLY

Variable

Meaning

Units

Source

Angle

angle

angle between increasing direction of major road and third leg

degrees

Photologs

dir_ang

direction of third leg (left or right ) from increasing dir. of major road

Photologs

Channelization

tlml

yes or no whether a right turn lane does or does not exist on major road

Photologs

tlcs

yes or no whether a right turn/acceleration lane does or does not exist on the minor road

Photologs

bypass

yes or no whether a bypass lane does or does not exist on the major road (opposite the minor road)

Photologs

WASHINGTON FOUR-LEGGED INTERSECTIONS ONLY

Angle

l_angle

angle between increasing direction of major road and left leg of minor

degrees

Photologs

r_angle

angle between increasing direction of major road and right leg of minor

degrees

Photologs

Channelization

tlml1

yes or no whether a right turn lane does or does not exist along increasing direction of major road

Photologs

tlml2

yes or no whether a right turn lane does or does not exist along decreasing direction of major road

Photologs

l_tlcs

yes or no whether a right turn/acceleration lane does or does not exist on the left leg of the minor road

Photologs

r_tlcs

yes or no whether a right turn/acceleration lane does or does not exist on the right leg of the minor road

Photologs