U.S. Department of Transportation
Federal Highway Administration
1200 New Jersey Avenue, SE
Washington, DC 20590
202-366-4000
---
Federal Highway Administration Research and Technology
Coordinating, Developing, and Delivering Highway Transportation Innovations

This report is an archived publication and may contain dated technical, contact, and link information
05085 >
Federal Highway Administration University Course on Bicycle and Pedestrian Transportation
Publication Number: FHWA-HRT-05-116
Date: July 2006
Lesson 16: Bicycle Facility Maintenance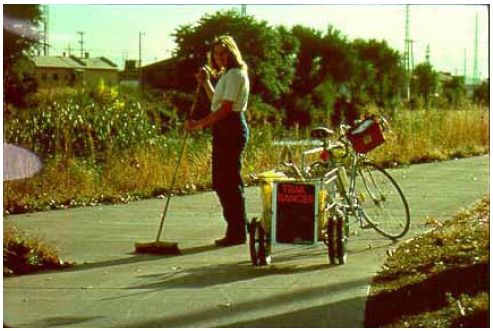 ---
Lesson Outline
Maintenance objectives.
Typical process.
Common problems.
User feedback.
---
Maintenance Objectives
Strive to keep facilities hazard-free.
Encourage reporting of hazards.
Design and build facilities with maintenance in mind.
Program for maintenance.
---
Implementation Planning
Identify implementers.
Review policies and practices.
Review results.
Recommend changes.
Create spot improvement program.
Evaluate the process.
---
Typical Maintenance Problems
Surface problems:

– Debris, pavement quality, snow removal.

Vegetation:

– Encroaching vegetation (trees and grass).

Signing and marking:

– Uniform and usable condition.
---
Feedback from Users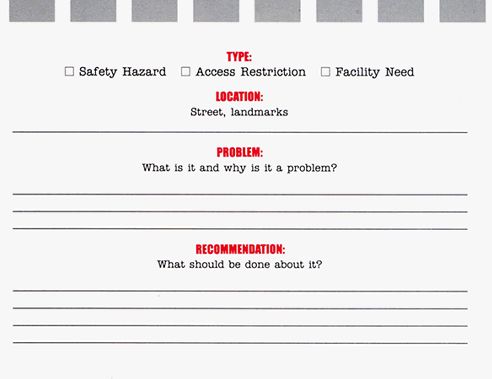 Source: Vermont Bicycle & Pedestrian Coalition, http://www.vtbikeped.org
---
Lesson Summary
Maintenance is an important function.
Formulate program objectives.
Develop implementation plan.
---
FHWA-HRT-05-116