U.S. Department of Transportation
Federal Highway Administration
1200 New Jersey Avenue, SE
Washington, DC 20590
202-366-4000
---
Federal Highway Administration Research and Technology
Coordinating, Developing, and Delivering Highway Transportation Innovations

This report is an archived publication and may contain dated technical, contact, and link information
05085 >
Federal Highway Administration University Course on Bicycle and Pedestrian Transportation
Publication Number: FHWA-HRT-05-120
Date: July 2006
Lesson 18: Bicycle and Pedestrian Connections to Transit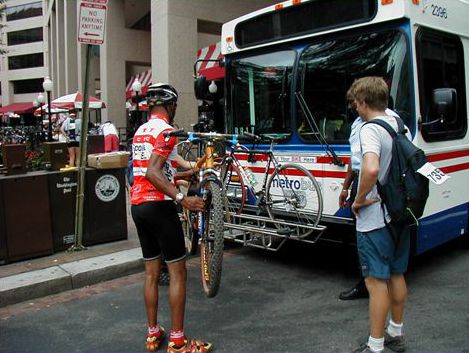 ---
Lesson Outline
The importance of integrating pedestrian and bicycle transportation with transit.
Pedestrian connections to transit services.
Bike-on-bus programs.
Bike-on-rail programs.
---
Why Integrate Pedestrian and Bicycle Transportation with Transit?
Significant amounts of the population live near transit stations in urban areas.
Improvements for pedestrian and bicycle access lead to increased transit ridership.
Providing bicycle accommodation on transit vehicles increases the catchment area for transit riders.
Vehicle and station modifications can be made at modest cost.
---
Pedestrian Connections to Transit
| | | |
| --- | --- | --- |
| | | |
| Pedestrian waiting for the bus | | Bus stop with sidewalk and bench |
---
How Bicycles Should Be Integrated with Transit
Bike racks on buses.
Transporting bikes on light and heavy rail, commuter rail, and intercity rail vehicles.
Bike parking.
Station design improvements.
Links to transit stops.
Bicycle-ferry programs.
---
Bicycle-on-Bus Programs
Front-mounted racks.
Inside bus.
Successful programs.
---
Transit Agency Concerns
Schedule adherence.
Safety and protection of transit property.
Equipment procurement.
---
Bicycle-on-Rail Programs
Bring bike inside rail car.
Time restrictions.
Rail car design constraints.
New rail car design to accommodate bikes: "California Car."
---
Elements of Successful Bike-Transit Programs
Demonstration project.
Advisory committees.
Marketing and promotion.
---
Lesson Summary
Providing good links to transit for pedestrians and bicyclists is essential.
Providing good facilities for pedestrians and bicyclists at transit stations is essential.
Linking pedestrians and bicyclists with transit can increase transit ridership.
---
FHWA-HRT-05-120