U.S. Department of Transportation
Federal Highway Administration
1200 New Jersey Avenue, SE
Washington, DC 20590
202-366-4000
---
Federal Highway Administration Research and Technology
Coordinating, Developing, and Delivering Highway Transportation Innovations

This report is an archived publication and may contain dated technical, contact, and link information
05085 >
Federal Highway Administration University Course on Bicycle and Pedestrian Transportation
Publication Number: FHWA-HRT-05-132
Date: July 2006
Lesson 24: Comprehensive Approach: The 5 E's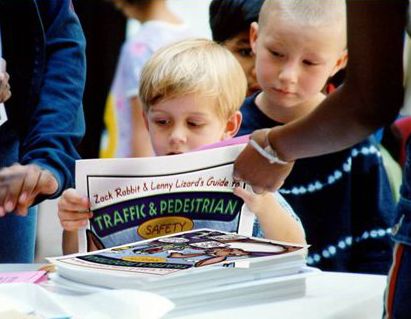 ---
Lesson Outline
Engineering practices.

– Covered in previous lessons.

Education strategies.
Enforcement practices.
Encouragement strategies.
Program evaluation.
---
Comprehensive Approach
| | |
| --- | --- |
| | |
---
Education Strategies
Walking and biking skills for children.
Adult bicycle and pedestrian safety.
Motorist awareness.
Targeted safety messages.
---
Enforcement Strategies
Enforce pedestrian/bike laws.
Review/modify existing laws.
Review/modify young violator practices.
Reduce bicycle theft.
Reduce assaults on pedestrians and bicyclists.
Implement police bicycle patrols.
---
Encouragement Strategies
Market as a healthy lifestyle.
Promote through special events (bike-to-work day).
Inform target audiences.
Include walking and biking in local recreation programs.
---
Program Evaluation
Continuous feedback:

– Implement.
– Evaluate.
– Improve.

Demonstrate benefits of program:

– Increase in walking/bicycling.
– Decrease in congestion.
– User satisfaction.
---
Lesson Summary
Campaigns related to education, enforcement, and encouragement can be effective means for increasing walking and bicycling.
Evaluation proves that you are making a difference.
---
FHWA-HRT-05-132