Capacity Analysis of Pedestrian and Bicycle Facilities
Recommended Procedures for the "Signalized Intersections" Chapter of the Highway Capacity Manual
1. INTRODUCTION
In the United States, the Highway Capacity Manual (HCM) published by the Transportation Research Board, a unit of the National Research Council, provides guidance for the analysis of transportation facilities. Chapter 9 of the 1994 (update to the 1985) HCM discusses the operational and planning analysis of signalized intersections. The methodology contained in the chapter overlooks some aspects of the interaction between pedestrians and turning vehicles. This is unfortunate, because many intersections in downtown areas, near college campuses, by transit stops, etc., have moderate to heavy pedestrian flows that interact with turning vehicles. In addition, as the popularity of bicycling increases, so too does the importance of accurately including the effects of bicycle traffic in the analyses of signalized intersections.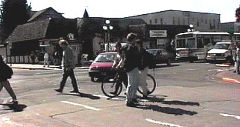 Figure 1:
Pedestrians and bicycles causing delay to turning vehicles in Eugene, Oregon
Figure 1 demonstrates that high pedestrian and bicycle flows can severely affect the ability of vehicles to execute their turn. Based on the results of a multi-regional data collection effort conducted by the research team, this paper offers procedures that describe the effect of pedestrians and bicycles on turning vehicles and thus signalized intersection capacity.
In conjunction with the above effort, the research team also conducted an extensive literature review of pedestrian characteristics and facilities. This document summarizes the pedestrian-related recommendations resulting from that literature synthesis that may affect procedures in Chapter 9.