Guidebook on Methods to Estimate Non-Motorized Travel: Supporting Documentation
2.16 Pedestrian Compatibility Measures
Descriptive Criteria: What is It?
Categories:
| | | | |
| --- | --- | --- | --- |
| Bicycle | Pedestrian | Facility-Level | Area-Level |
Authors and Development Dates:
Mozer (1994); Dixon (1995)
Purpose:
Pedestrian compatibility measures, including stress level and level-of-service indicators, measure the suitability of roads, sidewalks, or other pathways for pedestrian travel. These methods describe current conditions for pedestrians rather than forecasting potential demand. The measures combine factors such as motor vehicle traffic characteristics, sidewalk width, and aesthetic quality of the environment into an index of overall suitability for pedestrian travel.
Mozer: The purpose of this method is to determine the current conditions of specific pedestrian facilities using level-of-service measures that describe the facility's stress level.
Dixon: This method measures the pedestrian performance of specific roadways, especially collectors and arterials where vehicle speeds and volumes may create a greater hazard to pedestrians. The pedestrian LOS measurements allow planners to obtain a facility inventory that highlights deficiencies, improvements, and results.
Structure:
Mozer: To determine the level-of-access of street segments for pedestrian use, this method uses four primary factors: walk area width-volume, walk area-outside-lane buffer, outside-lane traffic volume, and outside-lane motor vehicle speed; and three secondary factors: walk area penetrations, heavy vehicle volumes, and intersection wait-time.
Dixon: The method uses the following criteria to determine the pedestrian LOS for specific roadway segments (a bicycle LOS can also be computed from similar data):
Basic facility provided (based on continuity, width, etc.);
Conflicts;
Amenities;
Motor vehicle LOS;
Maintenance; and
Multimodal provisions (presence of Travel Demand Management measures).
A certain number of points are assigned for each level of these variables. The following measures are then computed:
Segment score: the sum of points in the six categories;
Segment weight: segment length/corridor length;
Adjusted segment score: segment score multiplied by segment weight; and
Corridor score: sum of adjusted segment scores in corridor.
Calibration/Validation Approach:
Mozer: No calibration or validation approach was mentioned.
Dixon: Dixon tested the method on five arterial roads and one collector road in Gainesville, FL, which resulted in LOS ratings of C, D, and E. Pedestrians in the area felt the scores adequately reflected the existing conditions of these corridors.
Inputs/Data Needs:
Mozer: The four primary factors require the following specific data needs.
Walk area Width-Volume:
Peak-hour pedestrian volume;
Non-pedestrian mode split such as bicyclists, skaters, etc.;
Walk area width (meters);
Travel pattern (equals "1" if one-way and "2" if bi-directional); and
Whether the facility meets the Americans with Disabilities Act requirements.
Walk area-Outside Lane Buffer Factor:
Walk area-outside lane buffer width; and
Aesthetic quality (living or non-living material).
Outside-Lane Volume:
Peak-hour volume per lane;
K-factor: assumed as 10 percent for urban areas; and
Number of lanes.
In addition, secondary variables are as follows:
Walk area penetrations (based on number of driveways, average peak-hour penetrations per driveway, and average distance between driveways);
Heavy vehicle volumes (percentage is added to the primary LOS subtotal); and
Intersection wait-time (a percent of a minute is added to the primary LOS subtotal).
Dixon: See "Structure" for data requirements.
Potential Data Sources:
Local street and traffic data are required.
Computational Requirements:
Mozer and Dixon: Minimal computational requirements are needed.
User Skill/Knowledge:
Mozer and Dixon: An understanding of basic traffic data is required.
Assumptions:
Both methods assume that pedestrian level-of-service can be adequately characterized using the indicated data.
Facility Design Factors:
Mozer: This method focuses on the facility design using volume, speed, and outside-lane width as the primary variables.
Dixon: The pedestrian LOS considers pedestrian facility continuity, conflicts, amenities, maintenance, and motor vehicle LOS as primary LOS factors.
Output Types:
Mozer: The method uses LOS criteria to rank the suitability of specific facilities for pedestrians. The criteria are as follows:
A - The facility is reasonably safe for children 10 years or older and for adults.
B - The facility is adequate for users with basic skills and traffic knowledge.
C - The facility requires an intermediate skill level and traffic knowledge.
D - The facility requires a more advanced skill level and traffic knowledge.
E - The facility is not suitable for pedestrian travel.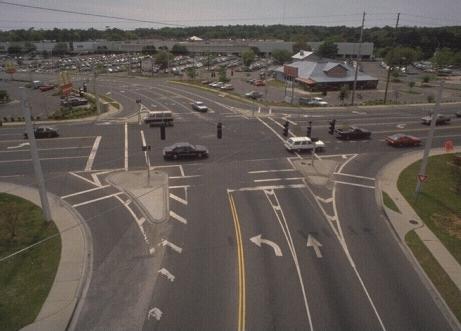 Figure 2.16: Pedestrian compatibility measures describe the suitability of roads, sidewalks, and other pathways for pedestrian travel.
Each primary factor is ranked on a scale of one to five according to its stress level. The stress levels correspond with the LOS measures. For instance, a street segment with a walk area width-volume of "3" would have a LOS of "C."
Dixon: The roadway segments are ranked on a scale of one to 21. The points from the six pedestrian LOS categories are added together to obtain the Segment Score. A Segment Weight is then calculated by dividing the segment length with the corridor length. The Adjusted Segment Score is obtained by multiplying the Segment Score with the Segment Weight. The sum of the Adjusted Segment Scores makes it possible to obtain the Corridor Score.
The Adjusted Segment Scores correspond to the following LOS performance measures: an LOS of "D" or higher represents a facility that is suitable for pedestrians; an LOS of "D" provides the minimum facility needed without amenities; a higher LOS may be useful if the facility is multi-use to account for bicycle, skater, and pedestrian interactions.
Real World Examples:
Mozer: The article does not mention a real world example.
Dixon: The method was used in the Gainesville Mobility Plan Prototype, which is the draft Congestion Management System plan for Gainesville, Florida.
Publications:
Mozer, David. Calculating Multi-Mode Levels-of-Service, International Bicycle Fund, http://www.halcyon.com/fkroger/bike/los.htm, 1994.
Dixon, Linda. Adopting Corridor-Specific Performance Measures for Bicycle and Pedestrian Level of Service, Transportation Planning, Vol. XXII, No. 2, summer 1995.
Evaluative Criteria: How Does It Work?
Performance:
Mozer: The method is easy to use. Nevertheless, it does not address facility condition or continuity. The method is similar to Sorton/Walsh for bicycle stress levels.
Dixon: The method uses data that is easily accessible and is applicable for both pedestrian paths and sidewalks. The method is used to produce pedestrian facility inventories concerning their quality but does not attempt to forecast facility demand.
Use of Existing Resources:
Mozer and Dixon: Some data may be available from local traffic data bases and road inventories. Other data, such as pedestrian amenities, may require site-specific collection efforts.
Travel Demand Model Integration:
Mozer and Dixon: The methods have not been designed to be integrated with travel demand models.
Applicability to Diverse Conditions:
Mozer and Dixon: The methods focus on pedestrian sidewalks but do not give a sufficient method for describing the Level of Service of off-street pedestrian paths.
Usage in Decision-Making:
No information is available.
Ability to Incorporate Changes:
Mozer and Dixon: The formulas are set up in a modular fashion making it easy to revise various components.
Ease-of-Use:
The methods are relatively easy to apply assuming that the required data can be obtained.
FHWA-RD-98-166