Turner-Fairbank Leads the Way with Connected Vehicles
The Federal Highway Administration's (FHWA's) Turner-Fairbank Highway Research Center (TFHRC) in McLean, VA, successfully hosted a connected vehicle pilot program in partnership with the United States Department of Transportation's (USDOT's) Intelligent Transportation Systems Joint Program Office (ITS JPO) during the week of June 25, 2018. More than 100 test runs, 75 supporting participants, and 7 different vendors who provided equipment resulted in the largest and most successful interoperability testing of connected vehicle equipment to date, and demonstrated how quickly Dedicated Short-Range Communication (DSRC) equipment is advancing towards widescale commercial deployment.
The goal of the program was to observe and analyze how well connected vehicle devices from various manufacturers operated and interacted with each other. Another goal was to analyze site configuration and the infrastructure needed to support connected vehicles. "The results of the tests will ensure that our infrastructure from Virginia to California is interoperable," said Brian Cronin, Director of the Office of Operations Research and Development.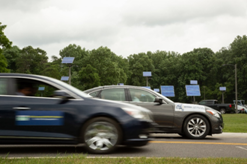 Source: USDOT ITS JPO
Connected vehicles drive through the connected infrastructure on TFHRC's roads.


FHWA's Saxton Transportation Operations Laboratory, operated by Leidos, provided vehicles, drivers, technical support, and a connected infrastructure for the safe testing of equipment and applications. This is part of the Saxton Laboratory's Connected and Automated Vehicle (CAV) Support Services, funded by FHWA and the ITS JPO to advance the deployment of new technologies by private industry and support operators in their adoption.
Noblis and Leidos organized the event for the Connected Vehicle Pilot sites in New York City, Tampa, and Wyoming, and they organized the companies that provided equipment and applications – Brandmotion, Commsignia, Danlaw, Lear, Savari, Siemens, and SiriusXM.
Now that testing is complete, researchers will analyze the data and, if necessary, steps will be taken to improve the devices and software configuration.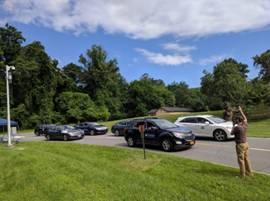 Source: USDOT ITS JPO
A researcher signals to drivers of connected vehicles to proceed onto TFHRC's connected roads and infrastructure.


The testing has already shown great promise. One participant noted that this was the first time in history that showed multiple devices working with the security credential management system (SCMS).
The SCMS is a message security solution for vehicle-to-vehicle and vehicle-to-infrastructure communication.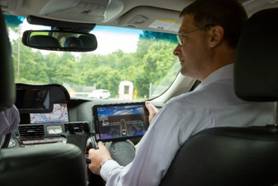 Source: USDOT ITS JPO
Tony English from the Wyoming DOT reviews data during the connected vehicle pilot program.


Connected vehicles use DSRC radios to transmit and receive information with other vehicles and infrastructure. Infrastructure communications use a roadside unit (RSU) that includes a DSRC radio to communicate with vehicles. Additional communication protocols communicate with traffic signal controllers, transportation management centers, and other infrastructure equipment. Information transmitted through RSUs to the connected vehicle include lane geometries, traveler advisory messages, and real-time traffic signal phase and timing. RSUs also receive the basic safety message that does not personally identify vehicles, but includes valuable information on vehicle speed and trajectory that can enable operators to improve transportation operations.