The Paintings of Carl Rakeman
1909 - Rural Concrete Roads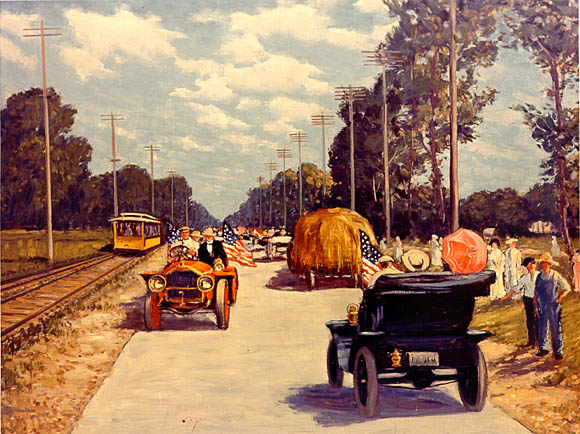 Credit for first surfacing a rural U.S. public road with Portland Cement Concrete pavement is generally conceded to Wayne County, Michigan. A one-mile section of Woodward Avenue was opened on July 4th. As shown in the painting, motorists, farmers, and others users seemed to approve.
Before preparing specifications, Wayne County commissioners visited Windsor, Ontario, Canada, the first North American city to pave streets extensively with Portland Cement Concrete.
The Wayne County "first" was also preceded by:
The Long Island Motor Parkway Company, which laid the first concrete pavement on a private right-of-way for an auto racing course in 1908.
Bellefontaine, Ohio's first concrete street pavement in the Western Hemisphere in 1891.
Connersville, Indiana's small stretch of concrete alley in 1890.
The earliest ever Portland Cement Concrete pavement is attributed to Inverness, Scotland, in 1865.