The Paintings of Carl Rakeman
1939 - A Highway Masterpiece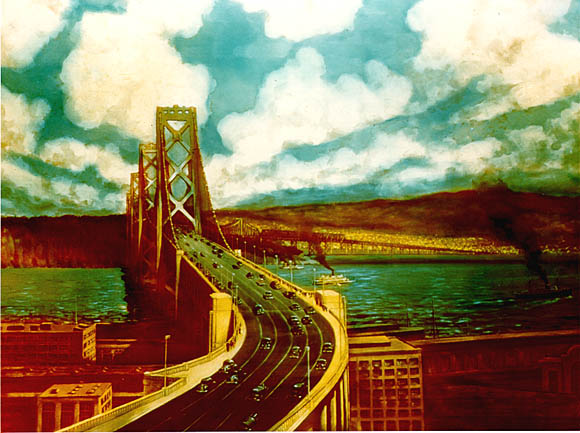 For nearly a century San Francisco's leaders had dreamed of a great bridge speeding communications with the prosperous cities of Oakland, Berkeley, and Alameda. By the mid-1800's, proposals for bay crossings included those for both road and railway bridges.
In 1921, the San Francisco Car Dealers Association financed an engineering study to determine the feasibility of a combined tube and concrete causeway crossing. Within seven years, 35 proposals to build such a connection had been submitted by corporate and individual bidders. A Toll Bridge Authority was established by the California Legislature in 1929 to secure funding. The U.S. Congress approval a $73 million loan from the Federal Reconstruction Finance Corporation in 1932.
Finally, ground was broken for the San Francisco-Oakland Bay Bridge in on July 9, 1933. The structure was completed forty months later. During its first year of operation, 25,000 vehicles traversed the bridge daily.