Our New Design for Success
In 1999, FHWA completed a major reorganization. Now we are better set up to face the challenges of the post-Interstate era. Washington, DC, headquarters was reorganized to establish five core business units closely aligned to our five strategic goal areas. Headquarters sets policy, coordinates and conducts research, develops regulatory standards, and ensures delivery of our strategic goals.
We retained our division offices in each state, the District of Columbia, and Puerto Rico, and increased the number of personnel in each of these offices. We replaced our nine regional offices with four resource centers to assist the division offices and other customers and partners with enhanced technical assistance, training, technology delivery, and interagency coordination. These changes allow us to provide greater technical expertise, serve customers better, provide faster technical help to our partners, and strengthen FHWA's partnerships with state and local governments.

In addition to restructuring, FHWA adopted a management model referred to as the President's Quality Award Program Performance Excellence Criteria, or in the private sector, the Malcolm Baldrige National Quality Award Criteria. These criteria are the international standards of excellence and provide a systematic means of measuring performance. They are as follows:
Leadership
We depend on our leaders across the agency to keep us focused on what it takes to achieve measurable results. Our leaders hold us all accountable for high standards of performance and annually assess our progress and identify areas for improvement.

Strategic Planning
Through our strategic planning process, we focus on the transportation needs of our citizens, now and for the future. We work with our partners in government, industry, and other transportation organizations to set the goals, objectives, and strategies that will produce the intended results. Then we measure our success toward achieving our goals and adjust our strategies accordingly.
Customer Focus
To us, customer focus means paying attention, listening, learning, and then using that information to set goals to deliver what the customer wants. To constantly improve our relationships with all partners and customers, we invite feedback. From the Internet, to listening sessions, to sophisticated national surveys, we encourage customers to tell us what they expect and how satisfied they are with us. Then we go about incorporating that feedback into every part of our operations.
Information and Analysis
We are continuously upgrading our information technology infrastructure to give users easier and faster access to information so they can use the data to make informed decisions. We also use that information to design programs and processes that better meet and measure our goals, objectives, and customer needs. We recognize and treat knowledge that resides with the FHWA staff as a key asset of our organization and critical to our success.
Human Resources
An organization's success in delivering better results depends increasingly on the skills and motivation of its workforce. We consider our employees our most important resource and biennially survey them to respond to their areas of concern. We have also shifted our focus from training to learning and professional development. By significantly increasing funding devoted to professional development, we are offering more opportunities for employees to learn and make greater contributions to our customers.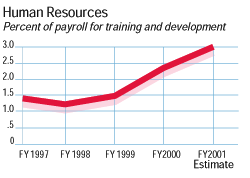 Process Management
Process management really means continuous improvement. We examine how we have been working, how efficiently we did it, and what we have produced. We improve the products and services we give our customers by eliminating waste, improving responsiveness, and making changes that provide greater value to the customer.
Results
We keep a clear focus on getting results from our goals. We created result-oriented performance measures to measure progress in each goal area. Based on an assessment of the results achieved, we make adjustments to improve our performance.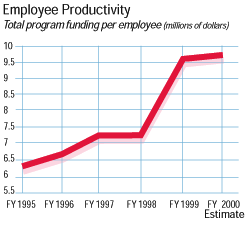 Values: Service, Teamwork, Professionalism, and Diversity
The men and women who make up the FHWA's workforce across the country are dedicated to improving the quality of the nation's highways today and in the future. We pursue excellence in all of our endeavors. Our commitment is reflected in our core values.
SERVICE: We anticipate and respond to customer and partner needs by providing quality products and service. We conduct business with integrity in an open, candid, and ethical manner and take pride in our work and commitment to quality. Employees have the moral courage to make the tough decisions and do what is right for the nation.
TEAMWORK: We leverage our collective talents through teams and partnerships based on mutual trust, fairness, respect, cooperation, and communication. We promote and reward creativity and initiative.
PROFESSIONALISM: We take pride in our work and are committed to the pursuit of excellence. We are committed to continuous professional and personal development through challenging operational assignments, training, opportunities, and recognition. FHWA employees are competent in their areas of expertise.
DIVERSITY: We consider people our greatest resource, and value and respect our individual differences and unique contributions. We support, care about, and respond to employees and their family needs.