National Security
Improve the nation's national defense mobility.
The FHWA is committed to improving the nation's national defense mobility by improving the capacity and operation of the highway system. Highways are critical links for mobilizing and deploying military forces from U.S. bases to railheads, seaports, and airports. In fact, the Department of Defense (DOD) relies on commercial providers to meet over 90 percent of its passenger and freight needs during peacetime and times of war.
Sometimes, an emergency or destruction by natural disaster goes beyond local and state capabilities. In these situations, the federal government is called upon to help. The federal government provides state and local governments with personnel, technical expertise, equipment, and other resources. In 1999 alone, FHWA provided more than $245 million for states and local communities to use for recovery from natural disasters.
Strategic Highway Network (STRAHNET)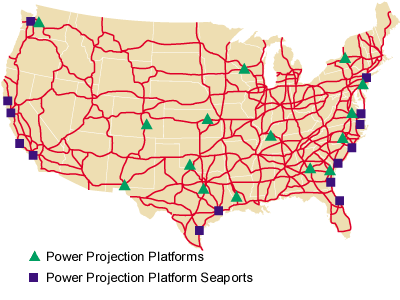 In time of war, military personnel must assemble rapidly. Military units, equipment, and supplies must move over roads and highways to get to air bases and seaports for deployment overseas. Operation Desert Storm and the conflict in Kosovo demonstrated that the ability to move troops and equipment via highways is essential to our national defense. FHWA, in partnership with DOD, has identified highways and connectors that together create a Strategic Highway Corridor Network (STRAHNET). This network is composed of 15,000 miles of highways on the NHS and another 2,000 miles of roadway that connect bases to NHS roads. STRAHNET provides defense access, continuity, and emergency capabilities in both times of peace and war.
Emergency Preparedness
The need for emergency preparedness became very apparent during Hurricane Floyd when evacuations from coastal cities in the Southeast almost overwhelmed the Interstate System. When a natural disaster or emergency occurs, the condition and availability of our roadways can mean the difference between life and death for Americans in need. Through the Emergency Preparedness Program, our goal is to create a state of readiness in order to prepare for and be capable of recovering from the effects of a disaster, whether natural or manmade. We train emergency preparedness staff to ensure the continuity of essential government functions and emergency traffic flow.
Accomplishments
Something to "Bragg" About
FHWA's participation in the widening of Route 24 in North Carolina illustrates our efforts to improve the capacity, operation, and safety of STRAHNET and its connectors. Route 24 is a key corridor connecting Fort Bragg to Interstate 95. Improving Route 24 facilitates better access to Fort Bragg, which is home to one of the largest troop populations in the nation. It also improves the transportation of equipment and personnel in and out of the base, providing a higher level of service to the North Carolina ports of Wilmington and Morehead City.
Y2K Contingency Planning
To ensure that our nation's transportation systems would continue to provide safe travel on and beyond January 1, 2000, FHWA worked alongside other DOT agencies and our partners in the transportation community. As state and local governments formulated their contingency plans for responding to potential Y2K computer problems, FHWA helped transportation officials from state and local agencies in many ways. FHWA conducted an extensive outreach program communicating the agency's desire to support them in their Y2K contingency planning. Following U.S. DOT's Y2K Summit in 1998, FHWA published two reports, Steps for Action and Are You Ready?--Managing Transportation Resources Through the Y2K Weekend, that were used as organizing tools to help map Y2K problem-solving activities.