Chapter 1: Introduction
This report presents the results of an assessment of evacuation plans in the Gulf Coast region by the U.S. Department of Transportation (DOT).  The study was conducted in response to a Congressional request to gather information on mass evacuations from catastrophic incidents.  While local and State agencies nationwide handle evacuations of hundreds to thousands of people from wild fires, floods, tornadoes, or hazardous materials releases, catastrophic incidents such as hurricanes may necessitate the evacuation of hundreds of thousands of people.  For example, more than 1.2 million people in Louisiana were evacuated before Hurricane Katrina's landfall, and still more than 100,000 people were evacuated from New Orleans in the week following the storm.  Three weeks later, 1.8 million people in Texas were ordered to evacuate before Hurricane Rita made landfall.  This study evaluated how well local and State plans meet current evacuation guidance, even if this guidance does not sufficiently address catastrophic incidents the size of Hurricanes Katrina and Rita.
In Section 10204 of the Safe, Accountable, Flexible, Efficient Transportation Equity Act: A Legacy for Users (SAFETEA-LU) (P.L. 109-59) and Section 187 of the FY 2006 Department of Transportation Appropriations Act (P.L. 109-115), Congress tasked the U.S. DOT, in cooperation with the U.S. Department of Homeland Security (DHS), to "review and assess Federal and State evacuation plans (including the costs of the plans) for catastrophic hurricanes and other catastrophic events impacting the Gulf Coast Region and report its findings and recommendations to Congress."[5]  Congress specifically requested that the assessment include the following factors:
All safe and practical modes of transportation available for evacuations;

The extent to which evacuation plans are coordinated with neighboring States and adjoining jurisdictions;

Methods of communicating evacuation plans and preparing citizens in advance of evacuations;

Methods of coordinating communication with evacuees during plan execution;

The availability of food, water, restrooms, fueling stations, and shelter opportunities along the evacuation routes;

The time required to evacuate under the plan;

The physical and mental strains associated with the evacuation; and

The cost of the plan.
In addition to these factors, the U.S. DOT assessed the extent to which current plans cover other factors needed to effectively plan and execute a mass evacuation including decision making and management; evacuation of persons who are transit-dependent, have various special needs, have limited English proficiency, or have pets or service animals; and identification of shelter locations and destinations for evacuation by bus, train, airplane, or other modes.  This report presents the results of the assessment of both the congressionally mandated factors and the additional U.S. DOT study criteria.
This assessment of evacuation plans for Gulf Coast States is a companion to the DHS study called for in the Conference Report on the Department of Homeland Security Fiscal Year 2006 Appropriations Act (H. Rept. 109-241).  In that report, Congress directed the DHS to report on the status of catastrophic planning in all States and the 75 largest urban areas.  The Nationwide Plan Review: Phase I Report was delivered to Congress on February 10, 2006, and details the findings of Phase I of the study based on self assessments submitted by States, territories, and urban areas.  Phase II of the DHS study will report on the peer review visits by DHS teams to each of these areas to validate the self assessments and determine requirements for on-site planning assistance.  U.S. DOT and DHS have consulted on the methodologies and visits of these two studies to build on and strengthen the results of each other.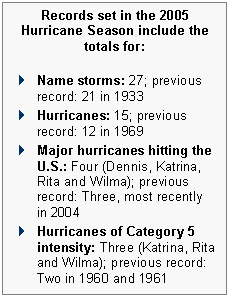 Congress requested that this study focus on the critical issues surrounding mass evacuations associated with hurricanes and other catastrophic events in the Gulf Coast region.  Previous mass evacuations have been implemented in connection with other hurricanes in the Gulf Coast region, but all paled in comparison to the evacuations associated with Hurricane Katrina in 2005.  The 2005 hurricane season was the worst ever recorded in the Atlantic Basin.  Seventeen new records were set, including the most named storms, the most hurricanes, and the most Category 5 hurricanes. Damage estimates were in excess of $125 billion—more than twice the cost of any other hurricane season.  Hurricane Katrina alone accounted for over $80 billion—the highest loss ever recorded from a single storm.[6]
Not only has Hurricane Katrina become the most expensive natural disaster in U.S. history, it has also proven to be one of the deadliest.  When it made landfall near the Louisiana-Mississippi border on the morning of August 29, 2005, it set in motion a series of events that exposed vast numbers of Americans to extraordinary suffering. From the marshes of Louisiana's Plaquemines Parish to the urban center of New Orleans, to the coastal communities of Mississippi and Alabama, Katrina cut an enormous swath of physical destruction, environmental devastation, and human suffering.  Three weeks later, Hurricane Rita forced a similar series of events on the citizens of southwestern Louisiana and southeastern Texas.
Moreover, more severe hurricane seasons are predicted in the near future.  The National Oceanic & Atmospheric Administration (NOAA) states that "the Atlantic Basin is in the active phase of a multi-decadal cycle in which optimal conditions in the ocean and atmosphere, including warmer-than-average sea-surface temperatures and low wind shear, enhance hurricane activity. This increase in the number and intensity of tropical storms and hurricanes can span multiple decades (approximately 20 to 30 years)."[7]
Local and State agencies routinely handle evacuations from wildfires, floods, tornadoes, and hazardous materials releases.  A recent study by the U.S. Nuclear Regulatory Commission (NRC) estimated that a large-scale evacuation of 1,000 people or more occurs, on average, every three weeks nationwide. However, out of the total of 230 large-scale evacuations, the NRC study found that there were 14 evacuations of 100,000 people or more in a 12 ½-year period between January 1, 1990 and June 30, 2003.  Of these large-scale evacuations, only two involved evacuations of more than one million people.  The NRC study found that community familiarity with emergency alert procedures and door-to-door notification of impacted areas was very important to an effective evacuation. The study also found that a high level of coordination among agencies, an effective command structure, and training and evacuation exercises were also cited in the interviews as contributing to efficiency and effectiveness of the evacuation.  In addition, cooperation from evacuees was repeatedly cited as contributing to safe, efficient, and effective evacuations.
This report details the assessment of local, State, and Federal plans for evacuations related to hurricanes and other catastrophic events in the Gulf Coast region.  The assessment includes plans for moving people away from areas threatened by catastrophic events and providing critical food, water, and supplies for evacuees en route, as well as plans for providing shelter to evacuees from other areas.  In addition to assessing current evacuation plans, the report summarizes lessons learned from and best practices in planning and conducting mass evacuations.  This information should provide a valuable resource to State and local governments in the region and in other areas, many of whom currently are in the process of updating their emergency operations plans. 
The report also summarizes current Federal guidance and assistance on evacuation planning and implementation.  While the current guidance documents address evacuations, they do not specifically address different strategies and requirements for an evacuation versus a mass evacuation from a catastrophic incident. The Catastrophic Incident Annex of the National Response Plan (NRP) includes overall policies and a concept of operations, but does not provide guidance on mass evacuations from a catastrophic incident.  The Annex states that normal procedures for ESFs may be streamlined or expedited to meet the requirements of a catastrophic event and gives examples in mass care, public health, medical care, causalities, and public information. Additional guidance is being developed in a Catastrophic Incident Supplement (CIS) to the NRP.  Following Hurricane Katrina, President Bush ordered a comprehensive review of the Federal response to the hurricane by his Assistant for Homeland Security and Counterterrorism. The resulting report, as well as reports by the Government Accountability Office (GAO), the U.S. House of Representatives, and the U.S. Senate, assess the Federal response and make numerous recommendations that are already under consideration. 
Based on information obtained during the course of the U.S. DOT study, this report includes recommendations on steps that can be taken at all levels of government to improve readiness and capabilities to evacuate persons in the event of hurricanes or other catastrophes.
This study examined 63 evacuation plans for States, counties, parishes, and major urban areas within the Gulf Coast region.  The study evaluated evacuation plans maintained by emergency management agencies as well as evacuation plans from other agencies and organizations with responsibility for various components of an evacuation including transportation agencies, state police, and other organizations involved in various aspects of evacuation and sheltering.  Local plans were included in the analysis because local governments generally have the primary responsibility for initiating and managing evacuations.  While State and Federal resources will be required for mass evacuations associated with catastrophic incidents, local governments have significant responsibilities during such evacuations.
Evacuation plans were not requested for all counties and parishes in Alabama, Louisiana, Mississippi, and Texas—rather, plans were requested only for those jurisdictions directly on the coast or one county or parish removed from the coast.  These jurisdictions are most at risk from catastrophic hurricanes; therefore, the adequacy of their evacuation plans is particularly important.  The U.S. DOT requested all county plans from the State of Florida because of its unique geography. While plans were not received from all of the counties and parishes, the U.S. DOT reviewed and assessed the majority of the plans and collected a wealth of information to support its findings and recommendations.  Sheltering plans of States adjacent to the Gulf Coast States were also examined to determine whether and how those plans considered needs to shelter evacuees form the gulf Coast States.
Detailed written evaluations of evacuation plans for States and local jurisdictions in the region were not prepared.  Rather, evacuation plans were evaluated with the goal of assessing their effectiveness—specifically, how well they address key elements that are critical to successful evacuation planning and implementation.  An important part of the evaluation was a visit to each State in the region to discuss plans in person with State and local officials responsible for developing and executing them.  In addition to details about their plans, State and local officials were asked about constraints faced in creating and executing evacuation plans, costs to prepare and carry out plans, and actions that could be taken to improve their evacuation capabilities.
It is important to remember that this assessment of plans is a "snapshot in time." With each hurricane or other catastrophic incident, new challenges arise and lessons are learned. These lessons are then folded into the next update of Federal, State, and local plans and the planning cycle continues .  This assessment is based upon criteria that were predicated on Federal planning guidance in place prior to the 2005 hurricane season, and the plans reviewed were generally in compliance with that guidance. This guidance addresses evacuation, but not mass evacuation from a catastrophic incident. Our experiences during the 2005 hurricane season are evidence that there is a need to review and assess plans for addressing mass evacuations from catastrophic incidents.
Additionally, this assessment focused on the written contents of the evacuation plans and not on the effectiveness of their execution during catastrophic incidents. Therefore, it is important to recognize that findings from this assessment may not reflect results from other studies that were conducted to assess the response to past catastrophic incidents, particularly to Hurricanes Katrina and Rita.
This assessment focused solely on one aspect of emergency management—evacuations in the Gulf Coast region. Again, it is therefore important to recognize that the assessment findings may differ slightly from those of other studies that looked at emergency preparedness in whole, such as the companion DHS report, or other studies such as the NRC report that presented case studies on 50 specific evacuations from across the Nation that occurred before July 2003.
Best practices for evacuation planning were developed based on a review of existing literature, discussions with experts, and lessons learned from recent evacuations.  These best practices serve as a benchmark both for evaluating existing State and local plans and for State and local agencies in updating their evacuation plans.  The best practices consider the varying needs of evacuation relative to the area or type of catastrophe.  The discussion of best practices for this report provides an overview of those factors that should be included in evacuation plans and considered in implementing emergency evacuations. This work will be expanded in another project by the Federal Highway Administration (FHWA).  FHWA is developing a series of "primers" on evacuations that will provide more detailed guidance on good practices in planning and conducting all types of evacuations. The primers will be widely distributed to the many different entities involved in evacuation planning and implementation and will also serve as training material for a series of regional workshops designed to assist those engaged in evacuation planning.