Catastrophic Hurricane Evacuation Plan Evaluation
A catastrophic incident is defined as "Any natural or manmade incident, including terrorism, that results in extraordinary levels of mass casualties, damage, or disruption severely affecting the population, infrastructure, environment, economy, national morale, and/or government functions. A catastrophic event could result in sustained national impacts over a prolonged period of time; almost immediately exceeds resources normally available to State, local, tribal, and private-sector authorities in the impacted area; and significantly interrupts governmental operations and emergency services to such an extent that national security could be threatened. All catastrophic events are Incidents of National Significance."
National Response Plan[1]
Executive Summary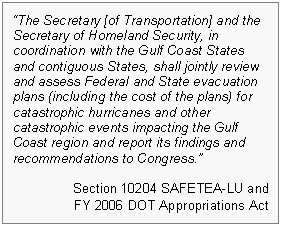 The U.S. Congress requested the U.S. Department of Transportation (DOT), in cooperation with the U.S. Department of Homeland Security (DHS), to "review and assess Federal and State evacuation plans (including the costs of the plans) for catastrophic hurricanes and other catastrophic events impacting the Gulf Coast region and report its findings and recommendations to Congress." In Section 10204 of the Safe, Accountable, Flexible, and Efficient Transportation Equity Act: A Legacy for Users (SAFETEA-LU) (P.L. 109-59) and Section 187 of the FY 2006 Department of Transportation Appropriations Act (P.L. 109-115), Congress specified that this assessment should include: (1) all safe and practical modes of transportation available for evacuations; (2) the extent to which evacuation plans are coordinated with neighboring States and adjoining jurisdictions; (3) methods of communicating evacuation plans and preparing citizens in advance of evacuations; (4) methods of coordinating communication with evacuees during plan execution; (5) the availability of food, water, restrooms, fueling stations, and shelter opportunities along the evacuation routes; (6) the time required to evacuate under the plan; and (7) the physical and mental strains associated with the evacuation. The assessment also includes issues and lessons learned from evacuations associated with Hurricanes Katrina and Rita and other recent hurricanes.
This U.S. DOT study of evacuation plans for the Gulf Coast region has been closely coordinated with a DHS study of emergency operations plans in States, territories, and 75 major urban areas called for by President George W. Bush,[2] the Homeland Security Council report, The Federal Response to Hurricane Katrina: Lessons Learned,[3] and Conference Report (H.Rept. 109-241) to the Department of Homeland Security Fiscal Year 2006 Appropriations Act (P.L. 109-90).[4]  The U.S. DOT study focuses more attention on the evacuation component of emergency operations planning, and is limited to the Gulf Coast region.
The U.S. DOT developed a systematic, analytical process to evaluate the readiness and adequacy of State and local jurisdictions evacuation plans. The methodology included identifying the major components of a comprehensive evacuation planning and implementation program, collecting current practices and information on evacuations, developing criteria to assess current plans, conducting on-site discussions with State and local emergency management officials, and identifying lessons learned and best practices from recent evacuations.  The assessment criteria were developed from current Federal guidelines on evacuations; the issues identified in SAFETEA-LU and the FY 2006 DOT Appropriations Act; recent government reports on Hurricanes Katrina and Rita; and additional issues identified by U.S. DOT.
Evacuation plans for all 5 Gulf Coast States—Alabama, Florida, Louisiana, Mississippi, and Texas—and a sample of 58 counties and parishes in each State were assessed based on how well they address the following seven key elements of evacuation planning and implementation:
Decision making and management

Evacuation planning

Public communications and preparedness

Evacuation of people with special needs

Evacuation operations for all modes of transportation

Evacuation-related sheltering considerations

Training and exercises.
To augment the review of evacuation plans, the U.S. DOT conducted meetings with State and local officials responsible for evacuations in the Gulf Coast States to clarify information in the plans, learn about plan updates that are anticipated, discuss constraints that State and local agencies face in planning for and conducting evacuations, and solicit recommendations on how evacuation capabilities could be improved.  Discussions were also held with representatives of the bus, railroad, and airline industries as well as the American Association of State Highway and Transportation Officials (AASHTO), the American Red Cross, and other stakeholder groups to obtain their perspectives on actions that would improve evacuation capabilities. 
Table ES-1 summarizes the overall assessment of State and local evacuation plans with respect to the key elements of evacuation planning and implementation.  The table shows that evacuation plans in the Gulf Coast States generally reflect current guidance contained in the Federal Emergency Management Agency's (FEMA's) 1996 Guide for All-Hazard Emergency Operations Planning commonly known as State and Local Guide (SLG) 101. 
" Catastrophic events are, by their nature, difficult to imagine and to adequately plan for, and the existing plans and training proved inadequate in Katrina."

U.S. Senate Committee on Homeland Security and Governmental Affairs, April 2006.
Most State and local evacuation plans have adequate decision making and management structures for evacuations associated with non-catastrophic incidents.  However, many of these plans do not adequately address requirements for decision making and management of mass evacuations associated with catastrophic incidents.  There are several reasons for this.  First, existing guidance does not provide sufficient technical assistance on how to manage evacuations associated with catastrophic incidents.  Second, few multi-State exercises have been conducted until recently to test the decision making and management structure against requirements for catastrophic incidents.  State and local agencies have not had the benefits of these exercises to refine their decision making and management processes based on lessons learned from them. 
Table ES-1: Status of Evacuation Plans in the Gulf Coast Region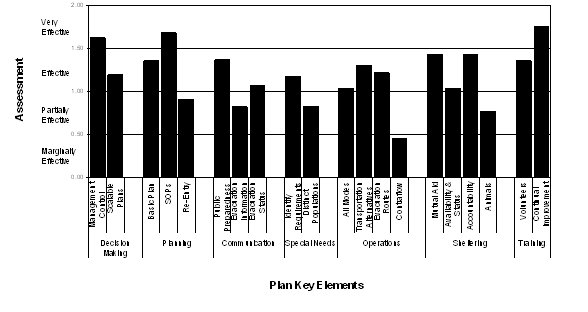 Generally, the planning components of State and local evacuation plans were rated effective in terms of how well they met existing planning guidelines.  As shown in Table ES-1, plans were strong in requiring the development of standard operating procedures for agencies involved in evacuations, and adequately covered general evacuation planning considerations including hazards that could require a large-scale evacuation, the communities that should be evacuated under different conditions, the number of people and vehicles to be evacuated, decision points for an evacuation, the estimated time needed to complete the evacuation, and the distance evacuees must travel to ensure their safety. Plans were weaker in terms of provisions for returning evacuees to their homes.
While many State and local plans include contingencies and are scalable to reflect evacuation requirements for different intensity hurricanes, plans generally do not assume evacuations on the scale of those required for Hurricane Katrina.  The demands associated with a catastrophe such as Hurricane Katrina are simply beyond the scenarios upon which the plans are based.  Many States in the Gulf Coast region and elsewhere are in the process of updating their evacuation plans based on lessons learned from evacuations associated with Hurricanes Katrina and Rita and other recent hurricanes.  In particular, State and local officials are reviewing provisions for obtaining outside transportation services to augment local resources and the coordination of plans with neighboring States and jurisdictions. They are also reviewing their existing mutual aid agreements which are formal agreements among emergency responders to lend assistance across jurisdictional boundaries when needed.  These updates should improve State and local ability to manage mass evacuation needs related to catastrophic incidents.
Having a good plan, however, is no guarantee that evacuations will be carried out smoothly, particularly mass evacuations that involve many different agencies at all levels of government.  Joint exercises at the regional level in which plans are tested against different scenarios are important ways that officials from different agencies can become accustomed to working together and can assess how their plans address different contingencies.  As noted, States seldom conduct the kind of regional exercise that would be required to test some of the requirements that were faced during Hurricane Katrina.  The multi-State regional tabletop exercises that DHS is conducting to prepare for the 2006 hurricane season should help to strengthen the decision making and management elements of local, State, and Federal plans, as well as identify weaknesses in specific plan elements that can be corrected.
In the Gulf Coast region, there is some coordination of evacuation plans with adjoining jurisdictions, but the coordination is inadequate for catastrophes on the scale of Hurricane Katrina.  Most States have mutual-aid agreements and belong to the Emergency Management Assistance Compact (EMAC).  EMAC is a legal agreement among member States that outlines the procedures, including reimbursement and liability issues, for providing assistance to other member States in the event of an emergency or disaster. However, mass evacuations place tremendous demands on transportation and sheltering systems that overwhelm the capacity of adjacent States.  The Gulf Coast States have attempted to coordinate contraflow plans with neighboring States that may be affected, but exercises, traffic simulations, and other analyses to evaluate evacuation options for catastrophic incidents on the scale of Hurricane Katrina have not been conducted.
Good communications with the public is one of the most important elements of an evacuation.  This includes both communicating information to prepare citizens to evacuate and communicating with evacuees during the course of an evacuation.  As shown in Table ES-1, most State and local evacuation plans have adequate provisions for communicating basic information to residents about when they should evacuate, the designated evacuation routes, what they should take with them, the location of shelters, and other information needed before they evacuate.
State and local governments use a variety of methods of communications to inform residents before an evacuation begins. These methods include television, radio, the Internet, telephone, and a variety of other methods.  Not everyone regularly listens to media outlets or has access to all of these means of communications.  This situation is especially true for those with the greatest need for specialized information.  Several Gulf Coast States provide evacuation-related information in Spanish for their Spanish-speaking residents and New Orleans provides information and conducts classes in Vietnamese.  These programs are excellent for providing general evacuation-related information, but plans are not as well developed for providing real-time information to persons with limited English proficiency about who should evacuate, when they should evacuate, and any changes that may have been made in plans for evacuation by public transportation.  Few States, counties, or parishes have special programs to provide information to people with visual or hearing impairments, the homeless, or other special needs groups that are difficult to reach through normal communications channels. One good practice is that all of the televised hurricane briefings in Florida from the State Emergency Operations Center also include a sign language interpreter as part of the briefings.
Methods for communicating evacuation options by modes other than personal vehicles are not well developed in most cases.  A number of jurisdictions indicate locations where public transportation may be obtained, but many have no specific services identified to assist persons in getting to those designated locations.  This situation is a particular problem for people with various disabilities.
Methods of communicating with evacuees during plan execution are not as well developed as are plans for communicating prior to an evacuation and need to be improved in most jurisdictions.  Communications are essential to provide information on the availability of hotels, shelters, food, fuel, and medical and other essential services along evacuation routes; traffic conditions on alternative evacuation routes; the location of shelters that will accept pets and that are equipped to handle people with various special needs; the identities of those being evacuated on public transportation; and where those persons are being taken.
Methods of communicating information prior to an evacuation may not be available during an evacuation.  Evacuees typically will not have access to the Internet or to television—two of the primary means of providing pre-evacuation information.  Radio may be available to those in cars and those who have battery-operated radios.  Many States position dynamic message signs along evacuation routes. State personnel staff rest areas, truck weigh stations, welcome centers, and service plazas to provide information to evacuees en route.  Motorist information services such as the 511telephone system Florida has deployed or highway advisory radio can provide route-specific information.  However, to get real-time traffic information on evacuation routes, traffic monitoring equipment is required.  That equipment is not widely deployed in most rural areas along the Gulf Coast, except in Florida, which has an extensive statewide traffic monitoring system.
Effective communications before a catastrophic incident can play an important role in convincing residents that they should evacuate.  During an evacuation, effective communications will enhance the efficiency of the system and also reduce the associated mental and physical strains. People must leave most of their possessions and the security of their homes, often with little knowledge of where they will stay or for how long.  The more information that can be provided to residents about the availability of shelters, what they can take, provisions for accommodating pets and service animals, security that will be provided while they are away from their homes, and other factors of concern, the less stress there will be  Technical assistance and other information is available for some of these special requirements, but additional work is required to develop a comprehensive resource describing the special needs of different groups.
Plans in the Gulf Coast region for evacuating persons with various special needs generally are not well developed.  Hospitals, nursing homes, prisons, and other institutions generally are responsible for developing their own evacuation plans and deciding when to evacuate their residents.  They face unique issues such as whether the risks of not evacuating outweigh the risks of moving seriously ill individuals.  Widely reported stories about the breakdown of these plans during the 2005 hurricane season at certain institutions highlight the need to ensure responsible individuals have access to the latest information about a catastrophic incident and that institutions' evacuation plans will work in the event of a mass evacuation of the entire population of an area. 
Evacuating those with special needs who are not in institutions also presents problems that are not well addressed in most State and local plans.  Locating where these individuals live often is difficult, despite attempts by local agencies to maintain lists of persons with various special needs.  New Orleans, for instance, is establishing a 311 information hotline to register residents with special needs for evacuations.  Other areas in the region have similar registration programs, but those programs are only as good as the willingness of persons to register.  Privacy interests and some individuals' reluctance to identify themselves as having special needs are considerations that must be addressed in establishing a comprehensive registry. 
Persons who use wheelchairs, those who rely on special medical equipment, those with hearing or visual impairments, the elderly, and other groups all have unique communication, transportation, and sheltering needs that must be planned for in advance.  This includes ensuring that all forms of temporary housing (e.g., shelters, trailers, etc.) meet Americans with Disabilities Act guidelines. Providing these specialized services in the course of a mass evacuation presents particular challenges.  Provisions to meet transportation and sheltering requirements of these various special needs groups must be improved in most evacuation plans.
The actual operation of transportation systems throughout the course of catastrophic incidents is one of the most important parts of the evacuation process.  For known or imminent incidents such as hurricanes, State and local operations plans in the Gulf Coast region are generally adequate for highway evacuations, although there are significant differences in the extent to which certain issues are covered.  Almost all jurisdictions do a good job in terms of designating highway evacuation routes and directing evacuees in private vehicles to those routes.  Plans are less robust for monitoring traffic on evacuation routes and providing real-time operational information to emergency managers, upon which they can make decisions concerning those routes.
Understanding the time required for evacuations is essential for all those who must evacuate to do so safely. A number of evacuation planning and operations models have been developed by Federal agencies and are available to State and local agencies.  FEMA, the United States Army Corps of Engineers (USACE), and the National Oceanic & Atmospheric Administration (NOAA) conduct hurricane evacuation studies for the Gulf Coast and other States to help State and local emergency managers decide who should evacuate during a hurricane threat and when the evacuation order should be given based on the estimated time to evacuate a certain number of persons from a given location.  Many emergency managers rely on the information in these studies, but some States reported that they sometimes forgo study updates because their 25-percent share of the cost of the study is a constraint.  If outdated studies are used, the times required to evacuate may not take into account new development, highway improvements that have been made and other changes that have occurred.  While hurricane evacuation studies do consider people with special needs, they often do not provide all of the information that would be desirable on the time needed to evacuate various special needs populations.
An important lesson learned in evacuations associated with Hurricanes Katrina and Rita was the necessity of having food, water, restrooms, fuel, and shelter opportunities along evacuation routes.  State and local plans generally recognize the need to have these services prepositioned and available along evacuation routes.  However, plans for providing real-time information on the availability and location of these services are not as well developed.
All States in the region have a plan for contraflow operations on certain limited access evacuation routes, but county plans often do not address those contraflow plans.  This failure to integrate State and local activities in these contraflow plans is the primary reason why overall plans are rated low in terms of contraflow operations.
While State and local evacuation operations plans were generally rated as adequate, most need improvement with respect to the role of all safe and practical modes of transportation.  In rural areas, the only alternative to the automobile that may be mentioned in evacuation plans is the school bus, but some State officials noted that their school buses are in poor condition and not capable of making long highway trips.  Plans may provide information on who to contact to mobilize those buses, but few details typically are given on how those vehicles will be used, the availability of drivers to operate those vehicles, or the bus routes or staging areas to collect evacuees.
Even in urban areas where more modes are available, few plans recognize the potential role for intercity buses, trains, airplanes, and boats.  These modes may be particularly important for persons who cannot evacuate in personal vehicles including persons with various disabilities, the elderly who cannot or prefer not to drive, low-income households that do not own automobiles, and those who are incarcerated or are in other institutions such as nursing homes or hospitals.  Transportation needs associated with each of these groups may differ, but few plans address these specific needs.
With advanced planning, school buses and local transit buses can be mobilized by local jurisdictions with little advanced notice; commercial vehicles such as intercity buses, trains, airplanes, and boats require more advanced notice.  Memoranda of Understanding (MOU) or other such formal agreements with owners and operators of these vehicles are the best way to be sure they will be available if needed.  Several States, including Texas, have contracted for buses to be available for mass evacuations.  The potential need to provide national or regional level coordination of the use of these other modes, especially aviation, must also be addressed.  Amtrak has developed a generic MOU to provide evacuation services to jurisdictions.  Care must be taken to ensure that agreements involving several jurisdictions and the same commercial carrier do not exceed the carrier's capacity.
Many other details must be considered when using commercial carriers from outside of the immediate area.  These include ensuring that destinations where persons will be taken for each of these modes have been identified and confirmed; ensuring that interstate operating authority is in place or can quickly be obtained; and ensuring that everyone is aware of how to get to those modes, where they will be taken, limitations on what can be brought on board, and how they can return to their community once it is safe.  Few State and local plans address these details.
Experiences in New Orleans in 2005 accentuated the need to include all modes of transportation in evacuation plans.  New Orleans had a large segment of its population that could not evacuate in personal vehicles, and the City was unprepared to evacuate so many persons using other modes.  Since Hurricane Katrina, however, the City has developed a plan for the use of multiple modes of transportation to evacuate those who cannot evacuate by private vehicle.  This plan identifies target groups that will be evacuated by bus, railroad, and airplane, and how persons from each of these target groups will be transported to those modes.  In addition, the City has enhanced their sheltering plan and will provide more information to citizens early in the season.  One goal of the plan is to "create and maintain an environment where the decision to evacuate becomes more desirable than remaining behind."
Sheltering is one of the most important considerations when planning evacuations. Table ES-1 shows that, in general, State and local plans adequately address sheltering.  However, while Gulf Coast evacuation plans generally do a good job of identifying shelter locations in their State, most do not mention specific provisions for monitoring the status of those shelters and providing real-time information on the availability of space. The plans generally do not contain information on shelters in other States. Neither do they have plans for providing information on the availability of rooms at hotels, motels, and other private facilities where evacuees may want to stay. The availability of such information would significantly improve the efficiency of evacuations and reduce evacuees' stress.
All States along the Gulf Coast are members of the EMAC and have mutual-aid agreements with other member States, including agreements to accommodate evacuees. They recognize that if any sizeable number of persons must be evacuated, their own shelter capacity may be insufficient and they will have to rely on shelters in adjacent jurisdictions. Many State and local governments rely on local chapters of the American Red Cross and other volunteer organizations to set up, staff, and operate shelters.  The American Red Cross and DHS/FEMA are the lead agencies for Emergency Support Function (ESF) 6, Mass Care, which covers sheltering activities. Other States, such as Alabama, are assuming more of the responsibility themselves, although they continue to work with the American Red Cross.
Accommodating pets at shelters is a significant issue.  The American Red Cross indicates that it generally cannot accept pets in shelters because of State health and safety regulations, although they do accept service animals.  Many States are in the process of reevaluating these regulations and more latitude in accommodating pets can be expected in the future.  Guidelines will have to be developed to ensure that public health and safety are not compromised when accommodating pets at public shelters.
Most State and local evacuation plans contain provisions for training and conducting exercises to test their plans that are generally adequate for most evacuations.  Few, however, contain provisions for conducting multi-State exercises involving officials from other States, the Federal government, and other organizations with evacuation responsibilities to test the adequacy of plans for catastrophic incidents.  This lack of regional exercises prior to Hurricanes Katrina and Rita contributed to some of the problems encountered during those evacuations.  There now is a much greater recognition of the importance of regional exercises, and as noted above, the DHS is sponsoring a series of regional exercises that will provide an opportunity for officials from different States to work together with Federal agencies to evaluate their plans, identify weaknesses, and develop strategies for meeting the needs of future catastrophic incidents.
The costs to develop and update plans varies based on the population, the geography and surge areas, the number of potential evacuation routes to be analyzed, the demographics of the area (e.g., large populations of people with low income or large numbers of people with special needs), the number of neighboring jurisdictions to coordinate with, and other factors.  In addition to costs to develop and update plans, State and local agencies incur costs to exercise those plans on a regular basis.
Very little data is available on the costs of evacuation plans and the limited cost information received for this study is incomplete.  State officials noted that determining the amount of funding allocated and spent for evacuation planning would be difficult since funding comes from many sources at the Federal, State, and local level, and many agencies within the various levels of government have agencies involved in evacuation planning.
The States do not appear to budget specific amounts for evacuation planning, but include these costs within broader emergency management programs. While State officials reported evacuation plans are executed with current funding, they felt that funding was constrained.  The officials did not identify what activities were constrained, and constraints were not discernible from the data as there is no accounting of budgeted versus actual costs for evacuation plans.
As noted above, Federal, State, and local officials recognize the need to be better prepared for the 2006 hurricane season than they were for the 2005 season.  All of the States and some of the local jurisdictions in the Gulf Coast region have reviewed their evacuation and overall emergency operations plans and many made changes to address lessons learned last year.  For example, on March 21, Governor Perry of Texas signed an Executive Order that, among other things, calls for development of a statewide hurricane evacuation and shelter plan, a separate evacuation and shelter plan for people with special needs, contraflow plans for all major evacuation routes, a plan to ensure fuel availability along all evacuation routes, and a public awareness initiative. In addition to the regional tabletop exercises being conducted by DHS, States and several urban areas in the Gulf Coast region are conducting exercises to improve their preparedness for hurricanes.
The U.S. DOT has undertaken a number of initiatives to prepare for the 2006 hurricane season including: (1) improving coordination among those with transportation responsibilities associated with a catastrophic incident, (2) coordinating with the United States Army Corp of Engineers (USACE) and FEMA to improve communications capabilities, (3) examining current regulations that may affect the transportation industry's ability to respond to catastrophic incidents and developing procedures to remove or dramatically reduce impediments, (4) coordinating with transportation industry representatives, the American Red Cross, the Humane Society, and other stakeholders to improve evacuation capabilities based on lessons learned in 2005, and (5) conducting training and process improvements based on after-action reviews.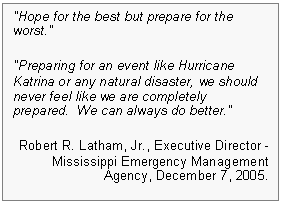 Federal, State, and local agencies, transportation and shelter providers, and others involved in evacuations are now better prepared to handle the demands of a catastrophic hurricane or other catastrophic incident.  The challenges of responding to an incident like Hurricane Katrina and the flooding that followed remain daunting, however, and many additional steps need to be taken before we can be confident that we are fully prepared to respond to another incident of similar proportions.
Throughout the assessment of State and local evacuation plans, actions that could be taken to improve various aspects of evacuation planning and implementation are identified in the main report.  Based on lessons learned from recent mass evacuations, State and local governments already are beginning to incorporate some of those improvements into their plans.  Federal agencies also are in the process of examining how they can improve their response to catastrophic incidents that overwhelm State and local resources.  Near-term actions that will improve overall capabilities to respond to hurricanes during the 2006 hurricane season include the regional exercises that DHS recently conducted in the Gulf Coast States, the U.S. DOT activities noted above, the many State and local actions that have been taken based on lessons learned during Hurricanes Katrina and Rita, and actions that transportation and shelter providers have already taken to enhance their capabilities.
The following are recommendations for ways to further improve mass evacuation planning and implementation capabilities that extend beyond what Federal, State, and local governments are already doing.
Develop regional plans for mass evacuations in connection with catastrophic incidents on the scale of Hurricane Katrina.  These plans should be developed jointly by State and local officials within the region in cooperation with officials from appropriate Federal agencies; providers of all safe and practical modes of transportation and providers of shelters, food, fuel, and other necessities; managers of hospitals, nursing homes, emergency medical services (air, ground, etc.) jails, and other institutions with their own evacuation plans; and representatives of various special needs populations.

This recommendation goes beyond the recommendation in the Homeland Security Council Report, The Federal Response to Hurricane Katrina: Lessons Learned.  This report, which is the result of a comprehensive review of the Federal response to Hurricane Katrina directed by the President to identify changes needed to improve the Nation's preparedness to respond to natural and manmade disasters, recommends that individual State and local agencies should be required to have evacuation plans as a condition of receiving Homeland Security grants.

Regional exercises to test plans and decision making structures for different mass evacuation scenarios should be conducted on a regular basis to ensure that Federal, State, and local agencies are prepared to respond to different types of catastrophic incidents.

Responsible Federal agencies should review the National Response Plan, FEMA's State and Local Guide 101, concepts of operations for the various Emergency Service Functions, and other appropriate planning guidance related to evacuations and update as needed to cover the special requirements of mass evacuations from incidents of Hurricane Katrina's magnitude.

In particular, these guidance documents should be refined to more specifically recognize needs and challenges associated with coordinating the activities of multiple agencies representing different levels of government across a multi-State region of the country.

Transportation agencies and operators should be more directly involved in key aspects of evacuation planning and implementation.

Transportation by all safe and practical modes is a key element of evacuations.  Failure to include transportation agencies in the evacuation planning and operations can lead to inefficiencies and delays in evacuating citizens, especially those most in need of assistance.  Including highway, rail, air, and other appropriate modes in planning and operations helps to ensure that required resources are identified, including those needed for mass evacuations, and that transportation is available to meet the unique needs of various special needs groups.  It also helps to ensure that critical details such as the need for agreements on the destinations to which various modes will transport evacuees are considered.

Responsible State and local agencies should develop and deploy systems to provide information to evacuees and emergency managers during the course of evacuations on the status of traffic, shelters, fuel, and other services along evacuation routes.

Systems should be based on existing communications network and intelligent transportation systems (ITS) architecture and to the maximum extent possible should be incorporated into general purpose motorist information and traffic monitoring services used during normal traffic operations.

State and local agencies should work with the special needs communities to develop systems whereby those requiring specialized transportation or sheltering services during evacuations can make those needs known to emergency managers and operators of transportation and sheltering services before evacuations.

This information should be maintained in a way that can easily be updated and that recognizes privacy and other concerns of various special needs groups.

Sheltering requirements for all segments of the population and evacuees by all modes of transportation should be more directly integrated into the evacuation planning process.

Sheltering needs vary considerably for different groups of people and must be explicitly recognized in evacuation plans.  There are significant issues regarding accommodation of pets at shelters that need to be resolved.

DHS is conducting a series of hurricane preparedness exercises in the Gulf Coast region to prepare for the 2006 hurricane season.  The U.S. DOT and other Federal agencies are participating in these exercises.  The Federal government should continue to organize and facilitate these types of regional exercises in high-priority areas to bring together local, State, and Federal agencies to integrate and test their plans and procedures.
The Homeland Security Council, the House of Representatives, the Senate, and the Government Accountability Office have all issued reports looking at various aspects of the Federal response to the catastrophic hurricanes that struck in 2005.  These reports contain numerous recommendations on actions that could allow the Federal Government to work more effectively with State and local government in responding to future catastrophic incidents.  Many of these recommendations touch on aspects of mass evacuations.  The U.S. DOT, DHS, and other Federal agencies are reviewing these recommendations along with other internal and external assessments of responses to recent catastrophic incidents.  In the meantime, special federal assistance will be provided this year in areas that are still recovering from the 2005 hurricane season and which are at enhanced risk due to the damage experienced last year.  The U.S. DOT, in coordination with DHS, stands ready to quickly make evacuation experts available to local and state governments that want to better understand their strengths and vulnerabilities in preparing for and implementing successful evacuations.
While many short-term actions have already been taken, other changes could require legislative changes.  Potential longer-term changes are being carefully considered before any legislative proposals are sent forward. The U.S. DOT is examining a number of specific options that will enhance its ability to respond to evacuation needs associated with catastrophic incidents.  In addition to activities noted above that have already been done to prepare for the 2006 hurricane season, the U.S. DOT is examining a range of potential longer-term options including ways to strengthen internal resources and processes to better respond to catastrophic incidents and ways to enhance the contribution of various U.S. DOT programs to improve State and local evacuation capabilities.  Once decisions have been made on changes that would enhance the U.S. DOT's contribution to a coordinated Federal, State, and local response effort, as well as changes to improve State and local planning and operations capabilities, any required legislative proposals will be developed and sent to Congress.