511: America's Traveler Information Telephone Number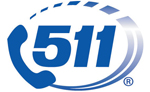 What Is It?
Background
The public and private sectors across the country have invested millions of dollars in Intelligent Transportation Systems (ITS) as a means of enhancing mobility, improving safety, and speeding freight to its destination.
A great deal of information is collected via ITS. Providing access to traffic information via one nationwide, three-digit telephone number is a means to make the most of that investment. That is, to get that information to the driver and shipper by this country's most common means of communication – the telephone.
One easy-to-remember number, regardless of the traveler's location, gives travelers' choices - choice of time, choice of mode of transportation, choice of route – which save lives, time and money.
On March 8, 1999, The U.S. Department of Transportation (USDOT) petitioned the Federal Communications Commission (FCC) to designate a nationwide three-digit telephone number for traveler information. This petition was formally supported by 17 State DOTs, 32 transit operators, and 23 Metropolitan Planning Organizations and local agencies. On July 21, 2000 the Federal Communications Commission designated "511" as the single traffic information telephone number to be made available to states and local jurisdictions across the country.
The FCC ruling leaves nearly all implementation issues and schedules to state and local agencies and telecommunications carriers. There are no Federal requirements and no mandated way to pay for 511; however, USDOT and FCC expect to see some type of nationwide deployment. In 2005, the FCC will review progress in implementing 511.
While the flexibility provided in the FCC ruling is highly desirable, it also presents a challenge. There is a great deal of interest in using 511 throughout the U.S. It is expected that there will be multiple requests for 511, at least in some parts of the U.S., from DOTs, transit agencies, regional and local transportation agencies, as well as private service providers who will offer to implement 511 services for some sort of compensation. If not thoughtfully planned, 511 services could devolve into an inconsistent set of services widely varying in type, quality and cost.
Summary/Key Points
Transportation community asked for 511
FCC assigned 511 with few strings attached
State and local agencies responsible for implementation
FCC encourages national use and consistency of service
FCC will review our progress in 5 years
511 Deployment Coalition
Mindful of both the opportunity and challenge 511 presents, the American Association of State Highway and Transportation Officials (AASHTO), in conjunction with many other organizations including the American Public Transportation Association (APTA) and the Intelligent Transportation Society of America (ITS America), with support from the U.S. Department of Transportation, has established a 511 Deployment Coalition.
The goal of the 511 Deployment Coalition is "the timely establishment of a national 511 traveler information service that is sustainable and provides value to users." The intent is to implement 511 nationally using a bottom up approach facilitated by information sharing and a cooperative dialogue through the national associations represented on the Policy Committee, the governing body of the program. The mission of the Policy Committee is to provide guidance on how to achieve this goal.
A Working Group of practitioners has been formed to support the Policy Committee. The Working Group has identified three major issues that need to be addressed by the Policy Committee:
Content: Should there be some minimal level of content and quality of that content?
Consistency: To what extent should there be some level of consistency among 511 services throughout the U.S.?
Cost: Should 511 be free to the end user? If so, how should 511 be financed?
Summary/Key Points
AASHTO led effort
Many organizations involved, including APTA, ITS America and U.S. DOT
Major issues of 511 service content, consistency, and cost
Policy Committee key for issue resolution and direction setting
---
Return to 511 Overview