2014 Excellence in Utility Relocation and Accommodation Awards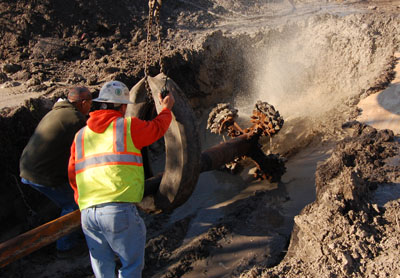 Construction Management
Incentives
Innovation
Program Leadership - Individual & Team
Project Development
Congratulations to the winners of the 2014 Excellence in Utility Relocation and Accommodation Awards (.pdf, 5 mb)! The FHWA Excellence in Utility Awards recognizes exemplary projects, programs, initiatives and practices that successfully integrate the consideration of utilities in the planning, design, construction and maintenance of transportation facilities. The FHWA developed this biennial awards program to honor outstanding achievement in the utility arena.
This year's award winners demonstrate these exemplary practices and achievements in the following categories: Construction Management, Incentives, Innovation, Program Leadership, and Project Development. The award recipients were honored on April 30 during the 2014 American Association of State Highway and Transportation Officials (AASHTO) annual meeting of the Subcommittee on Right-of-Way, Utilities, and Outdoor Advertising Control in Salt Lake City, Utah.
We would like to express our appreciation and gratitude to the following professionals who have donated their time and expertise in judging this awards program.
Bryan Bradley
State Utility Engineer
Iowa Department of Transportation
Kevin Brodie
Operations Engineer
FHWA North Dakota Division
Dennis LaBelle
Director of Utilities
M & T Consultants, Inc.
J. Robert Memory
State Utility Agent, Utilities Unit
North Carolina Department of Transportation
Ahmer Nizam
Manager, Utilities/Railroad/Agreements
Washington State Department of Transportation
Lee Potter
Assistant Division Administrator
FHWA Wyoming Division
Mark Richter
Construction and Maintenance Engineer
FHWA Vermont Division
Scott Riddle
Vice President
KCI
Tom Swafford
Utility Coordination Program Manager
Utility Mapping Services, Inc.