Administration

In the 1970s and 1980s, women made great strides in gaining leadership positions in transportation. Joan Claybrook was appointed to head the National Highway Traffic Safety Administration in 1977. In 1983, Elizabeth Dole was appointed the U.S. Secretary of Transportation. Also in 1983, Carmen Turner became the General Manager of the Washington Metropolitan Area Transit Authority (WMATA), the first African-American woman to lead a major transit agency.

As Secretary of Transportation, Elizabeth Hanford Dole became the first woman to head a branch of the armed forces (the Coast Guard falls under the DOT during times of peace), and she became the seventh woman to serve in the Cabinet. She was instrumental in mandating rear-window brake lights for autos and encouraging the states to pass laws requiring the use of safety belts.

Throughout Carmen Turner's tenure as General Manager, Metrorail expanded 40 percent, growing from 68 km (42 miles) of track with 47 stations to 117 km (73 miles) of track with 63 stations, while annual ridership grew to 70 million passengers. The highlight of her Metro career came in 1990 when Congress authorized $1.3 billion for completing the 166 km (103 miles) Metrorail system.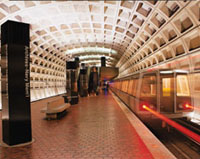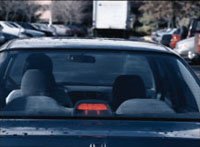 Top: Metro Station in the Washington Metropolitan Area Transit Authority (WMATA).
Above: Car with a third brake light.