Space Travel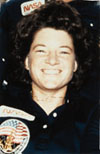 The National Advisory Committee for Aviation, forerunner of the National Aeronautics and Space Administration (NASA), first considered women as potential astronauts in the late 1950s. Twelve women had completed the preliminary screening used for the Mercury astronauts. In 1959, Geraldine (Jerrie) Cobb was the first woman to report for astronaut testing.
In 1983, Sally Ride became the first American woman in space. She was selected as an astronaut candidate by NASA in January 1978. She was a mission specialist on shuttle mission STS-7, which launched from Kennedy Space Center, Florida, on June 18, 1983.


Since Sally Ride's historic flight, several other women astronauts have journeyed into space. Mae Jemison became the first African-American woman in space on September 12, 1992. Shannon Lucid now holds the record for the longest period in space for any American (188 days and 4 hours). Her journey to Mir began when mission STS-76 launched on March 22, 1996 and ended with her return aboard mission STS-79 on September 26, 1996.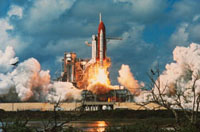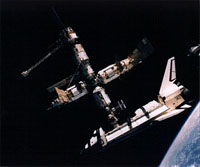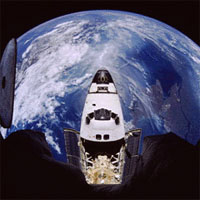 Top: Shuttle at lift off.
Middle: Shuttle docked with the Mir space station.
Above: Shuttle and Earth.