Railroad Inventions

In 1870, Eliza Murfey patented 16 devices for improving the packing of journals and bearings for railroad-car axles. These packings were used to lubricate the axles with oil which reduced derailments caused by seized axles and bearings.

In 1879, Mary Walton developed a method of deflecting smoke stack emissions through water tanks and later adapted the system for use on locomotives.

In the 1880s, many cities developed a mass transit system using noisy elevated trains. To reduce the noise, Walton invented a sound-dampening system that cradled the track in a wooden box lined with cotton and then filled with sand. She received a patent for the system on February 8, 1881, and later sold the rights to the Metropolitan Railroad of New York City.

Other inventions by women included a railway crossing gate by Mary I. Riggin and several patents for the construction of railway tracks by Catherine L. Gibbon.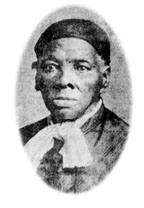 Although not a traditional railroad, the underground railroad was a critical system of transporting slaves to freedom in the mid-1800s.

One of the most famous conductors was Harriet Tubman. Between 1850 and 1858, she helped more than 300 slaves reach freedom.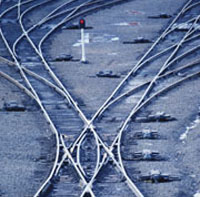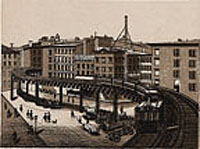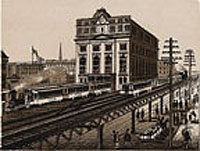 Above middle: Print of the elevated railroad.
Above: Print of the Cooper Institute & elevated railroad.
Left: Portrait of Harriet Tubman and illustration of Harriet Tubman.