Bridge Construction

When the Brooklyn Bridge was opened on May 24, 1883, it was heralded as one of the most important construction projects of the 19th century. At the opening ceremonies, Congressman Abram S. Hewitt praised Emily Roebling for her role in serving as the link between Washington A. Roebling and the construction crew.
Emily Roebling became the surrogate Chief Engineer for the bridge between 1872 and its opening in 1883. Her husband,

Washington A. Roebling, fell victim to caisson disease (decompression sickness) during construction of the Manhattan caisson, 24 meters (78 feet) beneath the surface of New York's East River. This disease left Colonel Roebling paralyzed, partly blind, deaf, and mute. To keep the bridge construction in the Roebling name, Emily Roebling continued the work of her husband. She learned higher math and engineering through "on-the-job" training.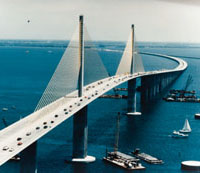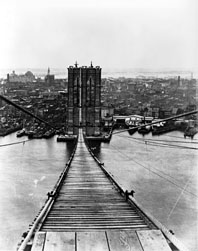 Top Photo: Florida's majestic Sunshine Skyway Bridge is the futuristic link in Interstate 275 that connects St. Petersburg to Bradenton across Tampa Bay.
Above: Brooklyn Bridge
Top Left: Emily Roebling
Above Left: Plaque honoring Emily Warren Roebling on the Brooklyn Bridge.