Maritime Navigation

Martha J. Coston invented a system of maritime signal flares based on color and pattern. Using various color combinations, these flares made ship-to-ship and ship-to-shore communication possible.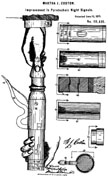 In February 1859, C.S. McCauley, Captain and Senior Officer of the United States Navy, recommended the signals to the Secretary of the Navy, Isaac Toucey. Coston sold her system to the U.S. Navy for $5,000, and later sold the U.S. patent rights to the Navy for $20,000. Her system was also adopted by the governments of France, Italy, Denmark, the Netherlands, and Haiti.
As of the late 1970s, the Coston Supply Company established by Mrs. Coston remained in business. This system of bright, long-lasting signal flares revolutionized naval communication and continues to be in use.
Other women who have made notable contributions to the 19th century maritime industry include Ida Lewis, lighthouse keeper; Mary Miller, licensed pilot; and Mary Patten, clipper ship captain.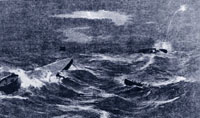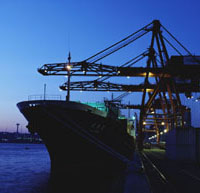 Above top: Loss of USS Monitor, December 31, 1862. The use of the pyrotechnic night signal is shown here.
Middle: A modern cargo ship.
Bottom: Martha J. Coston's drawings of international code chart.