Post-Tensioning Tendon Installation and Grouting Manual
Chapter 3 - Post-Tensioning Duct and Tendon Installation
This Chapter basically addresses construction procedures and operations from Shop Drawings, through tendon installation and stressing. Grouting is addressed in the next chapter. Information and details in these two Chapters may be used for guidance.
3.1 Shop Drawings
3.1.1 Drawings and Details
3.1.1.1 Purpose
To permit completion and to encourage further development in the field of post-tensioned bridge construction, in general, normal contract plans and specifications do not specify a particular manufacturer's post-tensioning system. The Engineer of Record usually selects the type, size, location and number of tendons, but the Contractor selects the anchorage system. All post-tensioning systems should have prior approval before being used.
All systems now in general use have been developed by independent companies and represent different methods by which the prestressing force is applied. Each offers certain advantages as compared to the others, but each will, when properly installed and stressed, accomplish the intended result.
A post-tensioning system proposed by a Contractor should be shown on shop drawings. These drawings should include details for the methods and materials used, including any rearrangement of or addition to reinforcing steel that differs from that shown on the contract plans. Shop drawings represent an important supplement to Contract Plans.
Shop drawings are normally reviewed by the Bridge Designer. The Designer normally checks them for completeness, contract compliance, clearances or interference of ducts and reinforcing steel. Despite the approval process, the Contractor remains responsible for the correctness of the shop drawings and ensuing construction.
Shop drawings are needed for integration of approved post-tensioning systems (i.e. post-tensioning supplier's information and details), reinforcement, post-tensioning, and other embedded items (including those for the Contractor's chosen "means and methods" of construction) for precast and cast-in-place components.
3.1.1.2 Typical Contents
Shop drawings from a Manufacturer of a Post-tensioning system typically address various details such as:
Dimensions, details and materials for all manufactured components.
For strand systems, dimensions and details of anchors, wedge-plates, wedges, for each size and tendon.
For bar systems, dimensions and details of anchor plates, anchor nuts, bars and couplers for each bar size.
Details of grout inlets and outlets at anchorages.
Size, type connection and sealing details of grout caps.
For each type of duct, dimensions, details, type of material, duct connectors and methods of connecting ducts to anchor cones (trumpets).
Details of means and methods of attaching intermediate grout inlets and outlets to the ducts, including sizes of grout pipes, materials, and shut-off valves.
Dimensions, clearances, force and stroke of stressing jacks for post-tensioning bars and strands, including single, mono-strand and multi-strand jacks as necessary.
Typical details of ancillary equipment such as power source, hydraulic lines, pressure gages for use with the stressing jacks.
Jack calibration charts to show relationship between dial gage pressure and force delivered.
Often, much of the above information is available from a catalogue data, particularly for anchors, couplers, wedges, nuts, bars, ducts, jacks and equipment. Other information shown on additional shop drawings prepared by a Contractor or his (Specialty) Engineer or in a post-tensioning or construction manual for a specific project usually includes procedures, such as:
Duct profile and minimum clearances.
Details, types and locations of duct supports, connections to temporary bulkheads, and means of maintaining alignment and profile.
The method for installing strands, individually or in a complete bundle for each tendon.
The sequence in which tendons are stressed.
The end(s) from which tendons are stressed.
Assumed coefficient of friction (m) and wobble coefficient (k).
The estimated elongation and maximum jacking force for each tendon.
The estimated wedge set or seating loss.
Similar information for post-tensioning bar tendons.
When temporary post-tensioning bars are used to secure a precast match cast segment, the sequence and force to which each should be coupled and stressed around the cross-section.
The sequence and means by which temporary post-tensioning bar or strand tendons are de-tensioned and removed.
For all permanent installations, locations of grout inlets and outlets, details, direction of grouting and sequence in which tendons are grouted (See also Chapter 4).
3.1.1.3 Typical Approval Process
Typical responsibilities associated with shop drawings include:
Contractor: Arrange for the preparation of the necessary shop drawings and other relevant information required by the Contract, see that shop drawings are submitted to the Engineer (usually the Designer) for review and approval, receive review comments, make revisions as necessary and carry out construction accordingly.
Contractor's Engineer: the person or firm who prepares calculations and shop drawings on behalf of the Contractor.
Engineer (Designer): Receive, log and review all submittals for compliance with the information conveyed on the plans and provide approval, reject, seek amendment or clarification as necessary. The Engineer may be a member of a state (Owner) agency or private firm engaged by that State or Owner.
CEI - Construction Engineering and Inspection: This is the person, firm or agency representing the interest of the State or Owner on the job-site (Resident Engineer).
A typical shop drawing submittal, review and approval process for a Design-Bid-Build project is illustrated in Figure 3.1. This would be different for a Design-Build project.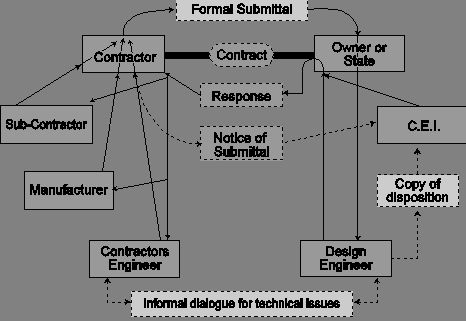 Figure 3.1 - Typical Shop Drawing Approval Process for Post-tensioning
3.1.2 Stressing Calculations
To ensure that the correct force is applied to each tendon, calculations are made to account for losses (friction, wobble, wedge-set and anchor friction) along the length of a tendon and to estimate the elongation as a check against the gauge pressure on the jack. Calculations are usually made by the Contractors Engineer or installer of the Post-Tensioning and should be checked by the Engineer (Designer or CEI). Key information, such as jacking force or gauge pressure and anticipated elongation, is extracted for stressing.
Stressing of a tendon may be performed from one or both ends. Stressing from both ends may be sequential, first from one end then the other, or simultaneous using two jacks. In some types of construction, it may only be necessary to stress from one end; for example, where tendons are relatively short, say up to about 50M (150 feet) and have relatively small friction loss. However, for long tendons, especially those within internal ducts set to a curved profile that passes continuously through three or four I-girder spans, friction loss may be so significant that it is essential to stress the tendon from both ends to ensure adequate force throughout.
Wedge-set should be taken into account for both the stressing end and dead end of a tendon. For long tendons, often the elongation may be greater than the travel on the jack. It is then necessary to take more than one pull of the jack. Each time the jack is released, the wedge-set occurs again at the jacking end. Since the load is picked up again upon re-gripping, the wedge set of individual pulls is not cumulative. Only the final wedge set affects the loss of tendon force. However, keeping account of cumulative elongations and wedge-sets during repeated pulls by a jack is always helpful for resolving unforeseen problems.
Stressing calculations are illustrated with two examples: first for a long tendon draped to a profile through four continuous spans and stressed sequentially from both ends; second for a deviated external tendon in an end span stressed from the expansion joint.
Various parameters for calculation of stressing forces and elongations are defined as follows:
Length of tendon (L)
Assumed area of tendon (AS)
Modulus of Elasticity assumed (ES)
Coefficient of friction between tendon and duct (µ)
Wobble coefficient (k)
Distance from jacking end to location of interest = x
Accumulated angle of curvature to point x = θX
Length of portion of tendon between two points "i" and "j", = X i j
Wedge seating loss (W)
Friction in anchor (%)
Friction in jack (%)
P0 = force at the jack
In the terms AS and ES the subscript S signifies that these are assumed values for the purpose of the initial calculations. During stressing operations, the anticipated elongation is adjusted to account for the actual values of Ar and Er for the reel of strand used.
The force in the tendon (PX) at each point of interest a distance "x" from the jack is determined from the formula:
PX = P0 .e - ( µθ + kx )
The total elongation is obtained by summing the increments of elongation for each portion of the tendon, based on the average of the force at the beginning and end of that portion: Elongation ΔL=∑ (Pav.X i j / AS1.ES1) where Pav = average force over X i j.
Information to be forwarded to the site engineer or inspector should include:
Tendon identification
Assumed area of strands (AS)
Assumed modulus of elasticity (ES)
Required jacking force, P jack
Wedge set (draw-in), W, assumed for each end of each tendon
Calculated elongation at each end, before release of the jack and wedge set for each end of the tendon, depending upon the ends to be jacked first and second
The anticipated total elongation, ΔL, before wedge set
Information to be adjusted on site includes:
A r = actual area of strands
E r = actual modulus from samples per strand LOT or per coil or (reel) of strand
Total target elongation = ΔL *(A S*E S) / (A r*E r)
Anticipated elongation at each end in proportion to the adjusted target elongation
3.1.2.1 Example 1 - Four-Span, Spliced I-Girder
Consider a four-span, spliced I-girder with a gradually curving tendon profile made up of several parabolic arcs as illustrated in Figure 3.2. It is necessary to calculate the expected elongation and final post-tensioning force, allowing for friction, wobble and wedge set. Two spans of the structure are shown and it is assumed to be symmetrical about the center pier. Being a long tendon, it must be stressed from both ends or else the total force loss will be too great. However, for on-site efficiency and resources, stressing is done first at one end then the other.
The calculation is made by considering each arc of the profile in turn and applying the above formula to determine the force at the beginning and end of each portion, commencing at the jack. For convenience, the calculation is made using a spreadsheet (Tables 3.1(a) and (b) at end of this Chapter). Also, for clarity, this example is shown in customary U.S. units at this time.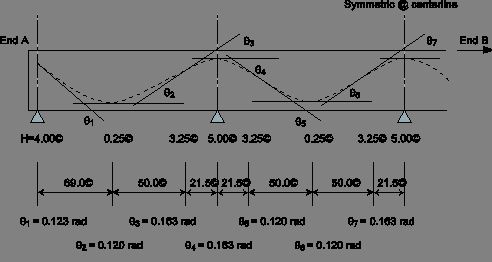 Figure 3.2 - Tendon profile in four-span I-girder
When stressed first from one end (A) (left hand end of Figure 3.2), the elongation is calculated to be 38.53 in. (Table 3.1 (a)). Two things should be observed. First, this elongation is greater than the available stroke of normal stressing jacks; so full elongation may require three or four separate pulls from this one end alone. Second, in Table 3.1(a), account is not taken of the initial wedge set at end (B) (the opposite end of the bridge). This anticipated wedge set occurs while end B is a non-stressing "dead end". In theory, it should be added to the total anticipated elongation for stressing from end A. For instance, if all of the elongation could be measured at end A, the apparent elongation at A would become 38.53 + 0.38 = 38.91 in. - if wedge set at end B is assumed to be, say, 0.38 in. However, in the field not all the force will be applied in one step at end A. In fact an initial load, usually 20%, is applied at A to remove slack and seat the wedges at end B. Elongations are only measured after this initial load. A correction is added for the initial 20% based upon that measured from 20 to 100% load.
The second stage of stressing is performed from end B. Consequently, it is necessary to calculate the anticipated (additional) elongation and final force at end B. After stressing from end A, the force in the tendon at end B is calculated to be 169.1 kips (Table 3.1(a)). Hence, when jacking at end B, the jack will not begin to move until the load exceeds this amount. The jack at B will pick up load at 169.1 kips and continue to the required jacking force of 308.0 kips.
However, because of loss due to friction and wobble, the effect of jacking at B will travel only so far along the bridge until it reaches a point where the force is equal to that from jacking at end A. In this case, because the bridge is symmetrical, this occurs at the middle pier. Consequently, the additional elongation at end B comes only from the increase in tendon force between end B and the middle pier. This elongation is calculated in Table 3.1(b) to be 6.36 in.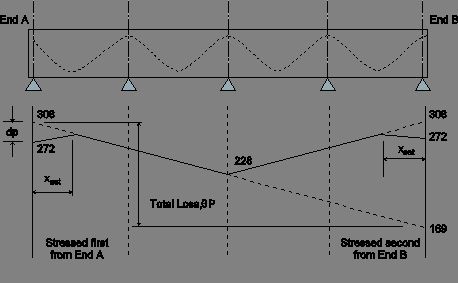 Figure 3.3 - Calculated tendon force after losses
So the total elongation of the tendon before any wedge set is:
38.53 (at A, from Table 3.1(a)) + 6.36 (at B from Table 3.1(b)) = 44.88 in.
The net elongation after wedge set at both ends is then:
44.88 - 0.38 (at A) - 0.38 (at B) = 44.12 in. (Table 3.1 (b)).
In the field, the elongation at B (6.36 in.) will be observed and measured at end B as taking place from the point to which the wedges have already been pulled in after stressing from end A. If a mark were made on the strand tails at end B before stressing from end A, it would move inwards at least by the amount of wedge set at B (0.38 in). In fact, it is likely to move more than this, especially if the wedges at B have only been initially seated "by hand". Fortunately, it is not necessary to know the initial wedge pull in at B due to load at A, because the actual elongation at B is measured from where the strand is at B only after loading from end A.
After release of the jack at B, the wedges are pulled in by the final wedge set of 0.38 in. at B. Consequently, as a check, the net total elongation after wedge set is given by (Table 3.1 (b)):
38.53 (net at end A) - 0.38 (set at B) + 5.98 (net movement at B) = 44.13 in (O.K.).
The force loss (dp) at each end is determined for the amount of anticipated wedge set as shown in Tables 3.1(a) and (b). For this example, the final, calculated Post-Tensioning force is summarized in Figure 3.3. The minimum force (228 kips) is at the center of the four span unit.
Required jacking forces and expected elongations are forwarded to the field for stressing operations. In the field these become the target forces and elongations of the field stressing report (Tables 3.3(a) and (b) at end of this Chapter).
It should be noted that in this example, no account has been taken for the elastic shortening of the structure under the axial compression force of the tendon. If this stressing is performed only on the girder before any deck slab has been cast and if the above tendon is the first of several, then the elastic shortening is estimated approximately as follows:
From Figure 3.3 the average force, P, in the girder is 264.6 kips. If the cross section area of the girder is AC = 6.00 ft 2 , and assuming an initial modulus of elasticity of 4,500 ksi and total bridge length is L B = 567 ft., the elastic shortening is given by x EL = PL B/ ACEC = 0.46 in.
This is relatively small. However, in the field, it would have the effect of increasing the measured elongations; approximately in proportion to the calculated elongation at each end. After a deck slab has been added, elastic shortening from a similar tendon would be much less.
It follows that stressing of a subsequent tendon of the same profile would result in the same elongations for that tendon. However, it also follows that elastic shortening caused by stressing of a second tendon reduces the effective force in the first tendon. Such reduction also occurs for the effect of all subsequent tendons stressed after earlier ones. The effect of such staged post-tensioning is normally taken into account by the Designer during design of the bridge. The Designer should consider the effects of elastic shortening in the design of post-tensioning forces.
3.1.2.2 Example 2 - External Deviated Tendon in End Span
Consider the external tendon in the end-span of a typical span-by-span bridge (Figure 3.4). In this case, the tendon is stressed from one end only (right hand end). It is necessary to calculate the anticipated force in the tendon after stressing, the elongation and effect of wedge set.
Friction between the tendon and duct can only occur at deviators and in those portions of duct in the diaphragms of pier or expansion joint segments where the tendon path curves to an anchor. In this example, there is a curve at the dead end only and none at the stressing end. Curvature friction, µ, applies at the deviators and the dead end diaphragm. There is no loss due to wobble in external tendons, so k = zero.
For the purpose of calculation, the tendon is considered in individual portions, either external or internal and the force loss is calculated according to the same formula as above, i.e:
PX = P0 .e -( µθ + kx )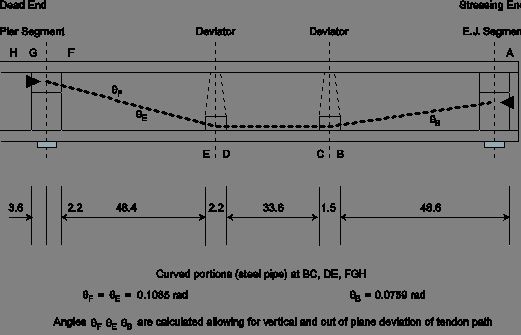 Figure 3.4 - External Deviated Tendon in End Span
For convenience, the calculation is performed using a spreadsheet (Table 3.2). Also, for clarity, this example is shown in customary U.S. units at this time. The force at each point along the tendon is determined for the condition just before the jack is released. The total elongation at jacking is the summation of the elongation for each portion.
The effect of wedge set is not as easily determined as for a continuous, internal tendon of Example 1. Rather, it is necessary to determine if the effect of wedge set terminates within the first deviator (BC) or if it extends to the next deviator or beyond. This may be done by first making the assumption that the wedge set effect terminates at the first deviator and then calculating the force that should exist in the other portions of the tendon if this were the case, and comparing it to the original force at jacking before wedge set loss.
In this example, we find that the force in AB reduces significantly from 835 to 761 kips. It follows that the force in portion CD must be greater than that in AB but cannot be more than that due to friction loss through deviator BC. Hence the force in CD would have to be 761+ (835-819) = 775kips. But, because the original jacking force in CD of 819 kips is greater than 775, it follows that deviator BC alone cannot absorb all of the loss due to wedge set. Hence wedge set must also affect portion CD.
The calculation is repeated, this time assuming that the wedge set terminates in deviator DE. This time, we find that the force in AB is 792 kips and in CD is 807 kips. Because the difference in force in portions CD and EF (i.e. 807-797 = 10 kips) is less than the original friction loss of 22 kips across deviator DE, it follows that the effect of wedge set terminates at DE. The final force diagram after friction and wedge set loss jacking is then known (Figure 3.5). In this case, the final force is nearly uniform (approximately 800 kips) along the tendon.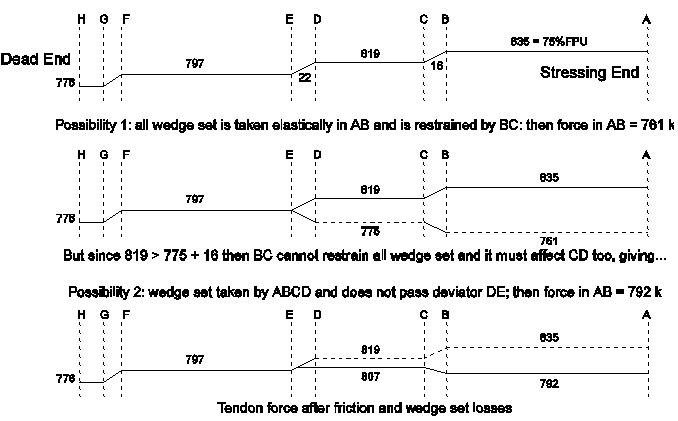 Figure 3.5 - External Tendon Force after Friction and Wedge Set
3.2 Tendon Testing On Site
3.2.1 Friction
The purpose of a friction test is to verify the assumptions for the coefficients of friction and wobble. This test would be appropriate for all but small scale applications where it would suffice to adopt friction and wobble values from other, previous, experience.
A friction test is normally performed on a typical tendon representative of the type or group of tendons being installed - for example, on one tendon in one girder of several in the span or on perhaps two similar cantilever tendons in the top of precast or cast-in-place segments.
For any tendon, there are two unknowns, the coefficients of friction (µ) and wobble (k).However, for any given test set up where the force is measured at each end of the tendon, there can only be one equation and result based upon the standard force loss equation:
PX = P0 .e -( µθ + kx )
Consequently, two unknowns (µ and k) have to be derived from one equation. This is not possible unless one of the unknowns is already known.
For an external tendon in, say a span-by-span bridge, (Figure 3.4) the points of curvature are relatively discrete and the angles consumed are known. In the straight portions there is no wobble. So in such a case, providing that the pre-curved steel pipe ducts in the pier diaphragms and deviator saddles have been correctly installed, then it may be assumed that k = 0. Thus a test on this type of tendon should provide a reasonable result for the effective coefficient of friction, µ, between the tendon and the steel pipes.
For a tendon in the top of a segmental precast or cast-in-place cantilever (Figure 3.6), usually the alignment is relatively, but not completely, straight between two curves at each end anchor. If the duct for this type of tendon has been carefully and well installed so that there is no wobble, then it may be assumed that k = 0 and a test should provide a reasonable result for µ.
On the other hand, if there is uncertainty as to how well a duct has been installed or if it is known to have significant unintentional wobble, it is necessary to make a judgment as to a suitable proportion of loss due to friction and loss due to wobble. It is suggested that the wobble coefficient be taken as the assumed value for "k" - and use the test result to give "µ".
An alternative approach to determine both coefficients µ and k would be to perform the friction test on two similar, say cantilever tendons - a short one and a long one. Assuming the tendons are installed with the same materials and standard of care, this would provide two independent results (i.e. two equations) which could be solved simultaneously for µ and k.
In any event, it is recommended that each friction test be performed on at least two, very similar or identical, tendons - of the same length and curvature layout - for example, in a segmental cantilever, one tendon over the left web and its counterpart over the right web. The average of the pair represents one result (i.e. one equation). In an I-girder with a continuously draped tendon profile, the two tests could be performed on two very similar tendons in the same girder or the same profile of tendon in two parallel girders - where again, the average of the two represents one result (equation).
In general, friction testing is likely to give reasonable results only on relatively long tendons (over about 30M (100 ft)) since it is necessary to measure both forces and elongations under incremental loading to a sufficient level of accuracy. For this reason, an in-place friction test is not appropriate for some applications such as, straight longitudinal or transverse tendons in "flat-oval" ducts or similar in voided precast slabs or transverse deck slab tendons in precast or cast-in-place segments.
It is usual to test a minimum of one tendon in a group of tendons performing the same function - e.g. one tendon in each web of a two-web box. Tendon function may be generally described as:
Internal cantilever tendon or continuity tendon (e.g. in precast or cip segments)
External draped (deviated) tendon (e.g. in span-by-span construction)
Profiled (draped) internal tendon (e.g. I-girders and cip boxes)
Selected tendons should represent the general size (that is number of strands) and length. It is recommended that friction test groups be identified on Shop Drawings for approval.
The test procedure is to tension the tendon at one anchor assembly and measure the force at the dead end using a load cell or calibrated jack. The tendon should be tensioned to 80% of ultimate in increments of not less than 20%. For each increment, the gauge pressure at the jacking end, the load cell (or jack) force at the dead end and the elongation at the jacking end should be recorded. Also, note the wedge pull-in at both ends. Take into account the loss of force due to friction in the anchorages and wedge plates as the strands deviate slightly through them and any friction in the jack. The manufacturer of the post-tensioning system should be able to provide percentage estimates for these losses. For very long tendons that require multiple jack pulls, it is essential to keep an accurate account of elongation at the jacking end and each corresponding intermediate wedge set (pull-in).
If wedges are not installed, and if the available jacking equipment can facilitate it, forces and elongations measured while gradually releasing the jacking load should reveal a lag or hysteresis resulting from the reverse effect of friction (Fig. 3.6). The force and elongation may not immediately return to zero due to residual friction effects.
When performing friction tests, it is recommended that forces and elongations be reconciled within a tolerance of 5% for all tendons. The 5% to 7% tolerance in AASHTO LRFD Construction Specifications is for production tendon elongations - no guidance is given for friction tests.
If the total measured elongation is different to the anticipated (calculated) elongation by more than 5% then the reasons for it should be investigated. It may be necessary to make more detailed calculations or to run a similar test on another tendon. It is suggested that assumed values for friction (µ) and wobble (k) not be varied by more than 10% when attempting to reconcile measured and anticipated results.
A significant shortfall in elongation is indicative of poor duct alignments or obstructions. The likely causes should be examined and appropriate corrective measures taken.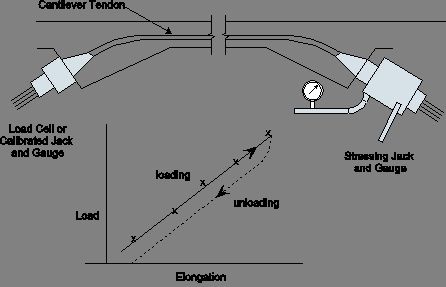 Figure 3.6 - On-site Friction Test
3.2.2 Modulus of Elasticity
The modulus of elasticity, E, is provided per coil of strand, or bundle of bars for each of the manufacturers lots. This is derived from proof tests performed by the manufacturer as part of his quality control of the strand, or bar, production.
The modulus of elasticity for an individual strand is generally about 193 to 200GPa (28,000 to 29,000 ksi.) There is a school of thought that the effective modulus of elasticity of a bundle of strands made up into a multi-strand tendon may be slightly less than that of an individual strand because of the bundle effect or the "un-wrapping", if any, as strands are stressed. This is not necessarily so. In some bench-tests performed on an approximate gauge length of 9M (30 feet) with no contact between tendon and duct, the modulus of the group of strands proved to be the same as that of an individual strand once appropriate allowance was made for losses in the jack and anchors. Therefore it is recommended that calculations of elongations be based upon appropriate assumed or actual production values for strand only. It is also recommended that when calculating elongations, proper allowances be made for all force loss effects.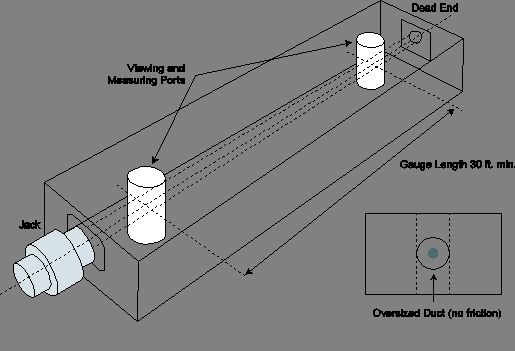 Figure 3.7 - On-site Bench Test for Modulus of Elasticity
A typical set-up for a bench test to check the modulus of elasticity of a tendon made of a bundle of strands is illustrated in Figure 3.7 which may be used for guidance if the project documents require bench tests. It is recommended that the number, frequency and details for bench tests be proposed for approval on the Shop Drawings. The following number of tests is suggested for guidance:
For small projects with less than approximately 45T (100,000 lbs) of PT: no bench tests, providing that strands are from the same supplier with certified copies of proof of modulus from production sampling and testing.
For larger projects: one per 45T (100,000 lbs) of PT: one test if from the same supplier or one test per each supplier.
3.3 Anchorages and Anchor Components
3.3.1 Standard or Basic Anchor Bearing Plate
Early post-tensioning anchors for strand tendons consisted of a simple rectangular or square steel bearing plate supporting a wedge plate (Figure 3.8). The flare of the strands is accommodated within a cone or trumpet attached to the back of the bearing plate. The cone is made of galvanized sheet metal or plastic. Nowadays, these simple types of bearing plates have mostly been superseded by multi-plane anchors or special composite anchor systems.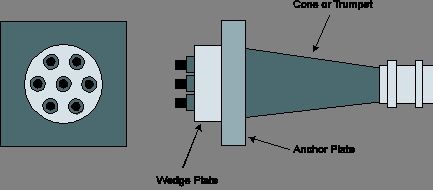 Figure 3.8 - Basic Anchor Bearing Plate
Basic anchor plates are usually sized according to formulae of AASHTO LRFD Bridge Design Specifications. Simple, flat bearing plates are still used for bar tendons, especially for temporary post-tensioning.
3.3.2 Multi-Plane Anchor
Multi-plane anchors (Figure 3.9) induce local bearing stress greater than the limit allowed for standard (basic bearing plate) plate. Therefore, multi-plane anchors need special reinforcement for confinement of the local anchor zone.This is normally supplied by the manufacturer of the anchor - usually in the form of a spiral (not shown).

Figure 3.9 - Multi-plane Anchor
3.3.3 Special (Composite) Anchor Plates
Some manufacturers have introduced special composite anchors. These require special local zone confinement reinforcing similar to multi-plane anchors.
3.3.4 Anchor Plates for Bar Tendons
Anchor plates for bar tendons are usually square or rectangular (Figure 3.10). A separate bearing plate is used for each bar. Other types of confined,circular, anchors are also available.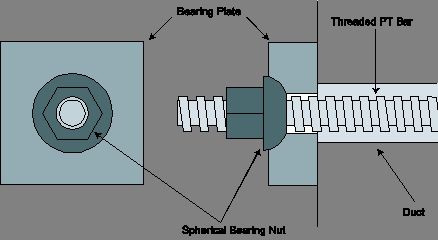 Figure 3.10 - Anchor Plate for PT-Bar
3.3.5 Local Zone Reinforcement
Regardless of the type of anchor, it is essential to provide reinforcement in the local anchor zone - this is the region directly behind the anchor bearing plate(s). For longitudinal strand tendons, mostly, this usually comprises a spiral (Figure 3.11). Grids or rectangular links may be used instead of or to supplement spiral reinforcing. Local zone reinforcement should be placed as close as possible (i.e. 12mm (1/2 inch) maximum) to the main anchor plate in all applications.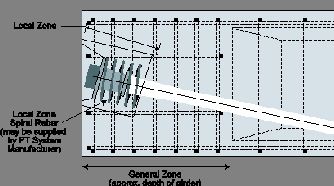 Figure 3.11 - General and Local Anchor Zone in End of I-Girder
A series of relatively closely spaced rectangular stirrups is normally provided to reinforce the general anchor zone (region around and beyond the local zone) until the local anchor force has dispersed to the full effective depth of the section. Typically, for an I-girder, this extends over a length approximately equal to the depth of the beam from the anchor.
Local anchor zones for transverse deck slab tendons anchored in the relatively shallow depth at the edge of segments are most effectively reinforced by multiple-U shaped bars placed in alternating up and down arrangement, beginning very close to the anchor plate (Figure 3.12).
This arrangement has been found to be very effective for intercepting potential cracks that might originate at the top or bottom corner of the anchor bearing plate and travel diagonally through the adjacent surface - apart from the classical splitting stress along the line of the tendon itself.
Figure 3.12 - Local zone reinforcing for edge anchor in thin slab
3.4 Duct Installation
3.4.1 Alignment
Correct duct alignment and profile is of paramount importance to the proper functioning of a post-tensioning tendon, whether that tendon is internal or external to the concrete. Duct alignment and profile should be clearly and sufficiently defined on the plans and approved shop drawings by dimensions to tangent points, radii, angles and offsets to fixed surfaces or established reference lines and by entry and exit locations and angles at anchorage or intermediate bulkheads. Alignment, spacing, clearance and details should be in accordance with AASHTO LRFD Specifications 5.10.3.3 thru 5.10.4.3.2.
General recommendations for fabrication are that ducts should be:
Installed to correct profile (line and level) within specified tolerances
Tied and properly supported at frequent intervals
Connected with positively sealed couplings between pieces of duct and between ducts and anchors
Aligned with sealed couplers at temporary bulkheads
Positively sealed at connections made on-site and in cast-in-place splice joints
The elevations and alignments of ducts should be carefully checked
3.4.1.1 Ducts for Internal Tendons: I-Girders and Cast-in-Place Construction
Recommendations for ducts in concrete in I-girders (Figure 3.13):
Maximum allowable size of aggregate should be specified
The distance between the outside of the duct and the side of the web should be adequate to accommodate the vertical reinforcing and specified cover and provide the minimum concrete section to satisfy design requirements.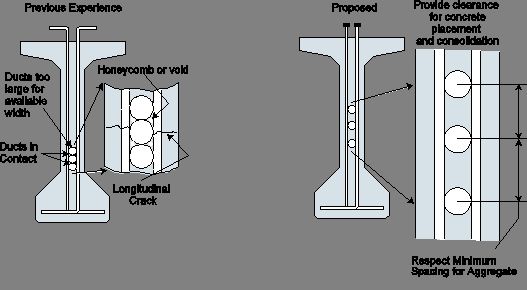 Figure 3.13 - Duct spacing and clearance in post-tensioned precast girders
3.4.1.2 Ducts for Internal Tendons in Precast Segments:
In addition to the above general recommendations ducts should be:
Installed to connect correct duct location in bulkhead with correct duct location in match-cast segment
Correctly aligned with respect to the orientation of the segment in the casting cell and the direction of erection
Elevations and alignments of longitudinal and transverse ducts should be carefully checked (Fig. 3.14)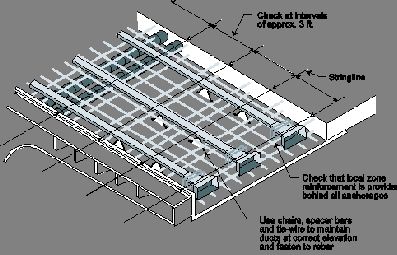 Figure 3.14 - Check longitudinal and transverse duct alignments
3.4.1.3 Ducts for External Tendons in Cast-in-Place and Precast Segments:
In addition to the above general recommendations, during erection:
Ducts should have positively sealed connections between external duct and steel pipes and between individual lengths of duct*
When installing HDPE pipes to connect with deviator and diaphragm pipes,installation should be checked to make sure the correct tendons are connected
Joints between match-cast segments should be properly prepared and sealed with epoxy as necessary according to the specific project contract requirements
*Duct tape does not qualify as a seal although it may be used for temporary support purposes.
3.4.1.4 Alignment at Anchors
For both internal and external tendons, anchors should be:
The correct type and size for the type and size of tendon used.
When required, supplied with permanent, heavy duty, plastic caps with a seal against the anchor plate.
Properly aligned and well supported by formwork.
When required, set in a recess (anchor pocket or block-out) of correct size, shape and set to orientation.
Provided with correct local and general zone reinforcement at correct location and spacing.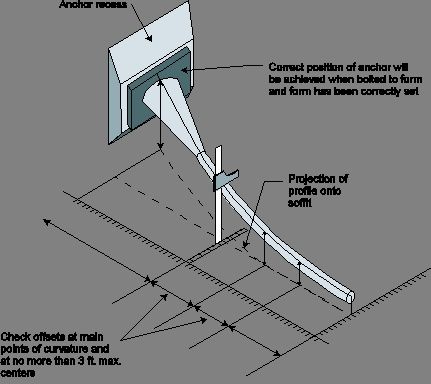 Figure 3.15 - Anchor recess and checking of duct alignment
Sometimes it is necessary to check an alignment in three dimensions from fixed surfaces or reference lines (e.g. centerlines), for example, as indicated in Fig. 3.15.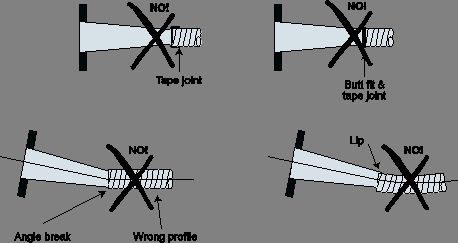 Figure 3.16 - Unacceptable Duct Connections and Mistakes
A good connection of the duct to an anchor should make a seal and properly align the duct with the anchor. Examples of poor practice and potential risks are shown in Figure 3.16.
Nowadays, commercial systems generally offer a positive, sealed and aligned connection.
3.4.1.5 Cover
Cover is an integral part of corrosion protection. Cover should be checked to rebar and longitudinal and transverse post-tensioning ducts.
3.4.2 Duct Supports
In order to secure post-tensioning ducts to a profile, prevent floatation, or displacement or disconnection, supports should be provided at frequent intervals (Figure 3.17).
Duct supports may be tie-wire, rebar, D4 wire tied to web reinforcing, or an approved commercial device. Use of tie-wire alone is satisfactory providing that it is not tightened so much as to distort the rebar cage or crimp the duct
Support bars may be straight, L, U or Z-shape reinforcing bar as necessary
Supports should be at intervals of no more than 0.6 to 1.0M (2 to 3 feet),or per recommendations of duct supplier.
Minimum cover and clearances should be maintained.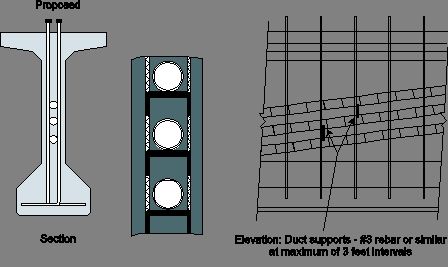 Figure 3.17 - Duct supports in post-tensioned precast I-griders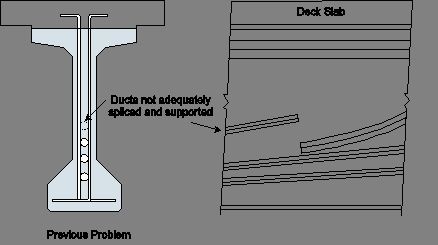 Figure 3.18 - A possible result of poorly supported and connected ducts
3.4.3 Splices and Connections
In the past, various methods were used to connect separate pieces of duct depending upon the type of duct (e.g. spiral wound, semi-rigid or flexible, corrugated or smooth, steel or plastic ducts) and to connect ducts to anchors. Often, connections were made using an oversized piece of the same duct wrapped around and secured with tie-wire or duct tape. Connections were also made solely with duct tape. Such connections are not sealed. They allow the migration of moisture or chlorides; possibly eventually leading to corrosion. Duct tape should not be used to join or repair ducts or make connections
Traditionally, galvanized steel ducts have provided some degree of sacrificial passive protection. In recent years, there has been a shift to more robust systems comprising impermeable plastic ducts, usually of high density polyethylene (HDPE) or high density polypropylene (HDPP) with purpose-made (sealed) connections; usually an outer plastic duct connector clips tightly around the duct.
Consequently, it is recommended that positively sealed connections be made between ducts and anchors and between separate pieces of duct. It is important to make sure that supports do not fail and connections do not separate during casting (Figure 3.18).
3.4.4 Grout Inlets and Outlets
It is recommended that locations for grout inlets and outlets be shown on the Shop Drawings or in a Grouting Plan for approval. Examples of recommended locations for grout inlets and outlets are given in Chapter 4.
3.4.5 Size of Pipes for Grout Inlets, Outlets and Drains
Pipes for grout inlets and outlet vents should be of sufficient diameter to allow the escape of air, water, bleed-water and the free flow of grout.
Grout pipes should be connected to ducts and anchor components in a manner that creates a seal and does not allow leaks or ingress of water, chlorides or other corrosive agents.
To facilitate inspection and complete filling of a tendon with grout, grout vents at high points (crests) may exit the top (riding) surface providing that the grout outlet vent can be properly capped and sealed. Alternatively, the outlet should exit another suitable surface. It is recommended that caps and seals be provided at all inlet and outlet vents to prevent ingress of water or corrosive agents into the tendon.
3.4.6 Positive Shut-Offs
Positive shut-off valves or other approved means of closing grout inlets and outlets should be provided at all vents. At high points or other locations, where it is suspected that air or water voids could accumulate and require filling by secondary vacuum assisted grouting, suitable connections and valves should be provided (Figure 3.19).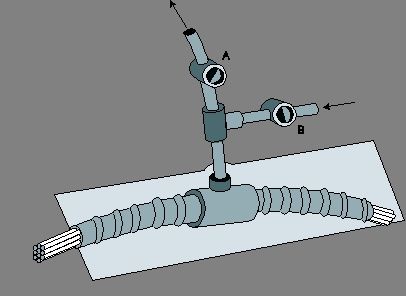 Figure 3.19 - Connections for secondary, vacuum grouting, operations
3.4.7 Protection of Ducts during Concrete Placement
3.4.7.1 Concrete Pressure
Wet concrete when discharged into forms and consolidated by vibration can exert significant pressure and local forces on reinforcing cages and post-tensioning ducts. It is essential that reinforcing cages be securely tied and held firmly in place by cover, spacer blocks or chairs. Likewise post-tensioning ducts must be well supported and attached to the reinforcing cage at frequent intervals.
Ducts, being hollow, tend to float. A duct that is not well secured can easily be displaced resulting in excess wobble (Figure 3.20). This affects the intended location of the post-tensioning tendon and causes a loss of force through excess friction. The result is a reduction in post-tensioning force and eccentricity. In some cases, excessive wobble, or improperly aligned duct (for example, Figure 2.21), can make it difficult or impossible to install a tendon.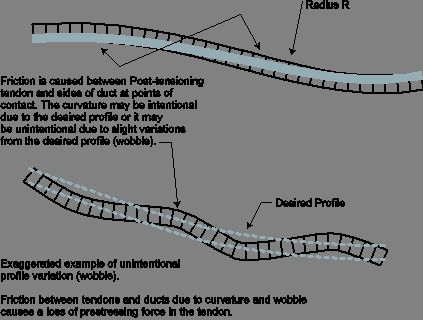 Figure 3.20 - Unintentional excess wobble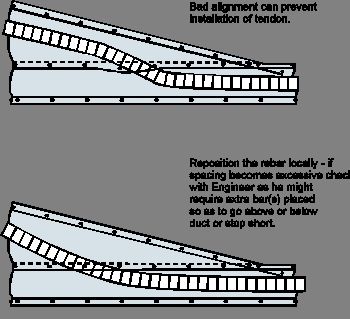 Figure 3.21 - Excess wobble due to rebar and duct conflict
Concrete pressure itself is readily sustained by circular ducts. "Flat oval" type plastic ducts are stiffened by corrugated ribs to prevent crushing from the static or dynamic pressure of wet concrete. Placing a flat oval duct vertically in a web has resulted in local deformation of the duct wall from concrete placement and reinforcement, causing difficulties with installing tendons and local spalling (Figure 3.22). It is recommended that circular ducts be used in webs and that sufficient space be provided for concrete to flow between ducts.
Figure 3.22 - Duct size in post-tensioned girders
3.4.7.2 Movement of Concrete
Discharge and placement of concrete can easily displace improperly secured ducts. Ducts should be properly secured and caution exercised when placing concrete. Figure 3.23 shows a case where concrete was placed down the webs and allowed to flow across the bottom slab of a segment where ducts were not well tied. The concrete displaced the ducts sideways and lead to significant difficulties with tendon installation. More duct supports, in this case between the top and bottom rebar in the bottom slab, and a change to the sequence of discharge and placement will solve this problem.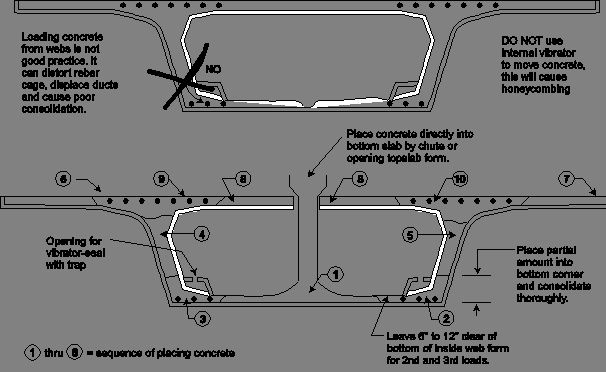 Figure 3.23 - Placing concrete in box segments
3.4.7.3 Vibration of Concrete
It is common practice to use form vibrators for concrete consolidation for many precast components such as piles and I-girders. External form vibrators may be used on casting cells for precast segments. However for most cast-in-place, and some precast, construction internal vibrators are usually needed.
Vibrators can displace ducts when they are not properly secured. Also, over aggressive or improper use of internal vibrators may lead to local duct deformation or damage. Care must be exercised. Place concrete in relatively small lifts of only two to three feet and allow internal vibrators to only penetrate sufficient to consolidate the lifts. Use care not to get a vibrator permanently lodged in the rebar cage (Figure 3.24)!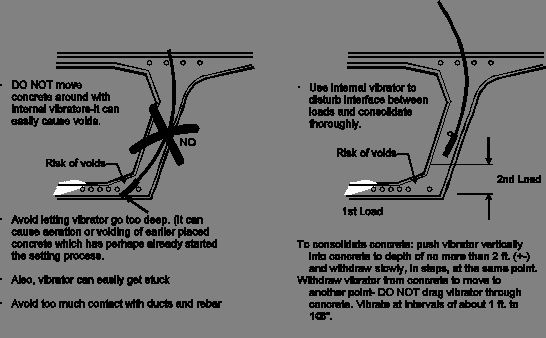 Figure 3.24 - Use of internal vibrators for consolidation of concrete
3.4.8 Protection of Ducts after Concrete Placement
To prevent unnecessary and unwanted contamination of ducts in the period from casting to installing tendons, it is strongly recommended that suitable protection measures be implemented. For example, cover or temporarily plug open ends of ducts or install temporary caps over anchors to prevent water and vermin entering them. Drain holes in the bottom of ducts should be left open with grout pipes pointing downward to freely drain any rain water or condensation. Grout vents at high points and anchors should be temporarily closed. Areas of faces of components such as precast segments with multiple duct openings may be covered with suitable heavy duty plastic sheet. All temporary measures should be periodically checked, particularly if work is partially finished or components are in storage for extended periods.
Relatively simple precautions are worthwhile compared to the inconvenience and potential costs of repairs as a consequence of blocked ducts. Also, it is far more preferable to keep water out of ducts than to have to remove it prior to grouting. Excess water dilutes grout and can lead to bleed and grout voids which, in turn, may facilitate corrosion. Filling grout voids after the grout has set, is difficult and may require special vacuum grouting - which is costly. A little prevention is worth far more than the cure!
3.5 Tendon Installation
3.5.1 Tendon Types
Main longitudinal, internal or external tendons set to a curved or draped profile are usually made up of multiple 12 or 15mm (0.5 or 0.6 in) diameter, seven-wire strands. The number of strands per tendon depends upon the range of anchor and wedge plate hardware available for that system.
Similar strands are used for transverse tendons in the deck slabs of precast or cast-in-place segments - but only three or four strands are laid side-by-side in a flattened oval duct draped to a very shallow profile. Occasionally, straight bar tendons may be used transversely.
Post-tensioning bars are most often used for temporary applications; erection of precast segments, securing erection equipment such as gantries and form travelers. Bars are more expensive than strands for a given post-tensioning force, primarily because of the cost of the anchor plates, nuts and couplers. Re-use is appropriate and economical for temporary work, providing that the stress does not exceed more than about 50% GUTS and the number of re-uses is limited normally to about ten; or as otherwise recommended by the manufacturer. For installation, post-tensioning bars are usually placed through straight ducts of sufficient diameter to provide adequate tolerance for construction (2.3.1.2).
3.5.2 Proving of Internal Post-Tensioning Ducts
Prior to installing internal tendons, it is recommended that ducts be proven to be clear of damage or obstructions by passing a suitable sized torpedo through the ducts. The torpedo should have the same cross sectional shape as the duct but 6mm (¼in) smaller all around than the clear, inside dimensions of the duct and should have rounded ends. For straight ducts the torpedo should be about 0.6M (2ft) long. For sharply curved ducts the length should be such that when both ends touch the outermost wall the torpedo is at least 6mm (¼in) clear of the inside wall; but it need not be longer than 0.6M (2ft). A duct should be satisfactory if the torpedo can be pulled easily through by hand without excessive effort or mechanical assistance.
For guidance, it is recommended that this test be performed on each individual tendon in a precast girder or similar component before it is released from the precast yard. For all cast-in-place construction with internal tendons, this test would be done on site. For internal tendons in precast segments, this test would be done on site after erection. Proving ducts with a torpedo is recommended for all internal longitudinal tendons over approximately 15M (50 feet) long and may be used, as necessary, for shorter tendons or as otherwise required by specific project documents. This check is not necessary for transverse tendons in slabs of precast segments when tendons are installed in the casting yard. It is not necessary for the short lengths of internal longitudinal tendons in precast segments while in storage.
3.5.3 Installation Methods
Post-tensioning strands may be pushed or pulled through ducts to make up a tendon. Pushing should be done with care using a protective plastic cap provided by the PT system supplier so that it does not get caught or damage the duct. Pushing single strands into a duct already containing many strands may become difficult as the duct is filled with more strands.
Sometimes it may be easier to pull the entire bundle through together using a special steel wire sock or other device securely attached to the end of the bundle (Figure 3.25). Welding strands together with a pulling eye is not recommended because the heat of welding alters the steel properties and reduces its strength even when a few feet are wasted.
For transverse post-tensioning in deck slabs, sometimes a Contractor may wish to place strands in ducts before concreting to provide extra rigidity. If this is done, the transverse strands should be checked to see that they can move in the ducts after casting in order to ensure that they are indeed free before they are stressed.
In any event, if strands are placed in ducts before casting concrete, the time for completion of stressing and grouting commences from the moment the tendons are placed in the duct.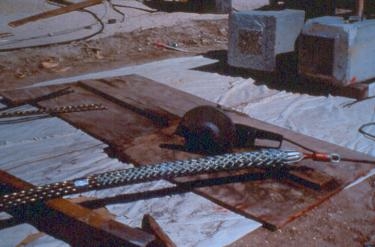 Figure 3.25 - Steel wire sock for installing multi-strand tendon
3.5.4 Aggressive Environments
For aggressive environments, when ducts may be contaminated with chlorides, they may require flushing before installing tendons. Only clean water should be used for flushing. The ducts should be well drained. All water should be removed before grouting. If necessary, flushing water should be blown out of the ducts before installing tendons, using dry, oil-free compressed air.
3.5.5 Time to Grouting and Temporary Tendon Protection
The time between the first installation of the prestressing steel in the duct and the completion of the stressing and grouting operations should not exceed the recommendations of the AASHTO LRFD Construction Specifications.
Any light surface corrosion forming during this period of time should not be sufficient to reject the prestressing steel. However, unless approved by the Engineer, failure to grout tendons within the time limit might be sufficient reason to stop work until the concerns are resolved.
The use of water soluble oil to reduce friction for installation and stressing or for temporary corrosion protection of an installed tendon is not recommended as it has been shown to reduce bond. Furthermore, it can never be satisfactorily removed from the strands and ducts and any residual water in the ducts spoils the grout, leading to excessive bleed, grout voids and possible corrosion.
Ends of tendons should be protected by coverings until approval for cutting off the stressed strand tails after satisfactory stressing has been obtained from the CEI.
3.6 Jacks and Other Stressing Equipment
3.6.1 Types
3.6.1.1 Mono-Strand Jacks
Jacks for stressing single (mono) strands generally have two cylinders, one each side the strand, with a wedge device for gripping and pulling the strand (Figure 3.26).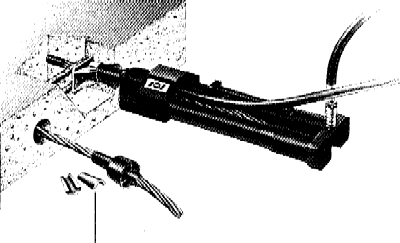 Figure 3.26 - Mono-Strand Jacks (Courtesy VSL Corporation)
Mono-strand tendons are often used in buildings, where each tendon is a single strand in its own duct. In bridges, mono strand jacks are normally used to stress transverse tendons, usually comprising 3 or 4 strands, in deck slabs or similar applications. Also, mono-strands are often used for repair or rehabilitation.
Occasionally, longitudinal multi-strand tendons may be stressed one strand at a time, although this is usually only practical where each strand is clearly identifiable at each end and there is no risk of trapping an underlying strand in the process.
3.6.1.2 Multi-Strand Jacks
Multi-strand post-tensioning tendons are usually stressed as an entire group, using very large custom made jacks. This ensures that all strands are tensioned together and avoids the risk of trapping an individual strand. Stressing jacks are generally of the center-hole type - i.e. tendons pass through a hole in the middle and are attached at the rear of the jack (Figure 3.27).
Prestressing jacks must be very accurate - which is difficult to achieve. Stressing jacks have more wearing surface and packing than a conventional jack of the same capacity. This, and the necessity of a long jack stroke, increases the potential for variations in the accuracy of the applied force. Other factors that affect the accuracy and efficiency of stressing jacks are: use of dirty oil, exposure of the system to dust or grit, eccentric loading, type of packing, ram position, oil temperature, hydraulic valves, ram and packing maintenance, and readout equipment.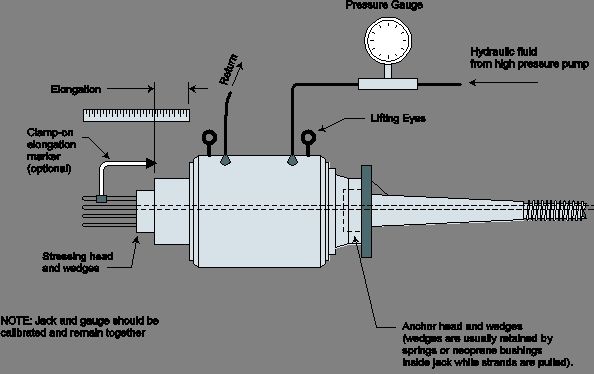 Figure 3.27 - Typical multi-strand, center hole, stressing jack
Another effect is hysteresis. Hysteresis is an energy loss due to a hydraulic pressure change inside the jack, causing inaccurate load values when the ram pressure is static or decreasing. An increase of hydraulic pressure also causes an energy loss, but this loss is taken care of by calibrating the jack and pressure gauge with a load cell during this increase of pressure.
The jacking system should be fitted with a pressure gauge which registers the pressure of the hydraulic jacking fluid. The pressure gauge and jack must be calibrated together and remain together as a unit throughout all stressing operations. Pressure gauges and jacks should not be interchanged. If they are, then the new system must be recalibrated before use in production stressing.
Pumps for hydraulic fluid delivery must be kept in good working order. Breakdowns in the middle of the stressing operation are undesirable.
3.6.1.3 Bar Jacks
Bar jacks have a central hole through which the bar passes and is secured by a nut at the rear of the jack (Figure 3.28). Most jacks have an enlarged nose to accommodate a bar-coupler.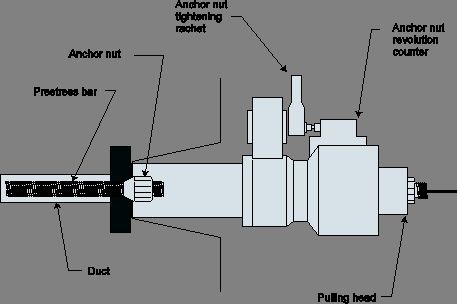 Figure 3.28 - Prestressing Bar Jack
Also, bar jacks have a hand or mechanical ratchet to rotate and tighten the anchor nut against the anchor plate as the bar elongates under load. With care, by tightening the anchor nut, anchor set or seating loss can be minimized or eliminated.
3.6.2 Calibration
Jacks should be calibrated every six months as a minimum.
3.6.2.1 Jack and Gauge
Calibration is most important. This is a process where the load delivered by the jack to a tendon is measured by a precise load cell or other equipment. The readings of the jack's pressure gauge are noted against the readings of the load cell through the entire jacking range to create a chart of pressure gauge reading versus actual load recorded by the load cell. The chart only applies to this particular jack and gauge combination - it does not apply to any other.
When used for stressing, the actual force in the tendon is easily found from the pressure gauge and calibration chart. In general stressing jacks are about ninety-five percent efficient; but actual efficiency will vary depending on the age and condition of the jack. Any calibration chart which shows jacking forces much greater than ninety-five percent of pressure multiplied by piston area should be questioned.
With use, a jack and gauge system can drift out of calibration. So, on large projects, a calibration load cell is normally kept on site and the jack and gauge are periodically checked. On small projects, the jack and gauge system should be calibrated immediately prior to use. This is often done by the supplier of the system or by a local, approved laboratory.
Figure 3.29 - Jack Calibration
Figure 3.29 shows the set-up for jack calibration. In addition to the normal set-up for stressing, two instruments are added: the load cell between the jack and the anchorage and a master gauge attached to the pressure gauge to be calibrated. The load cell is normally placed in front of the jack, as shown. The load cell allows an accurate readout of the force applied to the prestressing tendon. Load cells are laboratory instruments which, in turn, are calibrated with a "National Bureau of Standards" load cell.
3.6.2.2 Master Gauge
The master gauge measures hydraulic pressures accurately. The load cell operates on the principle that changing pressure results in a corresponding change in electrical resistance. The readouts are made with a so-called Transducer Strain Indicator.
Gauge readings should not be taken while the ram is retracting or in a static condition as hysteresis will likely result in erroneous values. The calibration curves and master gauge readings are only valid when the ram is extending.
If there is any indication of damage to the gauge, the stressing system should be checked with the master gauge. For this reason, the master gauge should be kept locked away in a safe place so that it is always in good working order. If there is more than 2% difference between the master gauge and the calibration chart, the jack and gauge should be recalibrated. Usually the stressing Contractor has the jacks calibrated with the master gauge and at least one other gauge (B) as a back-up.
3.6.2.3 Calibration Curve
A calibration curve relates the pressure recorded by the jack's own gauge to the actual force delivered by the jack (Figure 3.30). The curve is established by the above calibration process. It can be found for the jack's gauge and the master gauge. The jack and gauge must remain together as a unit at all times while in use in order to avoid mix-ups and incorrect results. Periodically during use, the jack and gauge should be checked by inserting the master gauge. Significant variation from the calibration curve would be reason to examine the jack system.
Figure 3.30 - Calibration Chart for Pressure Gauge and Jack Force
3.6.2.4 Jack Repair
If a jack needs repair, then the repaired jack and gauge should be re-calibrated. (Repair to pressure hoses alone would not be reason for recalibration.)
3.7 Jacking Methods
3.7.1 Single (Mono) Strand Stressing
Single strand stressing using a monostrand jack is normal practice for transverse tendons in deck slabs (Appendix C) where each strand lies side by side in a flat-oval duct where it cannot interfere with or trap another strand. Similar applications might include relatively short longitudinal strand tendons in precast planks or solid or voided slabs.
Single strand stressing can be used on multi-strand longitudinal tendons only if they are straight or curve only in one direction so that the strands on the inside of the curve can be stressed before those on the outside to avoid trapping. For this reason, single strand stressing is not suitable for multi-strand tendons of reverse curvature.
When single strand stressing is used for a small section girder, allowance should be made for the elastic shortening loss induced in the earlier stressed strands by the stressing of subsequent ones. This should be taken into account in the design or construction engineering of the component.
Mono-strand stressing techniques are available for greased and sheathed strands for cable-stays and similar, external tendon, applications for repair or rehabilitation.
The sequence in which tendons are stressed and the ends from which they are stressed should be clearly shown on the Contract Plans or approved Shop Drawings, and must be followed.
3.7.1.1 Single Strand, Single End and Alternate End Stressing
When single mono strand stressing involves short tendons, it is usually only necessary to stress from one end because friction loss is small (although care is needed to make sure wedge set loss is not excessive on a short tendon).
In order to maintain relatively even dispersal of post-tensioning, transverse tendons in deck slabs should be stressed from alternate ends - i.e. stress all the strands of one tendon from one side of the bridge and switch to the opposite side for the next tendon - and so on. This may be referred to as "Alternate End Stressing". It should only be necessary in special cases (as determined by the Designer) to stress the strands of one tendon from alternating ends.
3.7.1.2 Single Strand, Two End Stressing
Two end stressing means stressing the same strand from both ends. This may be done sequentially, from one end at a time or simultaneously using two jacks. However, stressing from both ends would normally only be needed for long tendons where friction loss is significant. Stressing from the second end should not be done if the calculated elongation is less that the length of the wedge grip. Re-gripping in a portion of the old grip length should be avoided.
3.7.2. Multi-Strand
Multi-strand tendons are the most frequent choice for main longitudinal tendons in bridges. All the strands of one tendon are tensioned together using a multi-strand jack. The sequence in which tendons are stressed and the ends from which they are stressed should be clearly shown on the Contract Plans or approved Shop Drawings and must be followed.
3.7.2.1 Multi-Strand, Single End and Alternate End Stressing
When a multi-strand tendon is stressed from one end it is often referred to as "single or one end stressing" to distinguish it from tendons stressed from both ends. However, with a number of similar and often symmetrical tendons in a superstructure, that need only be stressed from one end, it is desirable to keep the overall post-tensioning effect as even as possible by stressing similar tendons from alternate ends of the structure. When this is done it is often referred to as "alternate end stressing" and it means that tendons are stressed from one end only, but from opposite, alternate, ends of the bridge.
The location of the jack is switched from one end of the structure to the other in such a way that an equal number of tendons are stressed at each end (Figure 3.31). If stressing starts with T1 on the east side of the structure, tendons T2 and T3 are stressed from the west side and T4 again from the east side.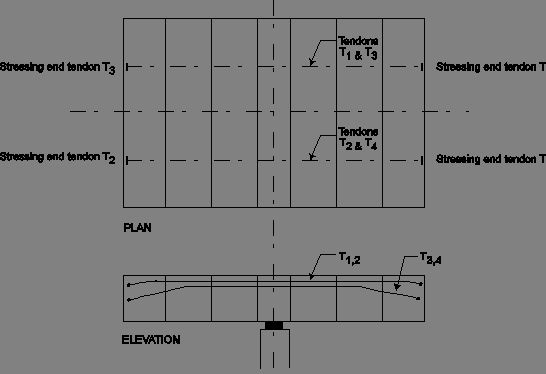 Figure 3.31 - Alternate end stressing
Alternate end stressing results in a more or less even distribution over the section. Since the tendons are stressed from one end only the forces at the live ends will be greater than the forces at the dead ends. Each individual tendon causes a non-symmetrical stress distribution.
By alternating the stressing ends the overall effect is more or less symmetrical. Since the design of the structure is usually based on a relatively even distribution per the alternate end stressing sequence, it is very important to adhere to the correct, specified sequence.
3.7.2.2 Multi-Strand, Two-End Stressing
When the tendons are very long, losses over the length of the tendon due to friction and wobble become large. Stressing the tendon from the second end results in a higher force in the tendon than if only stressed from one end. Also, for symmetrical tendons two-end stressing becomes effective when the effect of anchor set at the jacking end affects less than half of the tendon (Figure 3.32). Stressing from the second end should not be done if the calculated elongation is less that the length of the wedge grip. Re-gripping in a portion of the old grip length should be avoided.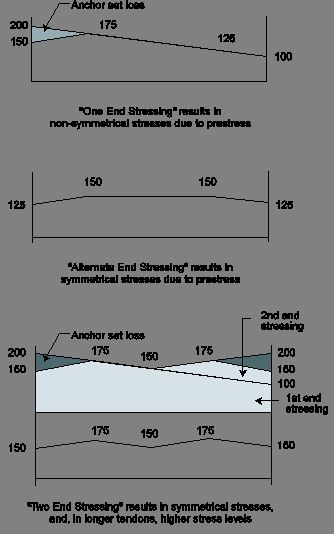 Figure 3.32 - Stresses along tendon for different modes of stressing
There are two ways of stressing the tendon. The first and most common method is to start stressing from one end. The elongation will be rather large and the tendon will have to be anchored and probably re-gripped several times. The number of re-grips will depend on the stroke of the jack. Elongations are roughly in the 178 to 203mm (7 to 8-in) range for every 30M (100 ft) of tendon. Using a jack with a 250mm (10-in) stroke and tendon approximately 150M (500ft) long tendon, 4 re-grips will be needed.
When the tendon has been stressed to the final force at the first end the wedges are seated and the stressing operation moves to the other end. At this second end the tendon will already have a considerable force (there is no slack to be pulled out of the tendon and elongation measurements can start immediately). Elongations at this end will be relatively small and re-gripping of the jack is not normally necessary. The total elongation for the tendon will be the summation of the elongations measured at each end. Re-gripping is a source of error in the measurement of elongations. Care should be taken that no reference marks are lost during the re-gripping.
The second method involves a simultaneous jacking operation at both ends using two jacks. Each jack pulls approximately half of the total elongation. There is no reason why these elongations should be exactly the same. The advantage for the Contractor should be that the stressing operation and movement of equipment from one location to another can proceed somewhat faster since this method involved less individual re-gripping. Two sets of equipment are required and some reliable means of communication to synchronize operations.
3.7.3 Bar Tendons
Bar tendons have either a coarse or fine thread and are anchored by a nut bearing against an anchor plate. Bars are stressed individually using a special jack (Figure 3.28).
Curved bar tendons are rarely used nowadays; the vast majority of bar tendons are straight. With good clearance around the bars, there is no friction loss. Also, when the nut is gradually tightened using the ratchet on the jack as load increases, there is little or no seating loss. Consequently, the force is the same throughout and there is no need to stress from both or alternating ends.
The sequence in which PT bars are stressed should be clearly shown on the Contract Plans or approved Shop Drawings. For example, many PT bars are used for erecting and closing epoxy joints in precast segmental construction. It is important to maintain as uniform pressure as possible in order to evenly compress the soft epoxy. This is achieved by stressing the bars in a certain specified sequence. Similar situations apply to vertical PT bars in pier columns. Consequently, the sequence should be followed.
3.8 Stressing Operations
3.8.1 Personnel and Safety
Prestressing tendons are the backbone of the structure. When properly stressed, they will prevent the structure from cracking and deteriorating. But,a badly stressed tendon looks exactly like a properly stressed tendon. Therefore, the only way to ensure proper stressing is to have an experienced, trained crew (Appendix B) and an inspector present during all stressing operations.
Stressing should be considered a basically unsafe operation. People operating the equipment and taking measurements should never stand behind a live jack. This is also true at the dead-end of the strand: never stand behind the anchor of a tendon being stressed. Although it does not happen often, tendons do break, wedges do let go and large forces are released in a split second, making jacks jump and propelling tendons out of an anchorage. In order to make everybody on the project aware of the fact that there is a tendon being stressed, a warning system should be in place such as flashing lights or red flags.
3.8.2 Jacking Force
The force required in each tendon is determined by the Designer and is given on the approved shop drawings or job stressing manual. Also, the corresponding elongations are pre-determined taking into account all losses due to curvature friction, wobble, wedge set, and friction within the anchor and jack, as necessary. For post-tensioning, measurement of elongations serves as a check of the anticipated jacking force primarily given by the gauge pressure and calibration chart.
The stressing operation should constantly be monitored by an inspector. There are two basic pieces of information that need to be recorded: tendon elongations and gauge pressures. Both will give an indication whether the tendon is stressed to the force required. The gauge pressure is a direct measurement of the force at the jack and the elongation will give an indication how the remainder of the tendon is being stressed. Normally the tendon will be stressed to a predetermined gauge pressure, representing a certain force in the tendon at the stressing end. The elongation measured at this point is compared to the theoretically determined elongation.
3.8.3 Measuring Elongations on Strand Tendons
When stressing a tendon a certain portion of jack extension will be needed to remove the slack. This gives a false initial elongation that should not be part of the real elongation measurements. For this reason, the first step is to stress the tendon an initial force of approximately 20% of the final force to remove the slack. From this point up to 100% of the required load, the extension of the jack will cause pure elongations of the tendon. At the end of the operation, a correction can be made for the unmeasured portion of the elongation by straight extrapolation.
The accuracy of the determination of the elongation obtained during the first step, i.e. tensioning up to 20% of the jacking force, can sometimes be improved by recording elongations at intermediate gauge readings of 40%, 60% and 80% and plotting results on a graph. Ideally, the graph should be a straight line.
Intermediate elongations must be recorded if a long tendon has to be stressed using two or more pulls on the jack when the required elongation is greater then the available stroke.
For short, mono or multi-strand tendons it may suffice to check the elongation for the stressing range between 20% and 100% load against the calculated value for this range. Short tendons are those generally less than about 30M (100 feet) long where the expected elongation is only about 0.2M (8 inches) or less and is easily made with a single, steady and continuous stroke of the jack. Short tendons include, for example, transverse tendons in deck slabs.
Elongation may be measured by the extension of the cylinder beyond the barrel of the jack. However, this is acceptable only if the wedge pull-in of the internal wedges that grip the strand inside the jack is reliably known; it is deducted from the measured extension on the cylinder to give the actual strand elongation. This method is often preferred for convenience.
Alternatively, measurement of elongations may be made to a point directly by adding an attachment to one of the strand tails and measuring between the tip of the attachment and the (immovable) barrel of the jack. In fact, the difference between this measurement and that solely of the cylinder extension is the pull-in of the internal jack wedges.
Alternatively, elongation can be measured directly from the face of the concrete to a mark on the strand tails. At least two randomly selected strands are marked. The mark can be a scribed mark or saw cut on the strand tail beyond the back of the jack or it can be made with tape or spray paint and pencil. The mark is placed after 20% of the jacking force has been applied. The distance of the mark to a fixed point on the concrete face or on the immovable barrel of the jack is recorded. As the jack is pumped out, this distance increases. Elongation measurements are made only on one of the marked strands. The other marked strand is there just in case the strand being measured should slip.
With any multi-strand stressing operation, it is good practice to mark several strand tails (at 20% load) at the same location using spray paint and pencil or tape to give a visible assurance that the strands are elongating by the same amount; any slip is easily noticed.
When stressing reaches full load, providing that the elongation is within the required tolerance of that anticipated, the jack is released and the tendon is anchored off by the permanent wedges. Wedge pull-in must be recorded and deducted from the elongation at full load to give the final actual elongation at this end of the tendon.
For small cross section members, such as I-girders, proper account should be taken to compensate for elastic shortening of the concrete when measuring elongations.
3.8.4 Measuring Elongations on PT Bars
Temporary bar tendons for erection purposes are usually short (i.e. from about 3 to 6M (10 to 20 ft) long). Elongations are small and are not usually measured for temporary applications; bars are jacked to load given by jacks pressure gauge.
For permanent PT bars, elongations should be checked as secondary verification of force. The elongation should be measured from a fixed point on the face of the concrete to a mark on the bar beyond the end of the jack. The slack, as in couplers, should be removed by applying 20% of the load. The elongation for the range between 20% and 100% required load should be checked against that calculated for this range.
For small cross section members, such as I-girders, proper account should be taken to compensate for elastic shortening of the concrete when measuring elongations.
3.8.5 Field Variables
3.8.5.1 Friction
Friction between the strands and ducts and within anchors and jacks reduces the effective force in the tendon. The main sources of friction are:
Friction between the tendon and duct due to curvature of the tendon profile("mq").
Friction between the tendon and duct due to unanticipated wobble ("kl").
Friction in the anchorage as strands flare to pass through the wedge-plate (%).
Friction within the jack itself. (This may be given as a percentage (%) by the post-tensioning supplier or it may be eliminated by use of a calibration curve of gauge pressure verses delivered jacking force).
An allowance for each effect is made by the Designer or the Contractor's Engineer and the required jacking force and corresponding tendon elongation is given on the plans, shop drawings or stressing manual.
3.8.5.2 Anchor Set or Wedge Set
When a strand tendon has been jacked to the required force and the jack is released, the wedges are drawn into the wedge plate until they bite and secure the strand. Typically the amount of wedge set or "draw-in" is about 10mm (3/8in) (Figure 3.33).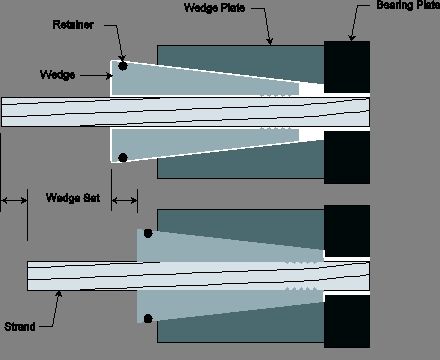 Figure 3.33 - Anchor Set or Wedge Set
Some jacks have devices from power-seating the wedges prior to releasing the force. This can offset most of the wedge seating loss. In addition to the wedge seating, there is an elastic deformation of the wedge plate - it is relatively small compared to the wedge seating. Together, these effects may be referred to as "anchor set" or "wedge set". It represents the amount that a point on the strand just inside the anchor moves as load transfers from the jack to the strands.
Wedge set is measured in the field using the same reference marks on the strands as used for elongations. It is the difference between the elongation before and after release of the jack.
3.8.5.3 Strand Slip
Occasionally during stressing strands may slip at the wedges. This might happen if the size of the strands and wedges are at opposite ends of their manufactured tolerance range.
When stressing the crew and inspector should make sure that no strands slip. All strands in the tendon should be marked at both ends so that a slipped strand will show up immediately. One way to do this is to cut the strands off evenly at both ends after the jack has been attached and pressurized. The cut should be made at some distance from a dead end wedge plate and beyond the rear of the stressing jack(s) leaving a sufficient length projecting in case it is necessary to re-grip and re-stress. Another method is to mark all strands with spray paint. A slipped strand will show up promptly by lagging behind the other strands. (It is not possible, nor is it necessary except in very unusual circumstances, to identify which strand is which at both ends of the tendon).
3.8.5.4 Re-Gripping of Strand by Wedges
In multi-stage stressing of a long tendon that requires re-gripping, it is important to makes sure that intermediate re-gripping does not take place at a location that has already been gripped by wedges - or else slip or breakage could occur.
3.8.6 Final Force
The final force in the tendon is the jacking force minus all effects due to various losses described above. If after release of the jack, there is some doubt about the adequacy of the force a "lift-off" test may be necessary (see 3.8.8).
In the field, during stressing operations, it is only possible to monitor the jacking force given by the gauge pressure and calibration chart and to measure the elongation and wedge seating. These are the essential observations needed to ensure that the tendon has the required final force. They should be properly recorded in a stressing report. An example of a Stressing Report is given in Tables 3.3 (a) and (b).
Tendon force is primarily determined by the jack gauge pressure and calibration chart. Measured elongations are a secondary check of tendon force and should agree within 5% of calculated values for tendons over 15M (50 feet) long or 7% for tendons less than this (AASHTO LRFD Construction Specifications 10.10.1.4). Some project specifications may have different percentages for agreement for both long and short tendons.
3.8.7 Strand End Cut-Off
The ends of the strands should only be cut off if the jacking forces and elongations are satisfactory. If there is any doubt that might require verification by a lift-off test or additional jacking, strands should not be cut. Preferably, strands should be trimmed as soon as possible, so that permanent grout caps can be placed over the wedge plate to seal the tendon until grouting.
Strands should be cut off at the wedges leaving approximately 12 to 20mm (½" to ¾") of strand projecting but no greater than that which can be accommodated by any permanent non-metallic grout cap supplied for installation with the post-tensioning system. Strands should be cut only with an abrasive cutting tool. Under no circumstances should flame cutting be used as the heat can soften the strands and wedges and lead to loss of strands. Recently, plasma cutters have become available; their use should only be with strict inspection and approval of the Engineer.
After strand tails have been cut-off, the ends of the tendon should be temporarily protected in an approved manner until the tendon has been grouted. Preferably, a non-metallic (plastic) grout cap should be placed over the strands and wedges.
3.8.8 Lift-Off
Occasionally, after release of the jacking force, if there is some doubt of the adequacy of the force a "lift-off" test may be necessary. The jack remains in place or is re-installed and gradually taken up to load. The strands are marked and the position of the mark from the face of the anchor plate is measured very carefully. If this mark is beyond the end of the jack, then as the jack load increases, it will move only by the amount of elongation on that part of the strand passing though the jack. Since this is very little amount it may be immeasurable.
When the load reaches and passes that in the tendon, the tendon itself begins to elongate over its full length (less the effects of friction). This elongation should be noticeable by measuring the marks. The gauge should begin to register a higher pressure than that at which the tendon was first released. Also at this point, the wedges should begin to move from the wedge plate. This is the point of "lift-off" and should verify the force in the tendon at the jack.
A caution: if the load is significantly low then jacking to the required load may proceed providing that the previous point of the wedge grips is elongated clear past the wedges so they bite onto fresh strand. If not, there is a risk that the wedges may not properly re-grip. Hence, lift-off tests should be performed only when necessary and not as a matter of routine.
3.9 Stressing Records
All information relating to the stressing of a tendon should be recorded. The stressing reports are very important. They will be invaluable when problems occur during the stressing operation.
The following information should be included in the report:
Tendon identification e.g. tendon number, girder/web number, span/unit number.
Date and time when the tendon was stressed.
Information on the strand used to make the tendon - such as the coil pack and heat number for the strands.
The jack and gauge identification numbers.
The required elongation and jack force or gauge pressure.
The anchor set at the live end as well as at the dead end.
The stressing end(s) for the tendon.
The pressure gauge readings at which elongation measurements are made. Important are the initial and the final readings -intermediate readings should be carefully noted.
Any comments about events that occurred during stressing operation - such as wire breakages, slipped strands, popping noises etc.
The name of the inspector and the stressing crew foreman.
A sample stressing report is shown in Tables 3.3 (a) and (b) (at the end of this Chapter) for Example 1, the four-span I girder of Figures 3.2 and 3.3. For clarity, this is shown in customary U.S. units at this time. The format and type of information on a report may be adapted for a project, as necessary.
3.10 Stressing Problems and Solutions
During stressing operations several things can go wrong: the following addresses some of the more common problems and their solutions.
3.10.1 Strand Slip
Slip of a strand can occur during the stressing operation and while anchoring the tendon. The reason is normally a defective wedge. This may be caused by a rusty surface on the outside of the wedge or the inside of the chuck, preventing the wedge from having a firm grip on the strand. Worn out teeth on the wedges inside the jack can also be a reason. In most cases, slip can be prevented by using properly maintained chucks and wedges.
Slip during stressing should reveal itself at marks made on the strand tails for this purpose. If slip is significant, (say, more than about an inch) it should be taken into account when stressing the remainder of the tendon. The slipped strands are under a lower stress. This will result in a lower overall force in the tendon for the required elongation. However, in order not to overstress other strands that do not slip, the target gauge pressure should be reduced in proportion to the number of slipped strands and amount of slip on each.
For example, if one strand out of 12 slips completely, the target gauge pressure should be reduced by one twelfth while the tendon is stressed to the required original elongation.
For example, if there are 12 strands and the target elongation is 152mm (6in) and slip of 50mm (2 in) occurs on one strand and 75mm (3 in) on another, the target gauge pressure should be reduced by (2+3) / (6*12). (If this example actually occurred on site, then operations and equipment should be examined carefully and appropriate action taken to rectify the problem.)
In order to attain the required final force in a tendon with slipped strands, the slipped strands may be stressed individually to their final elongation and force level using a single (mono) strand jack after stressing the remainder. However, care should be taken because the slipped strands may be trapped and, although they probably can be stressed to the required strand force, it is unlikely that the elongation will be attained. The Engineer should be present when work on a tendon with slipped strands is in progress.
If slip occurs upon release of the jack after otherwise stressing the tendon to full load and elongation without mishap, then it can be corrected by stressing the individual slipped strand(s) back to the original elongation using a single (mono) strand jack. Again the Engineer should be present.
The stressing of individual strands needs to be done immediately and should not be postponed. There is always the risk that a zealous worker will cut off strand tails before it is carried out. If and when this happens, the whole tendon needs to be removed and replaced.
3.10.2 Wire Breaks
Sometimes a wire will break in a tendon. If only one or two wires break, it may be a situation that of relatively little concern. For instance, when one wire breaks only 1/7 th of a strand's capacity has been lost. On a multi-strand tendon this will be much smaller proportion. A wire break is normally easily recognized by a sharp popping noise. Very often wire breaks will be within the anchor flare cone, possibly at the back of the wedge plate. It may be possible to see these using a borescope or similar visual probe. Most specifications allow up to 2% of the wires to be broken. However, persistent wire breakage should be investigated and action taken to change procedures or equipment to avoid or significantly lessen the problem.
When breakage becomes excessive, it reaches a point where the required force in the tendon is out of tolerance. In such cases, individual strands or whole tendons need to be replaced.
The cause of wire breakage should always be determined. Some possible causes are: overstressing, poor strand, bad wedges, or high friction points in the duct. Overstressing and high friction points show up when the stressing records are carefully examined. Sometimes strands and wedges may simply be at opposite ends of their respective allowable size tolerance ranges and the problem can be easily fixed by using different pieces.
3.10.3 Elongation Problems
Not reaching the required elongation can have several causes. One of the main reasons is a less than perfect tendon alignment. Sudden kinks in the alignment will increase friction loss considerably and consequently reduce elongation.
3.10.3.1 Too small elongation at jacking end under full load
Too small elongation may occur due to a kink close to the stressing anchor; the jack may reach full load, but the elongation will be very small. When this happens, the required elongation may possibly be achieved by stressing the tendon from the other end. However, this will not be feasible if low elongation is due to duct misalignment over the whole length of the tendon.
3.10.3.2 Low elongation for whole tendon
When low elongation is due to duct misalignments occur over the whole length of the tendon, stressing from the other end may not be enough to attain elongation. Consideration may be given to lubricating the tendon with water soluble oil or with graphite powder. This can reduce friction and result in better elongations. After a tendon has been successfully stressed, water soluble oil should be thoroughly removed by flushing. Flushing water should be thoroughly drained and blown from the ducts. Graphite powder may remain in the duct and is, therefore, generally preferred by many Contractors.
3.10.3.3 Elongation greater than tolerance
An elongation can be more than expected. This may be because of less friction than anticipated or because of slip of strands and wedges that went unnoticed. The wedges should be examined at both ends. It is for this reason that marks should always be made on strand tails at both ends the tendon. If there is no wedge slip and tendons persistently give an elongation greater than expected, the stressing calculations should be examined and appropriate adjustments made.
3.10.3.4 Low stressing force
It would be very unusual to not to be able to stress a tendon to a required jacking force; more often a problem is revealed by lack of elongation, not force. If force cannot be attained, the system should be checked. The possibility of increasing the jacking force may be considered. However, it should be checked by calculations using a higher wobble and friction coefficient to make sure that the stress in the tendon after anchor set does not exceed allowable stresses.
3.10.3.5 Overall Tolerance on a Group of Tendons
If none of the above lead to a satisfactory solution, it is possible to consider a problematic tendon as part of a whole tendon group - for example, one tendon out of perhaps sixteen to twenty in a cantilever, or similar. A tolerance for the whole group should be given in specifications or project special provisions. If all other tendons have a good stressing record, one poorly stressed tendon ought not to influence the group tolerance too adversely.
To make up for a loss of force in one tendon a compensating increase in force in other tendons may be considered, if there is sufficient reserve holes in the wedge plates to accommodate additional strands. Alternatively, if the shortfall is significant, it may be necessary to introduce or install additional tendons through provisions made on the plans or shop drawings.
3.10.4 Breaking Wedges
Sometimes wedges break. This causes the loss of the whole strand. It falls under the category of slipped strands and should be treated as such. When a few wedges break on the same tendon, all wedges should be considered potentially defective. The whole batch of wedges should be examined and, if necessary, replaced.
Very often wedges show radical cracks in their visible ends after seating. Experience shows that this is usually a localized cracking of the annular lip containing the retainer ring. Providing the strand has not slipped and providing this type of crack does not extend into the barrel of the wedge, then it is not of any major concern.
Repeated slippage problems and large cracks in the gripping nose of wedges are cause for concern and should be remedied.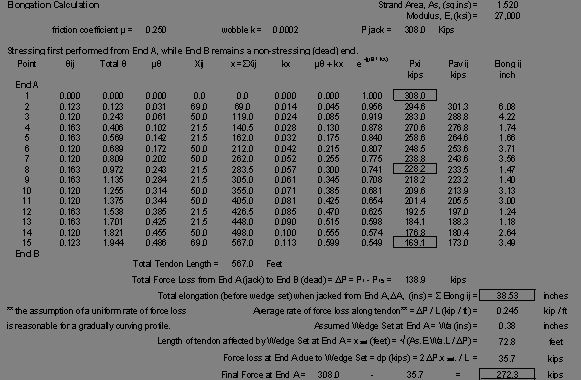 Table 3.1(a) Example 1: Elongation of Profiled Tendon in Four-Span Girder (Fig. 3.2)
Table 3.1(b) Example 1 continued: Elongation of Profiled Tendon in Four-Span Girder (Fig. 3.3)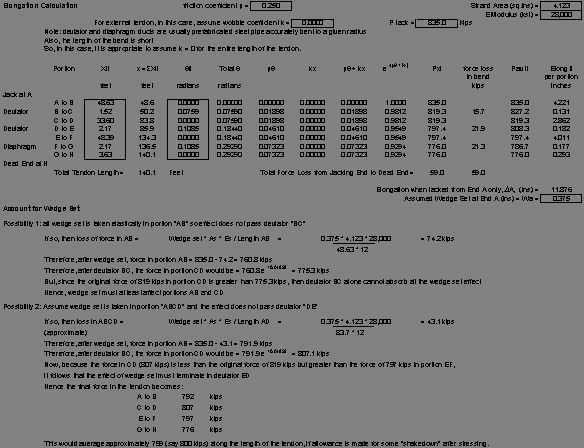 Table 3.2 Example 2: Elongation of External Deviated Tendon in End-Span (Fig. 3.4)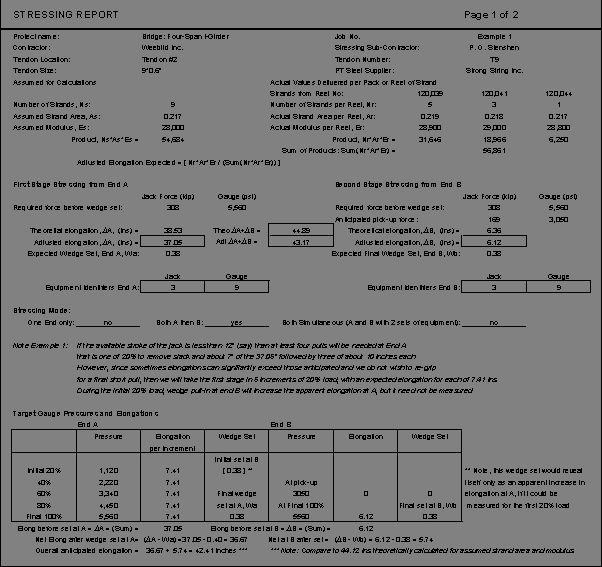 Table 3.3(a) Stressing Report - Example 1: Profiled Tendon in Four-Span Girder (Fig. 3.2 and 3.3)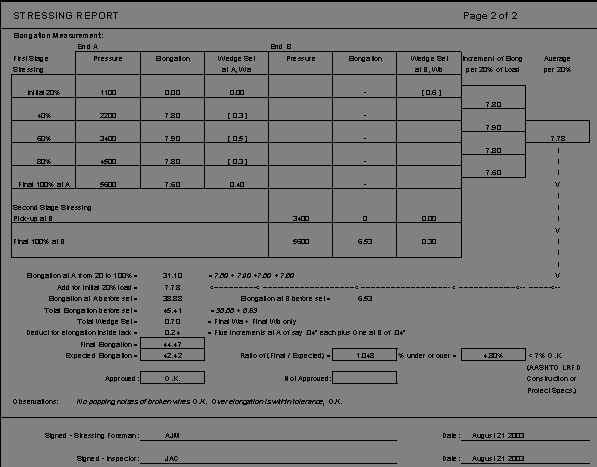 Table 3.3(b) Stressing Report - Example 1 continued: Profiled Tendon in Four-Span Girder (Figs 3.2 and 3.3)