Construction and Maintenance Fact Sheets
Ohio: A Statewide Commitment to Pavement Preservation
October 2001 FHWA-IF-02-002
Reflecting a Statewide commitment to pavement preservation, the Ohio Department of Transportation (DOT) issued new Pavement Preventive Maintenance Guidelines in 2001 and provided training on the guidelines to each of its Districts and Counties. The guidelines were assembled by an Ohio DOT team that included representatives from the Federal Highway Administration, Ohio Pavement Preservation Association, American Concrete Pavement Association, and Flexible Pavements of Ohio.
Preventive Maintenance Treatments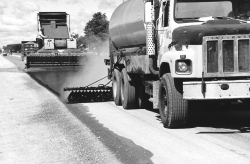 Showcased in the guidelines are the available pavement preventive maintenance treatments that have been approved for use by a current specification. The treatments include crack sealing, chip seals, micro-surfacing, concrete pavement restoration, thin hot-mix asphalt inlays and overlays, and drainage preservation. These treatments help to preserve the roadway system, retard future deterioration, extend the pavement service life, and maintain or improve the functional condition of the system without substantially increasing the structural capacity. For each treatment available, the guidelines discuss:
Description and Purpose
Pavement Condition Considerations
Traffic Constraints
Design Considerations
Seasonal Construction Limitations
Unit Cost for Estimating
Anticipated Performance and Service Life.
The reasons for performing the various treatments range from minimizing the intrusion of water into the pavement in the case of crack sealing to eliminating raveling, retarding oxidation, improving surface friction, and reducing water through chip seals.
The major benefits of preventive maintenance include increased customer satisfaction, improved pavement condition and ride quality, safer roads, and lower life-cycle costs. The benefits also include reduced congestion and more cost-effective use of funds.
Analysis Queries
In addition to the guidelines, distress condition logic was developed based on the Ohio DOT Pavement Condition Rating (PCR) method and used to create a series of General Query Language (GQL) analysis queries. These queries can be used as a tool to determine candidate pavement preventive maintenance projects that exist in each District or County. For each preventive maintenance technique, there is a list of "trigger values" that must be met for a pavement to be selected for treatment. A list of candidate projects can then be generated, which will aid Districts in determining their pavement preventive maintenance program. In general, a pavement is considered to be a candidate when its PCR rating is between 70 and 90.
Preventive Maintenance Advocacy Group
Ohio DOT's Office of Pavement Engineering has also formed a pavement preventive maintenance advocacy group. It has been charged with validating the recommendations of the guidance manual, as well as the GQL query recommendations, and establishing goals for each District. The goals will be based on the number of candidate pavements and the District's current state of PCR condition. These goals will be considered by the agency's funds management committee when determining pavement allocations in the next funding cycle. Once the goals are established, the DOT anticipates that there will be renewed interest by Districts in pavement preventive maintenance. It is expected that a second round of training on the guidance manual will be done at that time.
The new guidelines can be found on the Web at http://www.dot.state.oh.us/pavement/publications.htm. For more information, contact:
Aric Morse, Ohio DOT
Office of Pavement Engineering
1980 W. Broad St.
Columbus, OH 43223
Telephone: 614-995-5994
Fax: 614-995-5998
Email: aric.morse@dot.state.oh.us
or
Bob McQuiston, Pavement Management Engineer
FHWA Ohio Division Office
200 N. High St.
Room 328
Columbus, OH 43215
Telephone: 614-280-6848
Email: bob.mcquiston@fhwa.dot.gov
For further information on pavement preservation activities or other State highway agency programs, please contact Steve Mueller, System Preservation Engineer, at telephone: 202-366-1557; fax: 202-366-9981; email: steve.mueller@fhwa.dot.gov.
| | |
| --- | --- |
| Preventive Maintenance Concept | The Benefits of Preventive Maintenance |