3D Engineered Models
Webinar Series
A new series of seven webinars is being delivered under EDC-3 to assist the FHWA's transportation partners in adopting 3D Engineered Models: Schedule, Cost and Post-Construction. Over the course of webinars, participants will learn more about incorporating 4D schedule and 5D cost information into models; the collection and use of 3D digital as-built records including subsurface utilities; and, the uses of 3D digital data for roadway inventory and asset management purposes. In addition, one webinar is devoted to uses of 3D models in design, fabrication and construction of highway structures and another highlights the uses of 3D digital data for construction engineering and inspection.
Read more about 3D Engineered Models
Three-dimensional Engineered Models for construction (or just 3D models) are among a few select technologies being promoted by the FHWA Every Day Counts program. Our focus is on helping owner-agencies, designers, and construction contractors with little or no experience in 3D engineered models get started in implementing this technology. Read more about 3D Engineered Models
Every Day Counts

This is among the Every Day Counts (EDC) initiatives. Learn more about EDC
A Program Case Study in Geomatics Workflows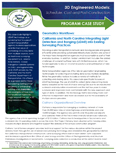 This Case Study (.pdf, 2 mb) highlights LiDAR technology as a surveying tool to support current transportation agency business applications and the true value of combining 3D survey data from multiple sources, such as traditional surveying equipment (i.e., robotic total stations, Global Navigation Satellite Systems or GNSS, photogrammetry, and LiDAR sensors) by the California and the North Carolina Departments of Transportation.
'How-to' Guidance

This Guide for Efficient Geospatial Data Acquisition using LiDAR Surveying (.pdf, 2.3 mb) explores how state transportation agencies (STA) are now implementing new, innovative processes and technology for managing roadway assets. This guide draws attention to the key issues that a STA must address for the optimization of data collection for use in an enterprise digital data solution. These include developing information requirements for data collection and products to be delivered for specific purposes and disciplines within the agency, and implementing the data collection program itself.
Web Based Training

FHWA's Office of Infrastructure Construction Management Team is offering a highly engaging Web-based training (WBT) on 3D Engineered Models for Construction, which is made up of four 120-minute modules. While all of the modules explore a new topic within 3D modeling, they are also designed with enough recurring content to serve as individual learning experiences.

Workshops

Selected State transportation agencies are hosting a 3D workshop highlighting: State of the practice - procedures and technology; Practical demonstrations highlighting beneficial uses of the technology; Construction quality assurance methods; Implementation strategies for success; Answers to attendees' questions on issues and implementation

Field Demonstrations

Oregon Department of Transportation's Geometronics Unit recently hosted a 2-day training event on 3D design, Automated Machine Guidance and related technologies. The program featured classroom presentations and field demonstrations. Find out more about the event at http://designtopaver.org/