Use of PMS Data for Performance Monitoring with Superpave as an Example
2. Introduction
2.1. General
Pavement management is a powerful tool for use by state DOTs, cities, counties and other transportation agencies. Pavements make up more than 60% of the assets and asset value of a transportation agency. A good pavement management system [Haas 78, Haas 94] is valuable at both the network and the project level and when properly applied, can be used for various engineering analyses. All 50 state DOTs have a functioning pavement management system although some are more robust than others [TRDF 94]. Approximately one third of the states have very strong pavement management systems. One-third have active network level pavement management. The final third are in various stages of implementing and using a simple PMS. There is also strong emphasis on the use of Pavement Management in the AASHTO Joint Task Force on Pavements.
Since the main use of pavement management in many state DOTs is applied at the network level for planning, programming and budget distributions, the more detailed use of the data for project applications and engineering evaluation is sometimes neglected. The purpose of this study and this report is: to determine the status of pavement management systems and databases, to emphasize the benefits of recording and systematically enhancing the PMS and related data with needed information, and in general upgrading the quality standards for data collection to fulfill burgeoning engineering objectives in state DOTs. It is simply good business to evaluate various pavement structures, materials and new concepts using these pavement management databases. To accomplish this it is necessary to collect, process, store, retrieve, and analyze the required data. In doing this, it is essential to maintain good data quality as well as good data collection standards, within states and across state DOTs. With proper focus this can be done at minimum cost.
This report concerns itself not with the day-to-day application of a PMS, but with the use of pavement management and related data for engineering applications, particularly with respect to the evaluation of new design concepts and new materials. There are many examples of how state DOTs have used pavement management data for engineering [Falls 94, Haas 78, Haas 94, Hudson 68a, Hudson 98].
Currently, active FHWA Demonstration Project 108 B outlines in some detail engineering analyses that have been performed by Washington State DOT, Texas DOT, Kansas DOT, Wisconsin DOT, and others. In addition, Arizona DOT has recently completed a significant study in which their 15 years of pavement management data were used to analyze the benefits of pavement management [Hudson 98, Hudson 99]. This study also evaluates various maintenance and rehabilitation techniques used in ADOT and determines their respective life cycle performance [Hudson 98].
Many different design concepts and new materials are considered and many are used by state DOTs every year. Field application of such concepts requires that pavement management data be obtained and used to evaluate the effectiveness of these new materials and systems. One such concept, Superpave, presents a unique opportunity to define relationships involving pavement management data and the opportunity to determine how pavement management databases can be enhanced to address new as well as specific existing applications. The new Superpave concept is being implemented in 20 or more state DOTs at present. [Cominsky 94, Kennedy 94, AASHTO 99a/b/c] This presents a unique opportunity to use pavement management and related data to make the evaluation of Superpave and future evaluations of new concepts in a professional cost-effective manner.
2.2. Objectives and Scope
The objective of this project is to examine how existing pavement management systems in various state DOTs can be used to evaluate the performance of new materials and to validate new design concepts. In particular, Superpave provides an ideal example and test case for examination. This study does not evaluate or validate Superpave per se, but examines what five states are doing and develops a consensus on what data is needed by a state DOT to adequately evaluate Superpave. The concepts can then be applied to any other new designs or materials concept in general. No evaluation or judgments are made, but the concepts and details are clearly illustrated.
The secondary objective of the project is to determine what common data and factors are present among the five state DOTs, which could be used for multi-state data analysis. A third objective is to determine what could be done to make data from several state DOTs more compatible to the point that a broader common analysis could be made for the benefit of all states and indeed for the nation.
The scope for this project, as established by the FHWA in 2000, reads:
"A good Pavement Management System (PMS) provides the performance data and feedback elements needed to define the life or performance of a pavement section. The better the quality of the data and the more sections available, the better the models will be. Performance of a material such as asphalt designed with Superpave has a large number of variables that make model studies difficult and unreliable when using single source data.

This project will evaluate the availability of pavement performance data from existing pavement management systems, propose methods for referencing specific locations in the database, and construct plots from existing Superpave data in the systems. A second part of the project is to describe the data elements needed for evaluating Superpave performance, identify missing elements in each of the databases, and encourage the addition of these elements to the pavement management system in each state."
After the completion of the first phase of this project in May 2001, the project was continued with a "Pathfinder" study; the scope for this continuation is as follows:
"Additional data elements for measuring pavement performance have been identified by TRDI and recommended to be linked with the pavement management database. Based on this recommendation, TRDI will return to Maryland and take information that is currently in flat files or any other inappropriate form and put it in electronic format. TRDI will then electronically link the databases (i.e. materials, PMS, construction, and quality control) in such a way that engineers can readily access the data from all the databases for the purpose of analyzing pavement performance at the network level for long enough periods of time so it can cover a complete life cycle.

Specifically, TRDI will link the databases (materials, construction, QC and pavement management) as an example to show the states how this should be done. Only one state, Maryland, will be revisited and a report written to document the process".
2.3. Project Team, Methodology, Activities and Time Frame.
To undertake this effort a Project Team was assembled at the request of the Federal Highway Administration that provided and brought expertise in pavement management, in Superpave and asphaltic materials development, and in state and AASHTO interaction. These are the three components critical to the success of the project. The members of this project team and authors of this report were:
Dr. W. Ronald Hudson, TRDI, Consultant, Project Leader;
Dr. Charles Dougan, Connecticut Transportation Institute, Consultant;
Prof. Carl. L. Monismith, University of California at Berkeley, Consultant; and
Pim Visser, TRDI, Technical Support and Coordination.
The work has been conducted by Texas Research and Development Incorporated under a subcontract to Battelle Institute. In January 2000, the project team met with the Project Coordinator, Mr. Frank Botelho and the Task Force Manager, Ms. Sonya Hill of the FHWA Pavement Management/Asset Management Group to outline a proposed work plan and to initiate the work on the project. It was agreed at that time that state DOTs in Maryland, Indiana, and Florida would be contacted and visited by the project team to discuss the aspects of their active pavement management system and the status of their activities and their record keeping for Superpave. After the successful visits to these three states, it was agreed to add a fourth state, Arizona, to provide broader geographical coverage for the study and to evaluate the Superpave related activities of a mature pavement management system (ADOT has fifteen years of data) to round out the projects findings. At a later stage the DOT of Washington State was also added and visited. See Appendix B for visit reports to these five states.
Prior to the visits to these states the project team developed a list of questions and a candidate list of appropriate data that were needed for a Superpave evaluation and which hopefully could be collected in a face-to-face visit and through subsequent follow-up mailings. This list covers three areas:
General information about the Pavement Management System and the PMS database being used in each state;
Details of the Superpave Projects carried out and planned in each state;
Extent of availability of detailed Superpave information and performance data in each PMS database or in other databases.
This list of questions is given in Appendix A. It should be made clear that this was not a questionnaire to be filled out by state DOTs, nor did it intend to include every possible option of information to be discussed. Rather, it was mailed to the DOTs to provoke thought prior to the visit of the project team and to serve as a background for discussions in project meetings. In each case, the state DOT provided representatives from their material's group, as well as their pavement management staff, to meet with the project team. In some cases representatives of the research staff or associated research universities were included in the discussions since they had knowledge of various Superpave activities. Each state DOT was requested, where possible, to provide examples of their pavement management system output, a brief description of their pavement management data collection and data storage efforts, and if possible an example of their PMS database output. They were also requested to provide a copy of any electronic Superpave information available as well as to be prepared to discuss their Superpave data collection and storage efforts.
This report summarizes the information gained in these state DOT visits and explores the details that our professional experience shows to be necessary for performance monitoring and evaluation.
The staff of all five states are listed in detail in Appendix B. Our thanks to them for their support and cooperation.
From the observations made during the discussions with the state DOTs it became clear at an early stage during the project that a routine analysis of the performance of Superpave, or any other material or technique for that matter, can only be done effectively when the relevant data is made available in electronic format. That, in turn, led to the concept to recommend the use of a structure that is summarized in Figure 1 and discussed more fully in Section 6.2: the use of a PMS database and a Materials & Construction database, both electronic, with links to a Performance Analysis database, from which any desirable performance analysis could be performed.
During the TRB 2001 Conference on January 9, 2001, the Project Team presented a summary of their preliminary findings during an informal meeting at the Asphalt Institute Suite to several representatives of the FHWA, and members of the Superpave Lead-State Team. This meeting was organized by the FHWA and chaired by Mr. Frank Botelho, team leader for the Systems Management and Monitoring team in the Office of Asset Management... The main purpose of the meeting was to inform both the Asset Management and the Pavement Technology groups at FHWA and the representatives of the Superpave Lead-State Team about the outcome of our study. The Lead-State Team includes member states Florida, Indiana, Maryland, New
York, Texas and Utah. This Team was planning to start a project to track the performance of Superpave, and consequently the findings of our study were very relevant and timely.
Figure 1. Links from PMS database and Materials & Construction database for performance evaluation.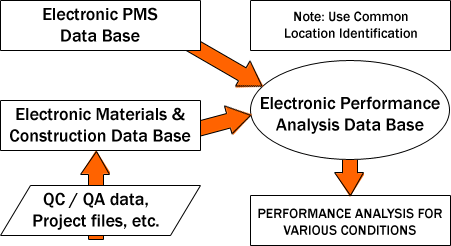 On February 21, 2001, the project team presented the results of the study during a meeting with 13 representatives of the FHWA at their offices in Washington D.C. The project team handed out copies of the Executive Summary of the draft report, and of the slides presented at the meeting, to each participant. One copy of the draft report was handed to the Office of Asset Management. Although it had been agreed to also visit Washington State after this meeting, it was confirmed that the current meeting fulfilled the contractual obligation for a final project meeting, and that the results of the Washington visit would be reported in the Final report of this project. Some brief Notes about this meeting are given in Appendix E.
After the FHWA had granted a request from the Project Team to collect information from Washington State in view of their extensive experience with Superpave projects, Washington DOT (WSDOT) and the University of Washington were visited on April 25, 2001. During this visit the team learned about the recent development of a web-based data warehouse with an analysis and evaluation system that seemed suitable for our purpose of data linking. The main points discussed during the visits to Washington and the other four states are given in Appendix B.
TRDI submitted the final draft report of the first phase of the study, covering the above described activities, on May 31, 2001. The contents of that report have now been incorporated in the current final report.
On May 24, 2001, TRDI began the second phase of this project, the Pathfinder Study. The scope for this study is given in Section 2.2. Section 9 gives a description of all elements of phase 2.
The results of both phases of the study are presented in thirteen sections of this report in Volume 1, supplemented by Volume 2 with several appendices. A brief description of each section follows:
After the Executive Summary in Section 1 and the Introduction in Section 2, Section 3 of the report defines database requirements in terms of detail, format, consistency and data integration and centralization for adequate performance monitoring and evaluation.
Section 4 proposes a set of ideal characteristics of a PMS database and compares that to the actual characteristics of databases examined in several DOTs. Priority items are discussed and defined as well as details of accuracy and measurement uniformity.
Section 5 describes the ideal reporting techniques for material properties and construction data and compares these in a broader sense to the actual situation as currently present in several DOTs.
Section 6 discusses the concept for linking PMS and the Material and Construction databases for improved performance monitoring and evaluation. It also discusses the criticality of linking the materials data appropriately to the PMS database in terms of location, identification and future applications of GPS.
Section 7 discusses specific requirements for the linking process for materials and construction data and the PMS database using Superpave as a particular example, involving a number of detailed material and construction elements.
Section 8 describes in more detail the findings in five state DOTs as they relate to the background presented in the previous seven sections. This section also gives example Superpave performance curves for data obtained from these five states.
Section 9 covers the second phase of the project, which includes the Pathfinder study.
Section 10 describes other key areas, which could use PMS and related data in the performance monitoring of materials, techniques and designing concepts.
Section 11 presents findings, conclusions and recommendations from this study.
Section 12 contains references, and Section 13 covers acknowledgements. Volume 2 gives details in a number of appendices about the visits to five states (A & B), linking Superpave materials data to performance data (C), Superpave performance monitoring data received from the states (D), Notes about a major review meeting with the FHWA in Washington (E), a description of the two websites developed by the University of Washington and some images with Superpave data treatments (F), and Notes on Meetings during Phase 2 (G).