Introduction to Percent Within Limits: The Quality Measure of Choice Workshop
This is a 1-day introductory workshop on Percent Within Limits (PWL). The workshop provides an overview of quality measures, details on how PWL works, and specifics on computing PWL. Also covered are payment issues and implementation steps. Hands-on exercises give participants the opportunity to compare and contrast quality measures and compute PWL for sample materials data. A refresher module on basic statistical concepts is also included, covering such topics as probability, standard deviation, and sample size.
The target audience for the workshop includes State highway agency and FHWA division personnel responsible for developing and overseeing quality assurance specifications, as well as pavements and materials engineers. Personnel will likely be mid-level engineers working in materials, specifications and pavements. Agency PWL experience will vary from either "never used PWL and considering it" to "Have used PWL but... (1) system may not be working well, or (2) may have lost expertise in the Agency through attrition".
The workshop was developed by the FHWA Resource Center and Office of Pavement Technology. Each workshop will be taught by at least two FHWA instructors. The workshops are free-of-charge and workbooks will be handed out on-site. The workshop includes lectures, class exercises, and class demonstrations. Each workshop is limited to 30 participants.
Resources available to assist with implementation of PWL include FHWA publications such as Optimal Procedures for Quality Assurance Specifications (FHWA-RD-02-095) and Evaluation of Procedures for Quality Assurance Specifications (FHWA-HRT-04-046).
For more information on PWL or scheduling the workshop in your State, contact one of the FHWA PWL team members listed in the sidebar. The PWL team members are also available to provide technical assistance in conjunction with the workshop.
The workshop has been presented in the following states:
in 2006 - North Carolina, Ohio, Minnesota, Montana, Connecticut, DC, Arizona, North Dakota, Colorado, and Vermont
in 2007 - Hawaii, Tennessee, and Indiana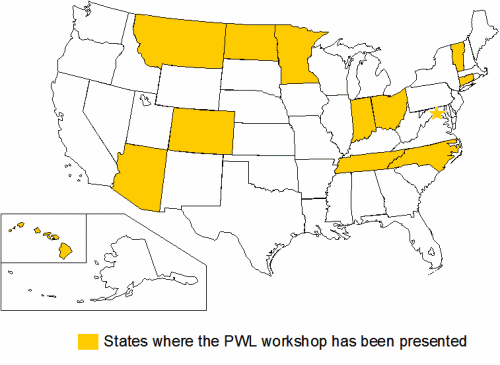 The following are a few of the other states in the process of scheduling a workshop: Colorado, Vermont, Virginia, Nevada, Georgia, and Maryland