Research Home
|
Pavements Home
TECHBRIEF
This TechBrief is an archived publication and may contain dated technical, contact, and link information
13086 >
Accelerated Determination of ASR Susceptibility During Concrete Prism Testing Through Nonlinear Resonance Ultrasonic Spectroscopy
Publication Number: FHWA-HRT-13-086
Date: October 2013

Accelerated Determination of ASR Susceptibility During Concrete Prism Testing Through Nonlinear Resonance Ultrasonic Spectroscopy
PDF files can be viewed with the Acrobat® Reader®
This document is a technical summary on a Federal Highway Administration (FHWA) project that is fully documented in a separate report under the same title (FHWA-HRT-13-085).
Introduction
The alkali-silica reaction (ASR) is one form of deterioration that may significantly reduce the service life of concrete structures. Currently, ASR susceptibility of aggregate sources is most commonly assessed through length change in the concrete or mortar specimens over time while subjected to standardized acceleratory conditions. The standard concrete prism test (i.e., ASTM International (formerly American Society for Testing and Materials (ASTM) C1293) is considered the most representative of field performance.(1) However, one significant practical drawback of that test is its long duration, which is 1 year to assess aggregate reactivity and 2 years to assess mitigation measures. The standard accelerated mortar bar tests (AMBT) are considerably quicker to perform but have not proven reliable in all cases, leading some agencies and owners to implement alternate test durations and/or expansion limits.
For both the standard mortar and the concrete tests, another issue is the use of a final expansion measurement as the sole measure of aggregate reactivity, leading to difficulties in predicting field performance when final expansion results are ambiguous (e.g., very close to the limits, or on an upward trajectory). The objective of this research is to develop a reliable measurement technique that can more quickly quantify damage associated with ASR in concrete specimens while also providing an assessment of the accumulated damage. The developed technique, nonlinear impact resonance acoustic spectroscopy (NIRAS), is based on measurements of the nonlinear acoustic or vibration responses of concrete specimens.
The research has been conducted on laboratory-cast concrete prism specimens containing both fine and coarse aggregates obtained from different sources to provide a spectrum of reactivity for assessment through the developed NIRAS technique. The NIRAS measurements were performed while the specimens were undergoing the ASTM C1293 concrete prism test (CPT), and the results from NIRAS measurements are compared with those expansion results.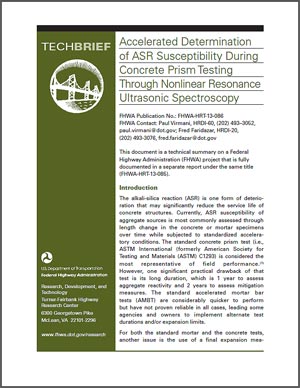 | | |
| --- | --- |
| | |
United States Department of Transportation - Federal Highway Administration