Transportation Asset Management Case Studies
PMS: The Washington State Experience
A comprehensive, fully integrated Transportation Asset Management System weaves together information on all asset inventories, condition and performance databases, and alternative investment options.
Asset Management Primer, p. 22. Federal Highway Administration, December 1999
Note From the Director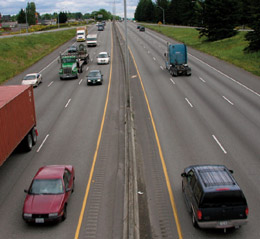 With such factors as an aging national infrastructure, increasing congestion, expanding traffic, and limited funds weighing heavily on transportation agencies, State departments of transportation are looking for innovative ways to manage and maintain their transportation assets.
One tool that continues to provide great benefits is Transportation Asset Management (TAM), a strategic approach that strives to provide the best return for each dollar invested by maximizing system performance, improving customer satisfaction, and minimizing life-cycle costs. TAM practices influence transportation decisionmaking by providing decisionmakers with powerful tools to help identify priorities.
TAM endeavors vary from State to State and include efforts in the areas of pavement and bridge management, network preservation, economics in asset management, life-cycle cost analysis, highway safety and operations, and data integration, among others. Because each State's experience is unique—and because FHWA believes that transportation agencies work more efficiently when information on one another's successes is shared—the Office of Asset Management is continuing its series of TAM case study reports begun in 2002.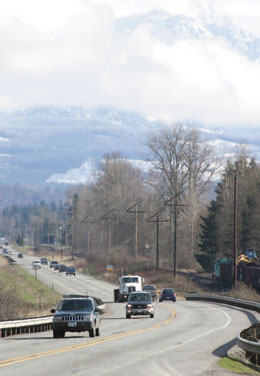 On behalf of the Office of Asset Management, I am pleased to present this case study on the application of pavement management systems for engineering and economic analysis and decisionmaking. Pavement management systems can be effectively used to perform engineering analysis to improve design, construction, and preservation practices and to support decisionmaking processes by prioritizing pavement preservation and rehabilitation needs. This case study provides good examples of the Washington State Department of Transportation's application of their pavement management system for economic and engineering analysis. I believe that this and other case studies generated by the Office of Asset Management will help transportation agencies meet the increasingly complex challenges facing them today.
Julius (Butch) Wlaschin
Director, Office of Asset Management
April 2008
Note to the Reader
The Transportation Asset Management case study series is the result of partnering between State departments of transportation and the Federal Highway Administration's (FHWA's) Office of Asset Management. FHWA provides the forum, and the States furnish the details of their experiences with asset management.
For each case study, State transportation staff are interviewed, the information is compiled, and the State approves the resulting material. Thus, the case study reports rely on the agencies' own assessment of their experience. Readers should note that the reported results may not be reproducible in other organizations.
Executive Summary
The portion of pavement in good condition increased from 50 percent in 1970 to 93.5 percent in 2005.
The Washington State Department of Transportation (WSDOT) has achieved a dramatic improvement in the condition of its highways since it began its pavement condition survey program in the mid 1960s and pavement management system in the 1970s. The department has conducted a pavement condition survey on the entire State highway system every 2 years since 1969 and every year since 1988. In the late 1970s, WSDOT developed the first version of its Washington State Pavement Management System (WSPMS) and has been refining and using it since to manage the State's pavements. The portion of pavement in good condition increased from 50 percent in 1970 to 93.5 percent in 2005.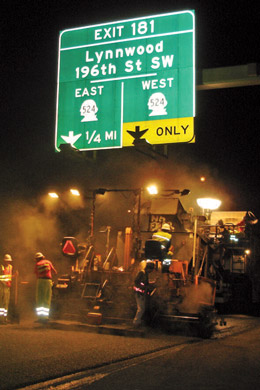 The WSPMS contains annual pavement condition data and detailed construction and traffic history data for the State's 28,800 lane-km (17,900 lane-mi) of highways. WSDOT uses pavement structural condition as a trigger value to identify candidate pavement projects. Analysts use these data together with information from other WSDOT databases to predict the optimal time for pavement rehabilitation activities and to prioritize rehabilitations over a multiyear investment cycle.
In 1993, legislation required that projects be selected on the basis of lowest life-cycle cost. Through life-cycle cost analysis, WSDOT determined that there is a 2- to 3-year optimal window during which a hot-mix asphalt pavement can be rehabilitated at the lowest life-cycle cost. Although initially only agency costs were used in the lowest-life-cycle-cost approach, more recently threshold values for rutting, which affects safety and roughness, have been implemented to address user costs.
WSDOT has also long utilized the WSPMS to conduct engineering and economic analyses for the purposes of improving pavement performance and maximizing the benefits of pavement investments. These analyses include various studies among which pavement smoothness, lowest-life-cycle-cost concept versus the worst-first methodology, impact of increased use of chip seal on highways, performance of dowel bar retrofits, and a few others are briefly mentioned in this case study.
WSDOT has extensively documented the evolution, operation, and results of the WSPMS. Consequently, this case study consists mainly of excerpts from key documents and technical papers. The excerpts offer concepts and practices that could be adapted for use in other States.