1902
During the visit of the Southern Railway Good Roads Train to Raleigh, NC, a statewide road convention takes place, with speeches by Director Martin Dodge yesterday and, today, J. W. Abbott of OPRI's Western Division and M. O. Eldridge, whose speech on "The Highways of the World" features stereopticon views of the Appian Way in Italy and the roads of Europe and Egypt. The crowning event of the day is the organization of the North Carolina Good Roads Association.
"If we can put the road system of America where the road system of France is to-day, the annual saving to the people of the United States won't be much less than enough to pay the national debt."
J. W. Abbott
Special Agent, Western Division, OPRI
February 13, 1902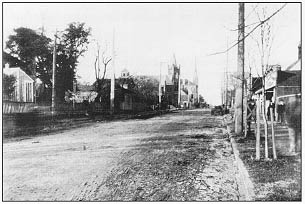 View of a city street, macadamized as an object-lesson road during the State good roads convention in Raleigh, NC.