1942
In preparation for construction of the Alaska Highway, PRA officials and guides leave Fort Nelson, British Columbia, on a dog team reconnaissance trip to Watson Lake. Another team leaves the Hudson's Bay Trading Post on the Sikanni Chief River on a reconnaissance trip to Fort Nelson. According to Highway Engineer W. H. Curwen, "Rations carried on this trip . . . consisted of the following: sausages, bacon, flour, sugar, salt, canned butter, tea, dry milk, dried eggs, baking powder, dried fruits, dehydrated vegetables, supplemented with 21 grouse, and about 10 pounds of moose meat obtained from trappers." Rations for the dogs consisted of cornmeal cooked with tallow.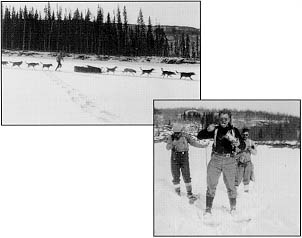 Winter road crossing of the Sikanni Creek River by dogsled (top), eating frozen grapefruit juice and mushing down the Minsker River (bottom).
1992
The $8 million Travtek project, an experimental IVHS project financed by FHWA, AAA, General Motors, the Florida DOT, and the city of Orlando, gets underway. The goal is to provide traffic congestion information, motorist services information ("yellow pages"), tourist information, and route guidance to operators of 100 test vehicles equipped with in-vehicle TravTek devices.