1909
After blocking off a 2-mile section of Conduit Road above Cabin John Bridge in Washington, DC, Director Logan Page conducts experiments with high speed automobiles (50-60 m.p.h.) to test the effect of speed on macadam roads. Instantaneous cameras and moving picture machines record the effects.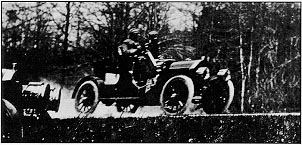 "Speeding" in government road tests on Conduit Road, near Washington, DC.
1939
On the recommendation of Secretary of Agriculture Henry A. Wallace and Secretary of War Harry H. Woodring, President Franklin D. Roosevelt transmits Toll Roads and Free Roads to Congress, providing the first outline of the future Interstate Highway Program. Part I concludes that a 14,000-mile toll road network would not be self-supporting. Part II, "A Master Plan for Free Highway Development," proposes development of a 26,700-mile system of interregional superhighways with connections through and around cities.