1972
The U.S. International Transportation Exposition, known as Transpo 72, opens at Dulles International Airport in Virginia. In addition to featuring futuristic technology ("Flying trains, square dancing helicopters and the fantasy of a wonderland," according to a news release), Transpo 72 covers all current modes of transportation. General Manager William J. Bird explains, "We want to emphasize totally integrated systems in our future transportation . . . . "FHWA participation includes sponsorship of the "International Vehicle and Highway Safety Conference," featuring discussions on international cooperation in vehicle and highway safety.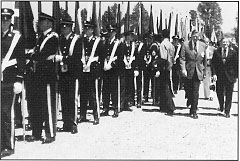 Transpo '72: William J. Bird (left, head of Transpo) accompanies Secretary John A. Volpe to opening ceremonies, Dulles International Airport, VA.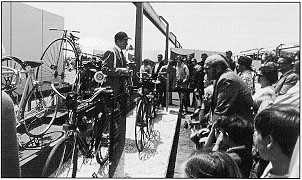 Bicycle display at Transpo '72.