1910
Director Logan Page addresses the Southern Appalachian Good Roads Association on "To What Extent Do Automobiles Destroy Our Roads." He comments, "The application of mechanical arts to our daily convenience and comfort necessarily introduces new problems which require long and patient experimenting for their solution, but when solved, are apt to produce a betterment of conditions that might otherwise not have been reached." The problem, he adds, does not involve paved roads in cities. "But, in the open country, where we have the grinding action of the iron tire and heavy load followed by the high-speed automobile throwing up and distributing the product of wear, we are confronted with the necessity of providing new and more durable forms of road."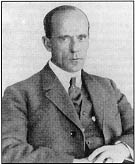 Logan Walter Page
Director
Bureau of Public Roads
1957
BPR awards a $500,000 contract for construction of the Wind River Bridge, a Forest Highway project to provide a high-level span across Wind River Canyon near Carson, WA. The new bridge will replace a low-level crossing, built in 1924, that has been load-restricted to 10 tons in recent years.