1958
The First National Congress on Highways and Urban Development convenes at Sagamore, Syracuse University, in New York, partly to recoup from adverse publicity during the Hartford Conference. (See September 9, 1957.) With Pyke Johnson of the Automotive Safety Foundation as Chair, the conference brings 55 key highway and transit officials, planners, elected officials, as well as business and academic leaders for a full week of living, eating, and working in the total isolation of the Adirondack Mountains. Participants are asked three questions: What do we want? Who is responsible and for what? and How do we get the job done? The conference results in a widely distributed and acclaimed Guidelines for Action, published by the foundation.
1959
In Denver, CO, before the Governors' Conference Committee on Roads and Highway Safety, Senator Albert Gore, Sr., of Tennessee, describes some of the problems confronting the Interstate Highway Program, including proposals to drastically curtail the program's scope. "The highway program is now in grave danger."

"I am convinced that better highways are essential both for a growing economy and for national defense. The programs outlined in the Acts of 1956 and 1958 are the very minimum necessary to meet the needs of the nation. If we allow this program to be curtailed, stretched out and weakened at this point, we cannot hope to have a Highway System commensurate with our needs within the foreseeable future."
Senator Albert Gore, Sr.
October 5, 1959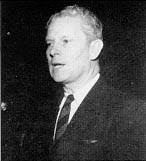 Senator Albert Gore, Sr.