1914
Twenty highway officials meeting in Washington, DC's Raleigh Hotel form AASHO. Henry G. Shirley, then of Maryland, is elected the first President (1914-1916). Dr. Joseph Hyde Pratt of North Carolina serves as Secretary until December 1921. Director Logan Page, P. St. J. Wilson, and J. E. Pennybacker, Jr., represent OPR. At 2 o'clock, the highway officials are received by President Woodrow Wilson and pose for a photograph in front of the executive office of the White House.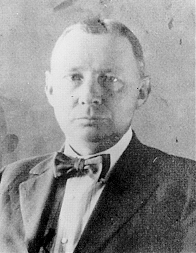 P. St. J. Wilson
Assistant Director
Office of Public Roads

1959
While on loan to the United Nations to study Egypt's highways, BPR's H. A. Radzikowski is evaluating how construction of the Aswan Dam will affect highway requirements. Today, he interviews General Ibrahim El-Habbal, General Manager of the Kima Fertilizer Plant, and Dr. Hassen Zaky, President of the Aswan High Dam Department.