Communication Tools
Innovation Webinar Series
As part of the Highways for LIFE (HfL) effort to get more people using innovations, in cooperation with the National Highway Institute, HfL initiated a series of monthly web conferences. Each 90-minute web conference focuses on a different innovation and includes a panel of speakers from throughout the highway community who are recognized experts in the particular innovation. We bring together users of these innovations to share their experiences and the lessons they learned and then answer questions from the participants.
Upcoming webinars through October 2013
Training in Technology Deployment
Want to learn more about how to go about successfully deploying an innovation? Highways for LIFE, working with the National Highway Institute, has developed a training course designed to provide you with the necessary tools get that new technology out there and in use. Called, "Leap not Creep, Accelerating Innovation Implementation," the course uses both in-class and web-based training. For more details, see http://www.nhi.fhwa.dot.gov/training/course_detail.aspx?num=FHWA-NHI-134073&topicnum=134.
Innovation Inno-bits
Brief, non-technical descriptions of new innovations in technology and management concepts.
More on Communication Tools
Videos
More Videos
Publications
Featured Publications
Focus Articles
Other Articles
Innovator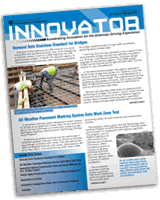 The Innovator newsletter has been available for some time as either a printed publication or an online document in a pdf format. Beginning with the May/June issue, the publication will be available only in electronic format. But it will offer much more: videos, links to other sites, photo files and animation, to name a few. Here is a preview, using the current issue as a model. If you've been a print subscriber in the past, don't forget to register for an electronic subscription.
Press Releases
More Information
Events
Contact
Scott Wolf
Center for Accelerating Innovation
202-366-1325
scott.wolf@dot.gov
Updated: 11/04/2015