FHWA Announces the First Highways for LIFE Projects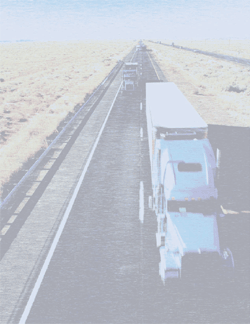 "The projects we honor today mark a bold new wave in highway construction aimed at relieving congestion, improving safety, and saving money," said J. Richard Capka, Federal Highway Administrator. Capka announced the first projects to receive funding under an innovative new highway program called Highways for LIFE. The program focuses on improving highway construction projects through the application of innovative approaches to design and construction.
The announcement comes in the year America celebrates the 50th anniversary of its Interstate System, a positive milestone, but one which also points to the age of the highway system. With pavements typically lasting less than 20 years and bridges around 50, much of the system is in need of repair. But with ever increasing truck and car traffic, taking segments of the system out of service for long periods of time for repair can be costly, dangerous, and can cause even more traffic back-ups.
Highways for LIFE is a Congressionally-authorized initiative of the Federal Highway Administration aimed at getting innovations and new technologies into standard use faster. Merely because an innovation is found to work doesn't mean the hundreds of federal, state and local transportation agencies, as well as contractors, consulting engineers, and academics are going to embrace it. The Highways for LIFE program is creating training programs, sponsoring workshops, and developing communications tools to get those innovations adopted faster.
But perhaps the highest profile technique is the funding of projects that employ such innovations. State transportation agencies submit applications for funding of projects which employ innovations they have rarely used before. This year, 3 projects were selected as meeting the goals of the program. They are:
South Carolina DOT, SC-377 Bridge Replacements, Kingstree, SC
Minnesota DOT, TH 36 Reconstruction, Minneapolis/St. Paul, MN
Iowa DOT, 24th Street Bridge Improvement, Council Bluffs, IA
These three selected projects set the bar fairly high for the rest of the transportation community. The need for safer, longer-lasting, faster build highways and bridges will be answered as the rest of the highway community reaches this level of innovation in the development of their Highways for LIFE projects. The immediate benefit will be a construction process that is less intrusive on the driving habits of the motoring public.
---
The purpose of the Highways for LIFE program is to advance Longer-lasting highway infrastructure using Innovations to accomplish the Fast construction of Efficient and safe highways and bridges. But sometimes employing a rarely used innovation can require a bit more effort than going with the standard approach. That's why FHWA is providing additional funding to help construct at least one project per State. Iowa, Minnesota, and South Carolina are the first. How can your State participate?
Hints
Talk with your FHWA Division people.
Each division office has a Highways for LIFE coordinator who, with the Division Administrator, can provide help with the process. They're your first line of communication on the program.
FHWA's Highways for LIFE team in Washington, DC can help, too.
If you've got a question about a particular technology or want clarification on the application process, contact Mary Huie at 202.366.3039, or Mary.Huie@dot.gov.
Check out the Web site.
To get an idea of some of the innovations, applications, and processes the program is talking about, take a look at http://www.fhwa.dot.gov/hfl. It includes descriptions of innovations, successful projects that have used those innovations, and lists of key Highways for LIFE contacts.
Be aware of the schedule.
Each year, there will be an open season for accepting applications to get projects funded. Applications are being accepted for the FY07 season; the deadline is January 30, 2007.
Look for more than one innovation.
If you read the descriptions of the projects summarized in this brochure, you'll see that they all employ several approaches, from innovative materials to construction techniques to management practices.
---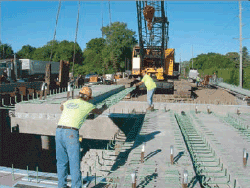 Minnesota DOT
TH 36 Reconstruction
Minneapolis/St. Paul, Minnesota
The Minnesota DOT is taking a bold step to fully close a major traffic route for 5 months in order to cut project construction time to one quarter of the original schedule. After numerous public meetings and a market survey, Mn/DOT determined that the cost and time savings, the safety benefits to both workers and motorists, and project quality justified the closure. This the first time Mn/DOT has fully closed a major route of this level for construction. Minnesota's TH 36 project involves the reconstruction of approximately 2 miles of roadway between White Bear Avenue and TH 120 through North St. Paul. The proposed upgrades will improve the safety and capacity of the roadway by converting this segment of TH 36 to a freeway facility.
"This was the right project at the right time," said Tom Ravn, Innovative Contracting Director for the DOT. "We will significantly reduce construction time... and will fully implement intelligent compaction for the first time." With a successful HfL project, MnDOT plans to use these innovations on other projects.
Innovative Features & Performance Goals
Full roadway closure, allowing Mn/DOT to weigh the cost and time savings, safety benefits to workers and motorists, quality, and public reaction, as compared to multi-year staged construction.
Intelligent compaction (IC) rollers and lightweight deflectometers were proposed to improve the quality of the grading operations.
Locked incentive date (LID) specification will not pay incentives if there are any extensions in the contract date and will eliminate claims.
A+B bidding to reduce contract time.
Lane rental to minimize impacts to motorists. Contractors will be charged a fixed fee for lane closures during the maintenance and clean-up operations.
A post-construction market survey, as a follow-up to a pre-construction survey already conducted, which will help in assessing user satisfaction.
ITS technologies will help adjust signal timings and other traffic management systems in real time, and provide travel-time indicator systems to the alternative routes, which will aid motorists in deciding which route to take.
User Outreach
Mn/DOT conducted 10 public information meetings, as well as extensive one-on-one meetings with key stakeholders. A market survey regarding the closure of the roadway provided input from commuters, residents, and local business.
---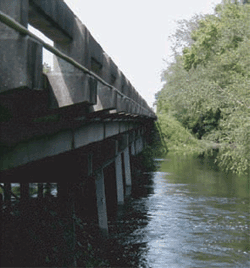 South Carolina DOT
SC - 377 Bridge Replacement
Kingstree, South Carolina
The SC377 bridge over Black Creek is currently load restricted to all trucks because of its deficient condition. The South Carolina DOT is using construction time as one of the deciding factors in contract award and is including a "no excuse" incentive clause for completing the project by the specified date. The use of several innovative contracting elements will restore detoured traffic to this critical route much more quickly.
This project entails the replacement of four structurally deficient bridges on SC-377 over Black River and swamps in Williamsburg County. The project will begin at the US521/SC377 intersection and will stretch approximately 1.5 miles toward the town of Kingstree.
The scope of the selected project provided good opportunities to include safety features, pavement construction innovation, and a more rapid construction sequence.
Innovative Features & Performance Goals
A project-specific A+B+C bidding provision to minimize construction time. A contractor activity work schedule special provision will also be required to justify total contract time bid.
A "no excuse incentive" completion date will be included as a special provision for the project. This incentive will be paid only if the project is substantially completed by the specified date.
A new performance-based standard specification for pavement smoothness will be used based on the needs of the motorists.
Self consolidating concrete (SCC) will be used in bridge girders. SCC provides higher quality because of its excellent deformability and resistance to segregation.
User Outreach
Public information meetings have been held on this project and public comments are being addressed. A special provision will require the contractor to notify all news media in advance of any disruptive activities.
---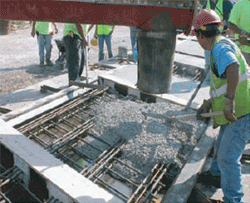 Iowa DOT
24th Street Bridge Improvement
Council Bluffs, Iowa
The Iowa DOT is using innovative contracting and construction techniques to meet their commitment to city officials, local business people, motorists to fast-track reconstruction of the 24th Street interchange - a critical access point. The 24th Street interchange is one piece of a comprehensive package of improvements to the Council Bluffs Interstate System (CBIS).
The rebuilding of the 24th Street overpass bridge would have taken two full construction seasons over two winters using standard construction practices. However, using innovation to accelerate the construction, the time allotted will be a maximum of one season - a 50% reduction!
Innovative Features & Performance Goals
Prefabricated bridge components in the form of full-depth pre-cast deck panels will reduce the hazard of working over live interstate traffic and improve traffic flow during construction.
High performance concrete will increase performance and long-term durability.
High performance steel will increase toughness, provide higher resistance to corrosion, and reduce fatigue damage.
Structural health monitoring system will provide timely information relative to any significant structural displacements or stresses to avert potential danger.
Self consolidating concrete, through enhanced "flowability" and consolidation, will result in a more reliable substructure and reduce the possibility of requiring corrective action.
Fully contained flooded backfill allows for instant consolidation, which will improve bridge approach foundation.
Cost plus time bidding (A+B bidding) will shorten the duration of construction congestion by allowing the DOT to select the most efficient bid in consideration of construction cost and duration.
Intelligent transportation systems (ITS) will improve traffic management during and after construction, thus reducing the opportunity for incidents.
User Outreach
The DOT has held public meetings, distributed newsletters, and held a meeting with the businesses impacted by the reconstruction of the 24th Street Bridge. An advisory committee of local officials has been utilized for the past 4 years. A user survey will be implemented to determine the level of user satisfaction related to the new facility and the construction approach. A project-specific Web site is also being planned to provide background on the project, as well as any upcoming public involvement activities.
---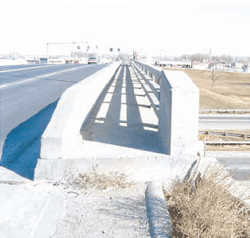 Best Practices Learned from the Iowa DOT
To assist interested agencies in planning and submitting projects for inclusion in the Highways for LIFE program, we interviewed representatives from the Iowa DOT team and discussed best practices that other States can emulate.
A primary key to Iowa's success has been that their existing culture of aggressively using innovation was perfectly in line with the HfL goals and philosophy. In the words of Mitch Dillavou, Engineering Bureau Director for the Iowa DOT, it was "a continuation of the way we do business in Iowa."
"We moved so quickly on pursuing an HfL project because it is what we are about, what we believe in and are already doing in Iowa," says Sandra Larson, Research and Technology Bureau Director for the Iowa DOT. "The money helped too, but it was secondary." Sandra has overall responsibility for coordinating the Iowa DOT's HfL project effort.
Iowa was fortunate enough to have an existing structure/culture that involved input from a variety of entities and disciplines from the very beginning. Chief Engineer Kevin Mahoney established a multi-disciplinary HfL steering committee within weeks after the FHWA Division presented the HfL goals to the DOT at one of the regularly scheduled monthly management meetings in December 2004.
Existing successful processes were used to the benefit of the HfL project development. Iowa DOT used their proven project management team (PMT) process to evaluate every opportunity to innovate. They also used constructability reviews and formal technology transfer sessions to ensure success. "We formed a team of department experts from different offices to put the project together. This is our standard 'can do' PMT process," said Ahmad Abu-Hawash, from the Bridges and Structures Office. Key personnel from construction, contracts, traffic and safety, design, bridges and structures, in the district participated on the team. Joe Jurasic, FHWA Division Construction/Transportation Engineer, said that "the Division Office is pretty aggressive at implementing national efforts like HfL... . We committed to matching the DOT with experts from the Division and assistance from other FHWA offices. We worked closely with the resource centers and the HfL Office at headquarters to make sure we had the best possible project."
The Iowa HfL project was made more robust by the efforts of two other initiatives, an Accelerated Construction Technology Transfer (ACTT) workshop and the Innovative Bridge Research and Development (IBRD) program that support parts of the overall HfL goals and philosophies. In the end, project delivery scheduling drove the final selection of the 24th Street bridge project. "We had the ability to incorporate new design and contract features and still meet the project letting schedule," said John Adam, Statewide Operations Bureau Director for Iowa DOT.
Kevin Mahoney also expressed the need to involve the construction industry in the effort, to optimize the project and facilitate change. The Associated General Contractors of Iowa (AGC) were invited to participate on the Iowa DOT HfL committee. "The AGC were glad and honored to be part of the effort, but this is the way we have been doing business in this State. These basic HfL goals are already shared by the DOT and the contractors," stated Milt Dakovich, Vice President of Aspro, Inc., a paving contractor. "Partnerships like this allow changes and innovation implementation to move forward more quickly and with less conflict," said Ricke Welden, Director of Field Services of AGC of Iowa.
Iowa also has a solid vehicle in place to communicate with interested stakeholders. As described in the preceding project summary, even before the candidate project became part of the HfL program, the DOT had held public meetings and a business group meeting. During and after the project, Iowa will continue to communicate the benefits of using innovative technologies and accelerated construction on the project, in newsletter articles, additional public meetings, press releases, a project Web site, and a user satisfaction survey.
How do you get started?
Obtain and maintain the support of state DOT and FHWA Division executives.
Involve various disciplines from the FHWA Division, the State DOT, and the contractors in the project development team.
Embrace the goals of the HfL program.
Focus on these goals to reach consensus.
If you haven't already, register and become familiar with the application process at http://www.grants.gov/.
Sandra Larson, Patricia Schwarz, Norm McDonald, Ahmed Abu-Hawash, Riche Weldon