Innovations - Precast Concrete Pavement Systems
PDF Version (230 kb)
Modular systems reduce traffic congestion and speed project completion
Precast modular concrete panels formed at an offsite location and installed during offpeak travel times are revolutionizing the way roads are repaired. User surveys cite congestion and traffic delays due to roadway construction as a major source of frustration for motorists. Traffic congestion also reduces highway capacity and increases the costs associated with delays for the traveling public. Modular panels that are cast and cured elsewhere, then assembled onsite when traffic volume is low, reduce traffic congestion and offer many other advantages over traditional cast-in-place construction in high-density urban areas.
Modular panels make the construction process safer and more efficient because roadwork can be completed overnight, on weekends and during offpeak hours, reducing the need for roadway closures. Because they are precast, panels can be subject to higher quality control standards during fabrication. This results in greater durability, so roads last longer before needing replacement or costly repairs. Precast panels can also be cast thinner, so they are ideal for roadways underneath overpasses with limited clearance heights.

Precast panels, previously used on a limited basis for rehabilitation projects, have become increasingly popular over the past decade. Precast pavement technology can ease congestion at busy intersections and is ideal for ramps and anywhere heavy traffic flow is a challenge during construction. Three proprietary and nonproprietary precast panel systems are available that consist of the precast panel and the mechanism to provide load transfer across to the existing pavement:
Super–Slab®
KWIK SLAB®
Precast prestressed concrete pavement (PPCP)®
The PPCP system is a result of research sponsored by the Federal Highway Administration (FHWA) aimed at strengthening concrete panels by prestressing them, which has been done for cast-in–place concrete highway structures for decades. In PPCP construction, several panels are assembled sequentially and tied together onsite through a process known as post-tensioning. Pretensioning panels during fabrication combined with post-tensioning during installation reduces the incidence of cracking in the slabs.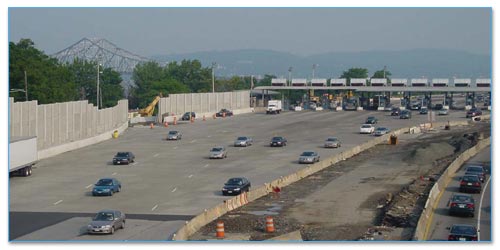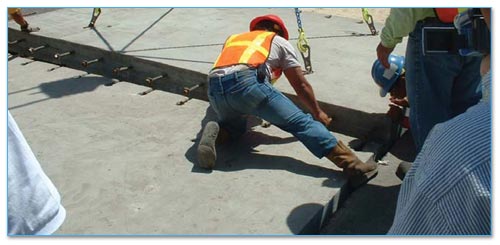 Each system employs unique design features for installation and transferring load across panels. Damaged areas of pavements can be replaced with precast panels custom built to meet the thickness, cross slope and layout requirements of individual project sites. Precast concrete panels can be used for single-lane replacements (an additional lane closure may be required to accommodate materials and equipment) or full-width road construction. Contractors have been able to complete installations with minimal training and achieve high production rates–up to 1,500 square feet per hour for the Super-Slab® system and three to 10 slabs per hour for each of the other precast panel systems.
Numerous projects using these systems have been completed successfully in the United States. They including more than 20 Super-Slab® highway and airfield projects, such as the approach plaza to the Tappan Zee Bridge shown above. A bus stop pad has been installed using the KWIK SLAB® system.
FHWA is helping states implement PPCP technology and has conducted the following pilot demonstration projects across the United States:
Interstate 66 outside the nation's capital in Virginia
I-35 northbound frontage road in Georgetown, TX
I-10 eastbound in El Monte, CA
I-57 near Sikeston, MO
Highway 60 bridge approach slab near Sheldon, IA
Future potential projects include using PPCP technology to increase overpass clearance height and installing panels with built-in scales for weigh-in-motion sites.
Precast technology holds promise as a solution for undertaking quick and invisible repairs in high traffic areas or regions of commercial importance. The American Association of State Highway and Transportation Officials (AASHTO) Technology Implementation Group has chosen precast concrete panels as a focus technology and is promoting its use for pavement repairs and rehabilitation to transportation agencies nationwide.
---
For More Information
Contact
Sam Tyson
Concrete Pavement Engineer
Office of Pavement Technology
FHWA
202-366-1326
sam.tyson@dot.gov